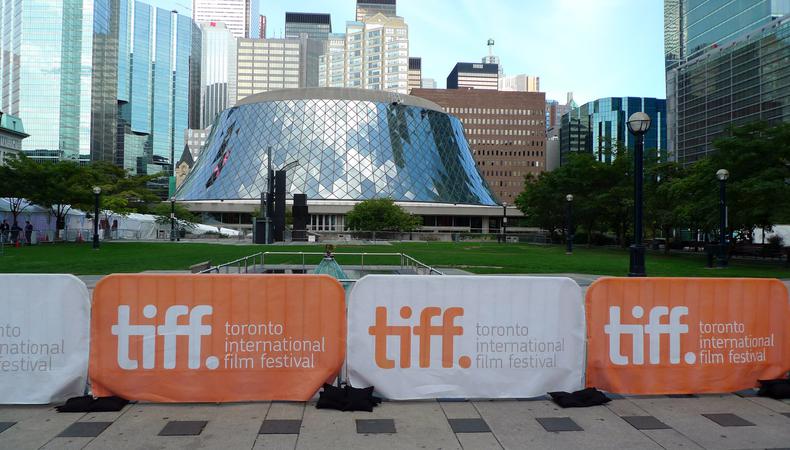 Film festivals are characterized by many of the exact practices that scientific and governmental authorities amid the ongoing COVID-19 pandemic (resources for which can be found here) have discouraged or outlawed: big crowds gathering indoors at crammed movie theaters or starry events. For some, an annual celebration of film is obliged to delay or cancel entirely and look toward an uncertain future; the Tribeca Film Festival was canceled within weeks of New York's initial lockdown and rescheduled to June 2021, while summer's Cannes Film Festival, interrupted previously only by WWII and France's 1968 protests, has been postponed indefinitely.
For others, however, the show must go on—albeit with new creative solutions. While it's safe to say no filmmaking event is completely unaffected by the industry's ongoing shutdown, some of the world's most prominent fests are adapting existing programming and past traditions to face these challenges. The below events, in addition to being annual industry touchstones in their own right, play a big role in each year's film awards season leading to the Oscars, a period of time also now undergoing unpredictable changes. Here's Backstage's up-to-date roundup of major film fests' changing plans in 2020.
Venice International Film Festival (Sept. 2–12)
At Italy's Lido di Venezia, the 77-year-old film festival, one of the global film industry's most glamorous and influential events, will forge ahead this September. Although scaled back with fewer screenings overall, the fest's organizers at the Venice Biennale are saying in-person gatherings can take place within the country's COVID-19 protocols for health care and safety. "So as to comply with the mandatory measures required to guarantee that participants may attend safely—first and foremost by social distancing—the overall number of films in the Official Selection will be lower, although not by much," said a recent statement. Two outdoor arenas are being installed, and the fest is either forgoing or consolidating several areas of programming, but as of now, industry professionals can expect Venice to kick off the usual months-long celebration of prestigious international cinema.
Included in the Official Selection of Venezia 77 will be dozens of films drawn from around the world; Italian filmmaker Daniele Luchetti's "Lacci" ("The Ties") was selected as the festival's opening film, and writer-director-editor Chloé Zhao's buzzy Frances McDormand–starrer "Nomadland," to be released in the fall by Searchlight Pictures, will screen Sept. 11 as part of Venice's collaboration with other major fests (see below). Oscar- and Emmy-winning actor Regina King's directorial debut "One Night in Miami," Pedro Almodóvar's Tilda Swinton–starring "The Human Voice," and more will premiere out of competition.
Telluride Film Festival (canceled, originally scheduled Sept. 3–7)
The Telluride Film Festival has always stood out from the pack of major fall industry events for its size, location in the Colorado Rockies, and somewhat spontaneous nature, with programming typically announced just before the buzzy Labor Day weekend event. This year, unfortunately, the industry's uncertain schedule and local health and safety precautions (the Telluride School District declined access to facilities, among other challenges) have forced the fest to cancel.
However, Telluride has joined forces with the festivals of Venice, Toronto, and New York to jointly celebrate world cinema this year. "This year, we've moved away from competing with our colleagues at autumn festivals and commit instead to collaboration," said a recent statement signed by directors of all four events. Organizers of the Telluride Film Festival will release the list of 2020 titles they would have screened in person, and encourage festival goers and cinephiles to follow and support those selections wherever they may premiere. "We will announce soon what we have carefully programmed in the hopes that you will experience as we did, the best in film this year," they said. Zhao and McDormand's "Nomadland" will receive a special "Telluride from Los Angeles" screening at a California drive-in theater, timed with its simultaneous premieres in Venice and Toronto.
Toronto International Film Festival (Sept. 10–19)
The 45th edition of the famed Canadian fest is shifting its plans perhaps more than any other 2020 fest, reducing its total number of premieres but adding virtual screenings and events to its repertoire. TIFF's "role in the ecosystem of the film industry was the impetus to move forward, to deliver a film festival that inspires and engages audiences, and to serve as a beacon of hope for Toronto, for filmmakers, and for the international film industry," said a recent statement.
Press and industry access will be entirely online, with fest organizers explicitly stating, "Press should not plan to travel to Toronto." Among the premieres that industry professionals will experience in isolation rather than among colleagues in movie theaters are the Spike Lee–directed filmed version of David Byrne's Broadway hit "American Utopia," the fest's opening night presentation, as well as Francis Lee's "Ammonite," Suzanne Lindon's "Spring Blossom," Ricky Staub's "Concrete Cowboy," Reinaldo Marcus Green's "Good Joe Bell," Halle Berry's feature directorial debut "Bruised," and "Nomadland." Mira Nair's "A Suitable Boy" is this year's closing night "film"; the six-part TV drama debuted on the BBC in July.
New York Film Festival (Sept. 17–Oct. 11)
Also expanding virtual and outside-the-box programming is Film at Lincoln Center's NYFF, which is tentatively still planning to feature indoor screenings depending on COVID-19 restrictions. Partnering with several arts and cultural organizations from around NYC, the fest will utilize two drive-in theaters, the Queens Drive-In at Flushing Meadows Corona Park and the Brooklyn Drive-In at The Brooklyn Army Terminal. "This exciting and historic partnership is intended to act as a cooperative effort to bring films safely back to New Yorkers and to highlight the power of cinema to build community and camaraderie among our fellow citizens," said a statement.
The 58th edition of NYFF will present Steve McQueen's Amarah-Jae St. Aubyn–starring "Lovers Rock" as the opening night film and Azazel Jacobs' "French Exit," featuring Michelle Pfeiffer and Lucas Hedges, on closing night, with "Nomadland" again appearing, as this fest's Centerpiece film.
BFI London Film Festival (Oct. 7–18)
London's biggest festival of cinema is also innovating with the launch of what they're calling Virtual LFF. Up to 50 film premieres will be presented as both live and digital screenings, each featuring talks and introductions from talent. Many of LFF's events, as well as all short film premieres, will be free to the internet-surfing public, and the fest's closing awards show will be streamed live. Also at a handful of venues around the U.K., a dozen new films from the programming will be screened as in-person previews. Steve McQueen's "Mangrove" will open the fest; the rest of the lineup will be announced Sept. 8.
As developments are ongoing, this article will be updated as news breaks. Please check back for updates.
Looking for remote work? Backstage has got you covered! Click here for auditions you can do from home!