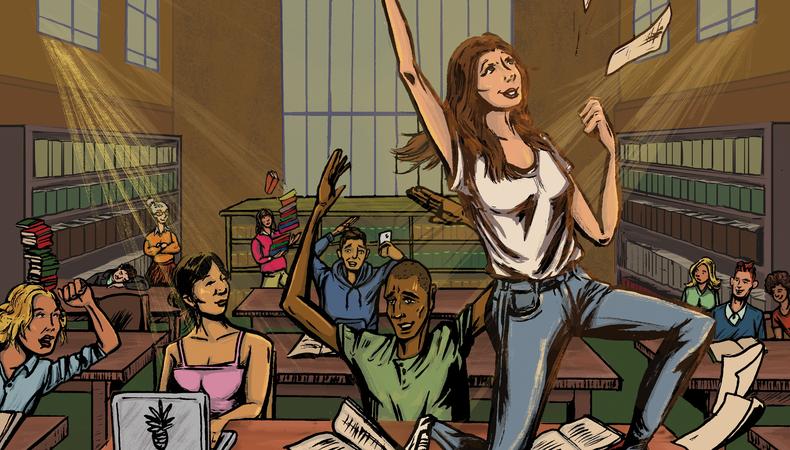 It's finally your high school senior year. Congratulations! Your dream of a career in the performing arts is nearing, the stakes are high, and there's much to do.
As soon as school started this fall, you began the competitive, audition-based college acting and musical theater preparation process. You met with your family and college counselor and reviewed your college audition requirements, deadlines, and prescreens. Now, in addition to the complex audition prep, there are letters of recommendation to gather, essays to write, and standardized tests to take as you prepare your applications.
During this intense time, Backstage figured you might appreciate some helpful tips on how best to find your dream school. Here's some advice for you and your family on how to determine your goals and evaluate which of the many school programs will meet your needs!
Establish must-haves.
First and foremost: Write down your list of must-haves. These are the things you need from your college experience. Separate them into two categories: university (academic) and program (training). List three must-haves under each category and be specific. Don't write something vague, such as "I want a good program." What does "good" mean? What does that look like for you? Conservatory or liberal arts? BFA or B.A.?
Do your goals require opportunities to hone your acting and musical theater skills? Do you want to double major? Do you need substantial scholarships and financial aid? The objective is to help find the college that is going to give you what you want, and not worry about being what you think they want. College is four years of your life and a lot of money. You want to be sure that you are investing your time and dollars in an establishment that is going to cater to your needs.
READ: Save Thousands With These 9 Scholarships

Research programs.
Once you have established your must-haves, your next job is to find the colleges that are going to deliver them. You can do this by researching the various programs in any number of ways, including internet searches, college websites, watching a program's senior showcases on YouTube, attending the NACAC Performing and Visual Arts Fair, and reading backstage.com and collegeconfidential.com chat rooms.
For more information, watch my vlogs on collegeauditioncoach.com and subscribe to my YouTube channel, or watch the College Audition Coach Monday video series on Facebook. And if you have personal questions about specific programs, you can always email the performing arts admission office. Staff members are happy to help.
Create a smart list.
There's plenty of information on the web, and if you're diligent, you can learn most everything you need to know in order to establish your list of colleges. If you feel strongly about somewhere specific, you can certainly visit. (That said, I don't feel college visits are essential—it might be better to wait and visit campuses to which you have been accepted.)
Remember, the school that is the best fit for your best friend might not be the best fit for you. Please look at your specific must-haves to determine which schools are right for you. Don't be influenced by popular program names or those you might have heard are the "best." The school that's most equipped to support you and your particular career path is the one you want to go for. So review your must-haves and polish your list from there. Balance it out by divvying schools up into three categories: within reach, perfect fit, and backups.
Disregard name prestige.
My final tip would be this: College name prestige matters little when pursuing your career. Industry professionals have confirmed that the skills you bring into the audition room are what matter most, and what you bring in that realm is how you will be judged as a professional. Find the program that will give you the preparation and training, as well as the skill set, to put you in the most competitive position when you graduate. Then go out into the world and pursue your goals and dreams. Be joyous, be brave, be yourself!
Want to stay sharp between dream school auditions? Check out our theater audition listings!
The views expressed in this article are solely that of the individual(s) providing them,
and do not necessarily reflect the opinions of Backstage or its staff.