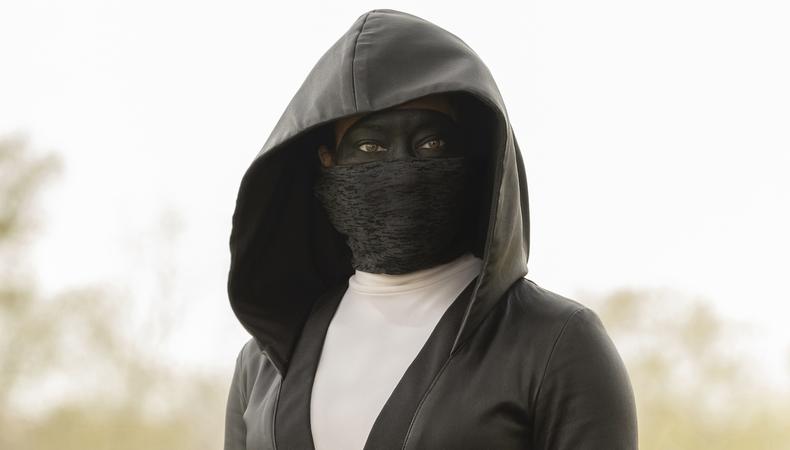 If you're tuning into HBO's "Watchmen," then you know that the series from "The Leftovers" and "Lost" creator Damon Lindelof lives or dies on the strength of its hero. Fortunately, Oscar winner Regina King is giving one of the performances of the year as Angela Abar (A.K.A. Sister Knight).
Putting his own spin on the iconic "Watchmen" universe created by Alan Moore and Dave Gibbons in the original graphic novel, Lindelof's dark, gritty tackles nothing less than white supremacy and racism in America. To help tell that story, he knew he needed one of the industry's most beloved actors—but it'd require the creator to double back on one of his longstanding casting rules.
READ: Regina King Says You Should Stop Being Scared
On Friday Oct. 4, during New York Comic Con's "Watchmen" panel, Lindelof explained in conversation with moderator Jen Chaney that he has a rule about not working with the same actor on two different projects. But considering how magnificent King's performance was on "The Leftovers" Season 2, and considering what he wanted for Sister Knight, he decided to break his own rule. "It was a dumb rule," Lindelof admitted to the hyped-up crowd. King also teasingly disparaged his rule. "Well, I'm glad I didn't know about [that] rule," she said. "I would've thought that it was a joke!"
Both King and Lindelof were excited at the opportunity to work with each other again. "He so graciously sent a letter with a script that no one else was able to read," said King. "It had the loveliest letter that said, you know, this is his next project out, it's dear to him, and he couldn't see anyone else to be on this train with. And I was just, like, OK, I don't even really care what I'm about to read. I'm in it!"
Once King started reading the script, she was immediately impressed with the characters and story that Lindelof had written. "I had never read anything like this. I had never seen this world, I had never seen this woman before. So complex," she said.
What also enticed King to the project was the angle it takes on the superhero genre. On the panel she talks about how along with the script, an envelope was attached that read "Regina: Don't open this until you get to this page. Don't cheat!" Once she got to the page, she opened the envelope to reveal an artist's rendering of her face as the character Sister Knight.
"It would've been very awkward if you had said no," Lindelof joked. "Very, very awkward."
"How could I not say yes?" King concluded. "It was just like, just tell me where I have to show up."