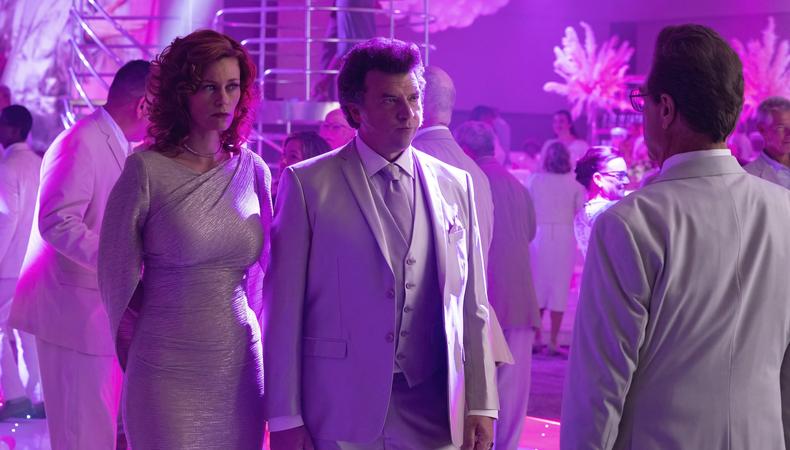 Danny McBride never planned to be where he is now: the creator, producer, writer, director, and—most surprising to him—star of HBO's hit comedy "The Righteous Gemstones." "I just started acting as a lark," he says.
Growing up in Virginia, McBride was obsessed with everything entertainment, but acting wasn't his focus when he enrolled at the then-new School of Filmmaking at the University of North Carolina School of the Arts. There, he met other aspiring writer-directors, including David Gordon Green and Jody Hill.
But while looking to cast their projects, they discovered a problem: The school discouraged drama students from collaborating with film students. "Out of necessity, it forced us to put each other in our films," McBride recalls.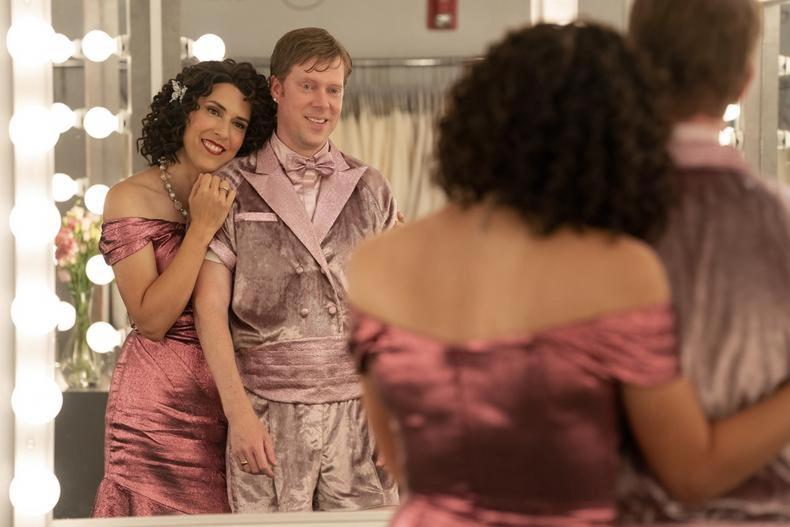 Edi Patterson and Tim Baltz Credit: Ryan Green/HBO
So when Green needed a quick replacement to play the role of Bust-Ass in his sophomore directorial effort, "All the Real Girls," he called McBride.
Four years later, McBride wasn't just an as-needed actor, but someone who could lead and see a project through. "Being in front of the camera just helped push all these other endeavors along," he remembers. By 2009, Green, McBride, and Hill were vying for one of the most valuable slots on TV: a Sunday night spot on HBO. The raunchy comedy series "Eastbound & Down" was built around McBride as Kenny Powers, a foul-mouthed major league pitcher–turned–middle school gym teacher. The show's success kicked off what McBride describes as his "misunderstood angry man trilogy" of protagonists: the egomaniacal Kenny, the irritable Neal Gamby on "Vice Principals," and now Jesse Gemstone on the televangelist comedy "The Righteous Gemstones."
All three are unlikely heroes that McBride manages to make both hysterically funny and shockingly repulsive—a blend he and his collaborators specialize in. "I don't think our sense of humor would allow us to create something with a traditional, likable protagonist—our ideas are too bent for that," he says. "It's interesting to align people with someone who you're not sure if you're supposed to be celebrating or booing."
While running and starring on a successful series is now old hat for McBride, he admits it was a steep learning curve.
"Because we were so fresh, we argued with people all the time," he says. "We've learned that the process can be a lot easier if you don't cause fights over every single thing."
Acting in films directed by Ridley Scott, Jason Reitman, and Ben Stiller has given him even more lessons to take into his work. "The most interesting part of this whole career has been being able to see how those guys work with actors and shoot scenes," McBride says.
He first added directing to his roster while working on "Vice Principals." For the second season of "The Righteous Gemstones," he took on the memorable episode "As to How They Might Destroy Him," this year's only installment not helmed by Hill or Green.
"One reason why I don't direct more of the episodes is that I feel like it is a full-time job, and I like having someone who is just focusing on that," McBride says. "When I first started directing myself, I'd think like a producer and pay too much attention to how much time we were using. I looked at my performance, and I was going fast, trying to get us through the scenes."
As a multihyphenate with three revered shows and counting, McBride advises balancing your passions. "Half the year, I sit on my ass watching reality TV, and then, suddenly, I'm thrown into this fire where I'm juggling 10 different plates. When it's all over, I'm exhausted and wondering how the hell I did it," he says. "It feels daunting, but if you love what you're doing, you'll find the energy to make it happen."
This story originally appeared in the June 16 issue of Backstage Magazine.