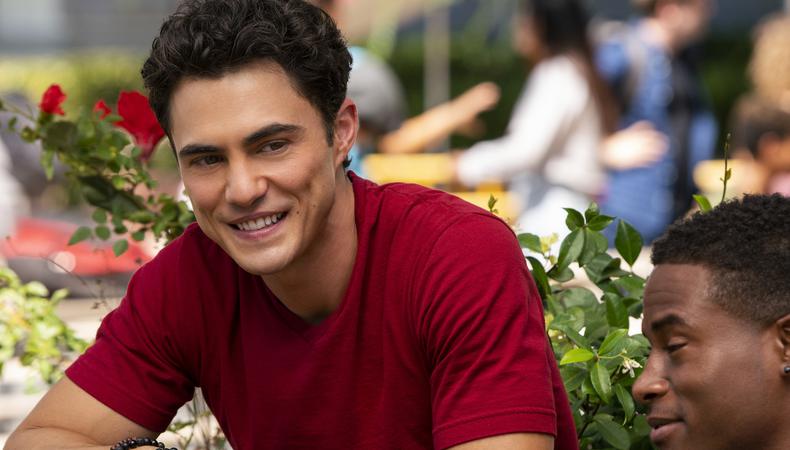 The following Backstage Live was compiled by Backstage readers just like you! Follow us on Twitter (@Backstage) and Instagram (@backstagecast) to stay in the loop on upcoming interviews and to submit questions live on camera.
Never have we ever been as quickly charmed by a new series as we were with "Never Have I Ever." From co-creators Mindy Kaling and Lang Fisher ("The Mindy Project"), this semiautobiographical coming-of-age Netflix comedy stars newcomer Maitreyi Ramakrishnan as Devi Vishwakumar, an awkward-but-lovable first-generation Indian-American teen who in the aftermath of her father's sudden death, redirects her life into uncharted waters. One such item on her bucket list is hooking up with her school's resident heartthrob, Paxton Hall-Yoshida. Darren Barnet stars as Paxton and brings surprising layers to the misunderstood jock who gets swept up in Devi's daily microdramas. The actor recently took over Backstage's Instagram to answer audience questions about his character, career, and lasting advice: "I just wanna tell any actors out there, creatives of any sort, whatever you're doing, do it for the right reasons, never compare yourself to other people, realize you're enough, keep going, and do it with love."
What's your favorite scene from "Never Have I Ever"?
The car scene and kissing scene between Devi and I, just because of the way they shot it. They were playing the song that you hear in the episode when we're driving in the back seat while we were doing the scene, so it was very moody, very real, very raw. I loved it.
What was your reaction when you got the part?
I fell flat on my back on the floor, and then I called my mom. It was a happy fall.
What traits do you and Paxton have in common?
Paxton gets judged by his cover a lot, and people don't realize that he has a lot underneath his exterior. I can relate to that sometimes because people will judge me before they meet me.
What's something you want to be remembered by?
I wanna make great art, great films that touch lives [and] inspire. One thing I say to myself all the time is: The moment you think you're better than someone is the moment you become worse, so treat everyone with the same level of respect.
Any tips for self-tapes?
Self-tapes used to drive me nuts because I felt I was confined to a box and I had to choose my own takes, there was no direction. But realize that you have so much power because you have so much room to play. So take risks, be brave, think about what you can do that other people probably aren't doing.
What's the best advice you would give to a struggling actor?
One: Keep going. Two: Don't place your happiness on acquiring your next role. Don't look at it like, "Oh, if I become a TV series regular, I'll be happy; everything will be figured out." Your happiness is in [you], no matter what.
Have you always dreamed about being an actor?
Since about age 4 or 5, yeah. And I was always told no because it's a very challenging career, the most competitive in the world. But I stuck to my guns.
What's your favorite movie?
David Fincher's "Fight Club," hands down. And playing a role like Brad Pitt as Tyler Durden in that film is a dream role of mine.
What's your life's philosophy?
Family over fortune, moments over money, giving over greed. And whatever you do, operate out of love.
Any advice for a soon-to-be college grad?
Your parents may hate me for saying this, and I don't want to get in trouble, but just realize that this is the time to take risks. It's OK to do something that scares you and to chase something that you think might be impossible. Right now, you have time on your side, so go do it.
Describe yourself in three words.
Classy. Bougie. Ratchet.
Want to hear more from Barnet? Watch our full Backstage Live interview at our Instagram page, @backstagecast.
This story originally appeared in the May 14 issue of Backstage Magazine. Subscribe here.