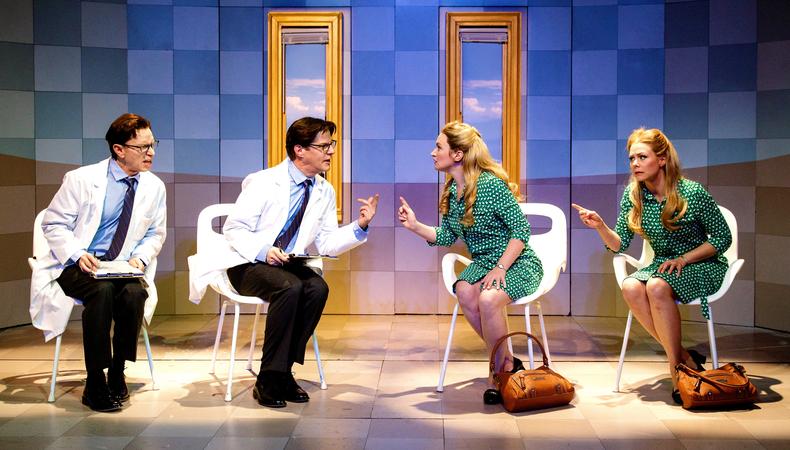 Master wordsmith David Ives can't find the language to explain one of his one-acts. " 'Lives of the Saints' is my favorite play of all I've ever written," he says. "It's hard to describe but it's very close to my heart." He grasps for the right words. "It's a conversation with myself, with my past, with the theater, and with actors all at the same time."
The title play in Ives' latest compilation of one-acts, now presented by Primary Stages at the Duke on 42nd Street, draws from his Polish Roman Catholic upbringing in Chicago. There's a whimsical twist partway through that renders the play's action distinctly theatrical; Ives says the difficulty it poses for the cast is part of the fun. "It's like a tight-wire act every night to see if the actors are going to be able to pull off this thing. I never tire of watching them do it.
"It's dedicated to my late mother, so I have a personal relationship to it," the playwright adds. "She always seemed rather tickled by the play when she saw it."
A sequel of sorts to his beloved 1993 collection "All in the Timing"—which Ives now calls "too clever by more than half"—"Lives of the Saints" contains three newer world premieres and three older New York premieres in addition to the titular piece. Although the overall production skips from vaudeville to satirical drama to madcap existential farce, all seven one-acts share the playwright's signature wit and verbal gymnastics.
Both Ives and director John Rando use the word "evening" to refer to the collection. "Language is like a needle on a fine thread throughout the evening," says Rando, a longtime collaborator in what he dubs "the Ives-ian theatrical playground." The director particularly enjoys listening to audiences listen to the one-acts; their lively rhythms, he says, resemble chamber music. "They're hearing the resonance between words or they're enjoying the double entendres or onomatopoeia. It becomes theatrical poetry; it's lyrics as well as playwriting."
For the cast, this means plenty of comic polish on jokes that must often land at breakneck speed. "At least one of the actors onstage is being faced with a challenge in tone or in physical business or in simply speaking dialogue which is very complicated or fantastical in some way," says Ives. He remembers the difficulty he once had trying to stage both "Timing" and "Lives" in rep; the logistics alone for an ensemble of five proved nightmarish. Every mini-play is its own insular world, and it's largely up to actors to establish tonal shifts—not to mention change into 35 costumes and over 20 wigs.
Rando says performers can know everything about a particular Ives play within the first page, or even first few lines of dialogue. "For an actor, finding the clues within the distilled, smart language becomes the challenge and the fun." Both director and playwright heap praise on Arnie Burton, Carson Elrod, Rick Holmes, Kelly Hutchinson, and Liv Rooth for their impeccable approach to the material. "It doesn't really matter what they say with a cast like this," Ives says. "They're so good they could speak gibberish—in fact, they may in certain parts of the evening."
Each actor, according to Ives, began their career in a specific corner of the theater scene. "Everybody starts in a corner of theater! Except Stephen Sondheim, who started with 'West Side Story,' " he says, laughing.
The playwright (who is in fact working on a new musical with Sondheim) advises early-career actors and writers to work as often as possible, no matter the available budget. "Working poor is a good thing. The nice thing about theater is it's the only art where the daily act of being in rehearsal and putting something onstage gives you material for what's going onstage. Enjoy your corner," he adds, "because the room gets bigger before you know it."
Inspired by this post? Check out our New York City audition listings!