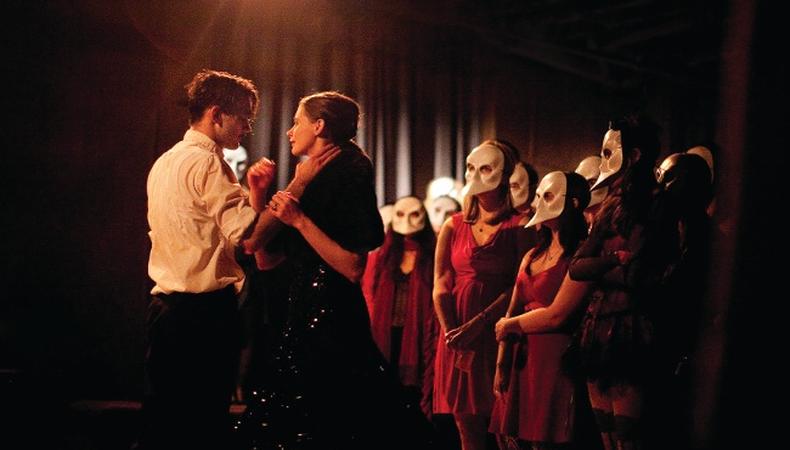 Jack-o'-lanterns are grinning their ghoulish grins, candy is flying off department store shelves, and yes, Halloween falls on a Friday this year. What better way to experience New York's most fiendish festivities than a night of immersive mayhem at the McKittrick Hotel?
Home of "Sleep No More," Punchdrunk and Emursive's interactive, site-specific adaptation of Shakespeare's "Macbeth," the McKittrick will kick off its annual Halloween celebration with "Inferno," two consecutive evenings of costumed debauchery celebrating the seven sins, Oct. 30 and 31. Much like the show preceding it, "Inferno" will feature specially crafted entertainment, including DJs, live bands, and deviant performance art pieces throughout the 100,000-square-foot Chelsea warehouses. Party guests—whose attire must be inspired by lust, gluttony, greed, sloth, wrath, envy, or pride—may also purchase tickets to a preshow dining experience called the "Last Supper" by R.L. King, chef of the Heath restaurant.
Cesar Hawas, special envoy at the McKittrick, said the event will unveil places within the hotel never before open to the public. "I don't want to give any specifics because it's always a surprise," he demurred. Judging by the festivities of years past, audiences are in for a wicked ride. "In the past, guests came to 'Sleep No More' and then 20 minutes later found themselves on the set of a mummy movie, the ballroom completely covered with sand, and a giant pyramid onstage."
Last year's "Curse of the Mummy" and 2012's "Carnival des Corbeaux" imagined audiences as participants in a grand, spooky narrative not unlike the nonlinear rendition of the Scottish Play that depends largely on individual whims and interests. The choose-your-own-adventure qualities of "Sleep No More" have transformed the show into a Manhattan theater mainstay, fueled by thrill-seekers, Shakespeare and Hitchcock enthusiasts, and tourists alike. Because audiences move freely through the world of the play, following nothing but their gut, many New York theatergoers have returned again and again.
"Inferno" is a special two-night extension of that empowering experience. According to Hawas, it's meant in part to challenge "the banality of what Halloween parties in New York City have become. Who doesn't love getting wasted on Halloween? That's certainly a part of it. But what's really exciting is it elevates what I think other places do rather mechanically.
"This is about embracing the theatricality that is the very essence of the McKittrick Hotel, and at the same time embracing the macabre. It was sort of our response to 'Come as a sexy nurse.' " As with all effective immersive theater, Hawas advised, "Be bold and adventurous and seek out the things that are the most curious to you."
If you want to take this year's All Hallows Eve celebrations to that next level, visit the McKittrick's website and start indulging those deadly sins. Tickets to the infernal party are available now.
Like this post? Check out "7 Companies Producing Groundbreaking Immersive Theater."