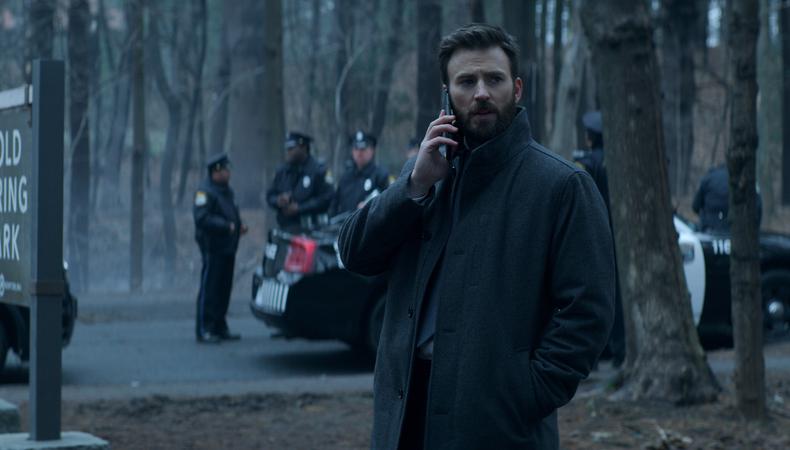 For Mark Bomback, penning his new Apple TV+ drama series "Defending Jacob" was a welcome change of pace for the screenwriter, who typically writes big budget Hollywood fare. "It's going to make a return to that action, plot-driven stuff a little difficult for me," he says. "I've never looked forward to coming to my computer in the morning more than I did in the writing of this show."
Bomback serves as showrunner, executive producer, and writer on all eight episodes of the limited series directed by Morten Tyldum (an Oscar nominee for "The Imitation Game"), about a Massachusetts district attorney's son who is charged with murder.
Looking to procedural TV dramas like "Rectify," "Broadchurch," and "True Detective," Bomback saw the opportunity to write this story about a crisis of parenting; as a father himself, it was something he couldn't pass up. When William Landay's 2012 novel upon which the series is based was brought to Bomback, he told the producers he only wanted to do it as an episodic series. "If you boil those shows down to plot, they're not as interesting; but when you think about them as functions of character, they're suddenly much more interesting.
"There's something about being free to not get hung up on page length, which is such a silly thing, but it's what [feature film] screenwriters spend a lot of time pulling their hair out about," he adds. "It really allows itself to have detours that are about theme and character and not beholden to where we are in the plot all the time."
Dark and haunted, "Defending Jacob" burns slow, following Andy Barber (Chris Evans) and his wife Laurie (Michelle Dockery) as they deal with the ramifications of their son, Jacob (Jaeden Martell), getting accused of killing his classmate. Cherry Jones, Pablo Schreiber, Sakina Jaffrey, Betty Gabriel, and J. K. Simmons co-star.
After Evans became attached to play the show's lead, the rest of the casting fell into place. For the crucial role of Jacob, Bomback expected to cast a wide net with go-to casting director Meredith Tucker. Instead, they watched a tape from Martell (of "It" and "Knives Out") and knew he was going to play the title character. "He was so perfect," Bomback remembers. "He was filmed in his bedroom by his mom, and he was just incredible."
Playing a Teen Murder Suspect on 'Defending Jacob' Made Jaeden Martell a Better Actor
When reading actors or watching tapes, Bomback perks up when a performer finds a nuance within the words he's written that surprises even him. "If I see there is another layer to the character I didn't even necessarily create myself, I get really excited," he says. And for actors stepping into an audition, he adds, "It's just doing a nice, hard think about what it is that is on the page; just playing the reality of it as best you can goes a long way."
Bomback resides in Westchester County, which is among New York counties with the highest number of COVID-19 cases, a topic that proves hard to avoid. A silver lining Bomback finds, however, is that he's already used to working remotely, having lived in Westchester for 15 years. "I've written whole scripts remotely," he adds. "I do think a lot of people are realizing that in some ways it's a bit more of a productive way to work. You don't have to belabor a lot of the niceties that come with having in-person meetings."
As for how the novel coronavirus pandemic will affect Hollywood, Bomback feels there are no easy answers. "I think, if anything, it's a boon to streaming [content]," he says. "Why is something deemed theater-worthy versus streamer? That question is going to be asked even more pointedly now. It's something already in the ether, and this has just put a bit of a magnifying glass on it."
The first three episodes of "Defending Jacob" premiere on Apple TV+ April 24, with new episodes following weekly.
Looking for remote work? Backstage has got you covered! Click here for auditions you can do from home!