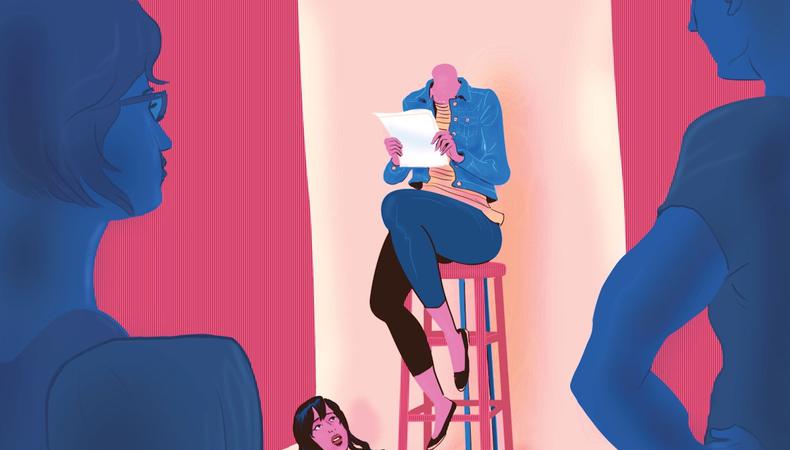 While teaching my Audition Bootcamp class recently, I was stunned when a student asked, "What's a preread?" With so many different levels of meetings and unfamiliar verbiage when you start out, I compiled a guide to familiarize you with the audition process.
The General. I may already know your work, but at this informal interview I want to see what you are really like. Be yourself. It's a huge opportunity for us to get to know each other on a completely different level than will occur in an audition. When we ask what you've been up to, we don't want to hear, "Nothing, just stuff." Tell us what jobs you just did or how great your new class is—anything related to your craft. Tell a story that gives an idea about your life. If you've done your homework, you can say, "Hey, I just loved that film/series you worked on. How did you find that little girl?"
Unfortunately, these days the "general meeting" has been usurped by CD workshops. Few CDs do generals anymore, claiming they don't have the time.
Preread. This is if the CD is unfamiliar with your work, or there wasn't a decent demo reel to view. Perhaps I don't quite see you for the role and want to see what you'd do with it before bringing you to my creative team. Think of it as a work session, not a hurdle.
You are prepared and have done your research on the role and the project. You are as off-book as possible, but still holding the sides and turning the pages as you go. Remember, folks, this is your job! If you were an architect, would you come in and do a half-assed job on your first consultation meeting with a new client?
Feel free to ask brief, specific questions about the character or script, but gauge how busy the casting office is in terms of small talk. Due to the fast-paced schedule, sometimes the CD needs you to do the scene and leave.
Don't ask if you are getting a callback, but do tell the CD if you are previously committed on dates that would make you unavailable. Nothing is worse than bringing in for producers an actor who is unavailable for the project. I will usually tell you then and there if you're coming back, along with specific directions.
If you don't get a callback, know that if you're good the CD will bring you back for another project. I always say, "Make a fan of the CD because even if you aren't right, the CD will say, 'I'll keep him or her in mind for the future.' " And we do, and it pays off again and again.
The Callback or Producer-Director Session. At this audition, you've been selected to read for the CD and the creative team. Sometimes the director and producers will be in the room, and sometimes we'll retape your audition without anyone else in attendance. You've got to take in all the info and direction you received at your preread and make sure you "bring it" to this audition. Again, you're off-book and connecting with your reader. You can hold the sides. Make sure you don't make any major changes to your reading at this point. Consistency is important.
The Network and Studio Test. Actors must go through a rigorous process to get a role in a series—there are often four phases of pilot testing in all.
The Screen Test. Screen tests today are filmed in our offices. Sometimes we'll shoot with two to three cameras for different angles. We might pair you up in a mix-and-match situation with different actors to see who has the right chemistry. When I cast "E.T.," we had all our final choices of kids come to the writer's house and play Dungeons & Dragons to see their chemistry. It became clear that one of them didn't quite fit with the others.
At this point you are as ready as you'll ever be. No sides this time; you are "in the skin" of your character. This is no time to let nerves get to you. Remember that you've earned your place in this room.
In all these auditions, you've got to have a good mixture of patience, tenacity, and consistency, along with being able to listen. Keeping your heart open along the way will take you far.
The views expressed in this article are solely that of the individual(s) providing them,
and do not necessarily reflect the opinions of Backstage or its staff.