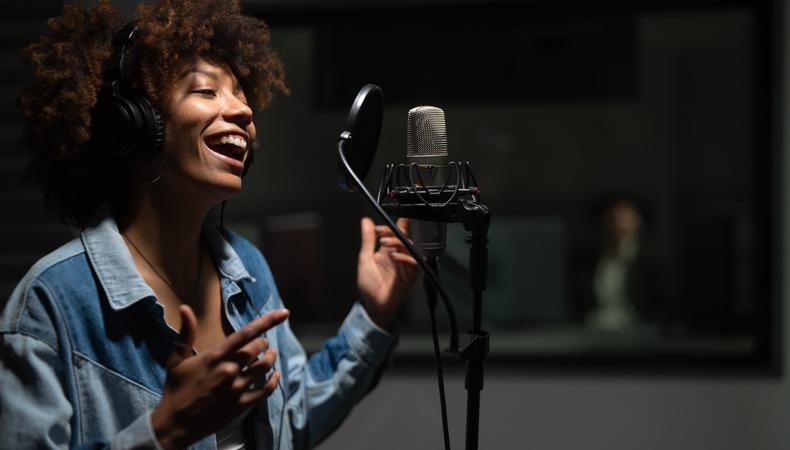 Considering she has managed voiceover casting, talent, and business affairs for 16 years across all Discovery networks and platforms, Joy Johnson-Williams is, to say the least, well-versed in the field.
Some of Discovery's most-watched events, like "Shark Week" and "Puppy Bowl," have been under Johnson-Williams' direction. Most recently, she's been focusing on finding VO talent for the launch of Discovery+'s global initiatives, including Discovery+ US, Discovery+ EMEA, and Discovery+ Canada.
Before joining the world of cable TV, Johnson-Williams worked in the film industry for 15 years, writing and producing for Sony Pictures Studios, Steven Spielberg's Amblin Entertainment, and DreamWorks SKG. Here, the TV and casting vet offers invaluable insights for any voice actor who's eager to get booked, particularly in the documentary and docuseries spaces.
What skills does a documentary or docuseries voice actor need?
A successful documentary or docuseries voice actor needs to have a clear, articulate voice. Even if you have the most beautiful-sounding voice with amazing cadences and timbres, if you don't articulate when you speak, you will not book VO gigs. You also need to have the ability to understand and process a project's subject matter, and in turn, the ability to convey the emotional tones needed to reach the audience while revealing the intended message of the program. A great narrator is a great storyteller.
Where do you source your VO talent, and can you walk us through your casting process?
I find talent through talent agencies and management companies that I've had long established relationships with, personal recommendations from network producers and production company partners, and even through social media sites like LinkedIn.
The VO Casting process varies depending on the needs of the client. Generally, if a production has a clear idea of the type of voice talent they're looking for, I'll provide them with a selection of talent demos based on their description. Sometimes these demos are selected from my internal database. At other times, I will reach out to talent or talent reps for demos.
If the producers or clients are looking for talent suggestions, then I will make talent demo selections based on the project description, the tone of the program, and the network's brand. After the client identifies the talent they're considering for the project, I arrange auditions so that final talent selections can be made. Once talent is selected, I confirm bookings with talent or talent rep.
How is casting the voice of a docuseries different from casting that of a documentary?
When I'm casting a docuseries, I'm usually looking for someone who meets the tone and the energy of the series' characters and/or the project's subject matter. Ideally, this is someone who sounds and feels like another cast member of the series. For example, when considering casting on a project like "Southern Fried Homicide," I look for talent with a bit of a Southern accent who could give the perfect amount of creepy storytelling style.
When I'm casting a documentary, I'm looking for the best storyteller. I'm looking for someone who can add the appropriate emotion and the right amount of intensity based on the subject matter of the doc. I'm looking for someone who sounds like an authority in the world being featured, but who's not necessarily a part of the world. A lot of documentary narration copy entails extensive facts, statistics, and technical jargon, so I'm often looking for someone with the knack of keeping people engaged in the details, seemingly effortlessly.
What will make or break a VO audition?
Not following any directions that are provided by the client will kill an audition. If a VO talent is able to connect with the material and give a perfect, fluid storyteller read, they'll be most attractive to the client and a likely contender.
What changes have you seen in the VO field over your years in the industry?
Reality TV has created the biggest change in the VO industry during my career. Reality TV is mostly character-driven, meaning in-show talent. The editing trends tend to lean toward previewing clips for upcoming scenes, which often replaces the bumps and transition lines and story points that are usually added by VO or narrator talent.
The pandemic has provided a shift in the industry, creating an increase in opportunities for VO talent with home recording systems. Promo producers have always been willing to work with talent through their home systems, as long as the post connections can be made and the final product can be delivered as the client needs…. Now, producers of long-form formats are now much more willing to take advantage of talent's home recording systems in order to avoid the new and often strict COVID regulations requirements for postproduction facilities.
Can you use a few words, phrases, or directions to describe the VO styles needed for the following documentary and docuseries topics?
True crime or mystery: Authoritative and intense; use dramatic pauses. You don't want to rush through these VO reads. Pacing and inflection are key.
History or current events: Authoritative and confident. VO readers should be clear, concise, and factual while sounding like an authority in the program's subject matter.
Nature and wildlife: Light and often humorous. In many cases, the VO actor is providing a voice or personification of the wildlife being featured in the program.
Innovation, science, and space: Authoritative, approachable, clear, concise, and factual, while sounding like an authority in the program's subject [matter]. Voices with unique characteristics are often selected for these types of reads, because they can offset what are sometimes [cerebral] facts.
Personal profiles or day-in-the-life: Straightforward, confident, and approachable. Read with the right amount of emotions and enthusiasm applied to personal facts and accomplishments.
Travel, arts, music, or culture: Authoritative and confident. VO readers should be clear, concise, and factual while sounding like they know what they're talking about.
Adventure: High energy and hard-hitting inflections. It's important that the VO reads match the energy of the adventure that's being featured in the program.
Supernatural: Intense, with dramatic pauses. Similar to true crime, these VO reads should [evoke] the spooky or weird characteristics that are often found in these programs.
Do you have any final words of wisdom to share?
Work your instrument! Discover what notes [your voice] can hit that may set you apart from other VO artists. If you've got one of those voices with deep baritone qualities, then study other successful talent with similar qualities, and work on playing to your strengths.
When auditioning, take time to study the copy and the message the client is trying to relay. Connect with the materials as much as possible. Always follow any directions provided, and feel free to give multiple takes with audition materials.