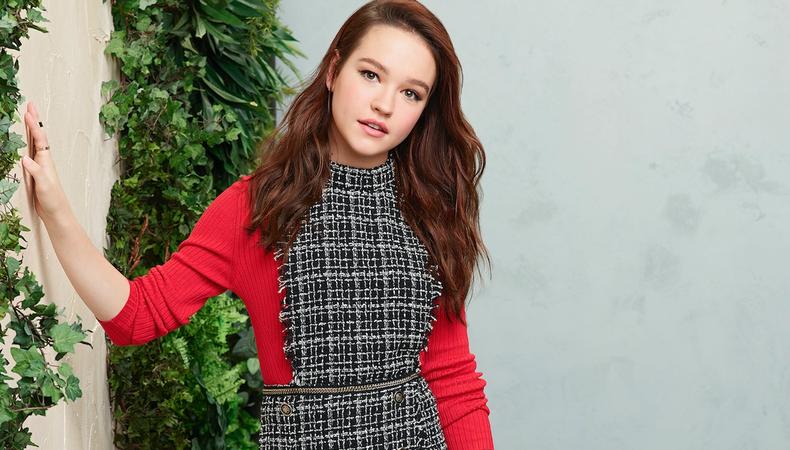 The following Career Dispatches essay was written by Disney Channel's new, live-action "Kim Possible" star Sadie Stanley. The TV movie premieres Feb. 15.
As I write this, I'm sitting on a plane headed to New York City. I'll spend a few days there doing press for the movie I starred in—reminiscing about memories from set, sharing what I hope people will take away from the film, and explaining how I got here. That sentence alone is mind-boggling. Thirteen-year-old Sadie would cry tears of joy at this idea. (And honestly, so does 17-year-old Sadie—all the time.) This phrase is somewhat cliché and unoriginal, but all my dreams are coming true.
I look back at what my life was like before. I was doing shows at a small community theater that was barely scraping by. This is where I grew as a person and as a performer. My love for acting intensified and I became more confident in myself. I loved it, but I knew I wanted more. I wanted to be a part of something bigger. I wanted to tell riveting stories that reached huge audiences, and I didn't want to wait. This past year, it felt like everything was just working out exactly the way it was supposed to, like I was following the path that God planned for me. I had everything I needed: supportive, truly wonderful parents who believed in me; friends who encouraged me; siblings who made sacrifices for me; and eventually, a team of people in Los Angeles who took a chance on me. It didn't have to be this way, and for a lot of people it isn't. I just got really lucky. But it wasn't easy; it was hard and really scary. I remember the day my mom quit her job so we could keep auditioning in L.A.; that was terrifying, but it only made me more motivated to make her dedication worth it and to make it happen.
READ: 6 Tips for Getting Cast on the Disney Channel
It's one thing to have dreams and goals, and it's another to take the steps to achieve them. For me, I had no idea where to start. Living in Columbia, South Carolina meant I didn't have anybody else's path to follow for guidance. I had to figure it out on my own. I remember literally googling, "How do I become an actress?" I was completely starting from scratch. What's so cool, though, is that I know this is the kind of story I would have loved to read back then—to hear from an actor who'd been through it all.
I began by calling every local agency near me, asking if they would meet with me or if they had any open casting calls coming up. I ended up going to an open casting call in Charlotte, North Carolina. I showed up, auditioned for them, and they decided to work with me. I began taking classes and started to learn more about the industry and how it all works. Eventually they sent me to a convention in Dallas, Texas. It was a five-day intensive convention where I had the chance to audition in front of a bunch of talent scouts from all over the country. This was my chance to make an impression on people from the West Coast and Hollywood. That is where I eventually met my manager, Taylor Bright. When I say she is the reason I am where I am, I'm not kidding. She saw something in me and has fought for me every day since.
The next step was to take the trip to L.A. I had been dreaming about going to the city for pilot season for years, and I was beyond excited when I was told to come out. My mom took a leave of absence from her job, and we decided to try it out for three weeks. I switched to online school, we got a little one-bedroom Airbnb, a cheap rental car, and we set off.
My very first in-person audition there was for "Kim Possible." The role felt completely out of my league and I was shocked yet so excited that I could even get in the audition room, considering I had literally nothing on my résumé. I went in to the audition just hoping to do my best and have fun, with the thought that potentially nothing would come out of it. I had no idea that a year later I would be seeing myself on posters and commercials, playing that same role that I thought I had no chance of getting.
I guess what I want to say is that all those big dreams and goals you have—they really aren't that far out of reach! They seem miles away and the chances feel like one in a million (and yes, maybe they are). But who's to say you aren't that one in a million? I know how cheesy that sounds, but seriously, crazier things have happened. If you work hard, are willing to make sacrifices, and never give up even after the 100th "no," you can reach and achieve those things that you can't get out of your head. And maybe one day, a year from now, you'll be looking back at what life was like before.