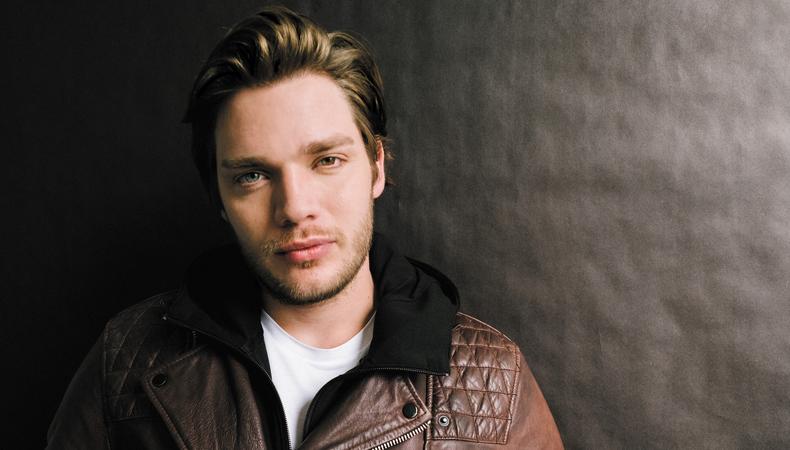 Actors don't sign onto an adaptation of a hit fantasy franchise without hedging their bets. These properties often have the power of an impassioned and opinionated fan-base behind them—one with the power to create online buzz both good and bad in the lead-up to premiere. Freeform's small-screen take on Cassandra Clare's "The Mortal Instruments" book series was no exception, and actors like Dominic Sherwood, who stars as fan-favorite Jace Wayland, were under extra scrutiny to get it right. Fortunately, there was no need to worry—showrunner Ed Decter's interpretation and Sherwood and co.'s performances made the series a runaway hit with the seal of approval from Clare's devoted masses. With the second half of the series' third and final season premiering Feb. 25, Sherwood came by Backstage HQ to discuss his journey playing Chase and his greatest lessons along the way.
Sherwood valued humanizing the fantastical on "Shadowhunters."
"One of the big things that we all spoke about with the production and the writers and the other actors is really humanizing these characters because they are ridiculous and fantastical and wizards and werewolves and vampires, and they're dealing with these insane problems like the end of the world and needing to feed on blood but not wanting to kill anybody. They're under a spell or they're possessed or whatever it is. But at the same time, they're still dealing with their love lives or the fact that their sister can't cook—silly little things that human beings deal with, and things that we thought were really important because they do humanize these characters. We want an audience to be able to relate to a lot of these people, especially with touching on things that are very serious in this day and age: things like sexuality or race relations or whatever things that we felt we had a real responsibility to look at from an important point of view [with] these strong, powerful characters…. Fans have really latched onto it because of the humanizing nature of the show, and that's honestly for me some of our proudest moments."
Hold back from over-rehearsing the material.
"As far as the acting with other actors and the script work and all of the emotional stuff, my thing that I tend to do is, I know the lines and I know who Jace is as a character and I understand his thought process. And then I try not to rehearse too much…. Especially the heavy emotional stuff, I like to kind of just run with it. The words are on the page and the emotions are already there because I understand Jace and how he feels about things. I like to just be as present as possible in those moments, and the other actors around me are always amazing at supporting them and nurturing those emotions as they come out. We explore them together…. Early in my career, I would very much over-rehearse and I could almost feel myself—it sounds very strange—but, like, actively acting. I could feel myself telling myself to feel these emotions as opposed to actually letting these emotions bubble to the surface via this stimulus. So yeah, I think that is something I learned over the course of doing a few films and watching them and seeing that there was a little bit missing—not exactly sure what it is, but I can see that whatever it is, it's just not quite there."
This final season is a bittersweet career high.
"It was just completely happenstance, our last day on set all of us happened to be in a scene where everyone was together. We had guest stars come in that we hadn't seen since Season 1 and they were all in the same place at this time. It was like we really achieved something here that was really cool but at the same time, it's sad because it's coming to an end now. It's tough; it's an interesting sort of dichotomy because this was my life for three years—for three years, my literal blood, sweat, and tears went into this show. You never really anticipate that last day is coming, and then all of the sudden it's your last shot. But we gotta focus on the fact that we did something that we're all very proud of, and all good things do come to an end at some point."
READ: How to Become an Actor in the U.K.
You should always be growing as an actor.
"I think in the art, you're always growing and you're always going to try and progress and reach another level. Maybe that's why I was drawn to [acting] because it's very personally challenge-based. This is the kind of process that I found myself in at the moment. And who knows? Maybe the next job will change that process or evolve in another way, I'm not sure. But that's why I love [acting] so much: It is constantly evolving, it's constantly changing as an art form for the individual and sort of the populace."
Make your own footsteps.
"Acting is so individual. I didn't go to drama school, and a lot of my friends did go to drama school, and we're having very different career paths now because we took different steps on our own journey. I think trying to make your feet fit into the footsteps of someone that you aspire to be is the wrong way of doing it. You can aspire to be that person, but you have to find your own way there. Otherwise, you're trying to mimic someone who experiences life differently than you do. I don't think that works."
On how to prepare for an audition.
"It's tricky, and it's very different, dependent on the project. This is something I'm learning more and more: I'm developing relationships with casting directors, and some casting directors like for you to be very to the letter and to the word, and some casting directors encourage you not to do that and encourage you to have a bit of play with the words. The problem with that is there are thousands of casting directors out there and there is no rule for each one. So for me, what I try to do when I have the time—and this is something that I try to do on a much bigger level when I've been offered a role—[but] for auditions, I try to get as much of the character down on the breakdown, and if there's not enough information in there, I try to fill in the blanks wherever I can, do whatever research I have to do, and then just sort of go out for the day and try and imitate the mannerisms of that character and try to come up with those fun little idiosyncrasies that that character might have; things like a walk, or how would they smoke a cigarette, or how would they eat their pasta that day, or how would they drink a beer? And then most importantly: Why do they do those things? It's not just, 'This would be an interesting thing to do for this character.' Why does he roll over in his sleep? Does he have something going on that makes him uncomfortable when he's sleeping? Does he have nightmares? Why does he have nightmares? Unfortunately, sometimes with these [audition] situations, you're very limited with time. But as much as you can, find these key things and give them a full reason."