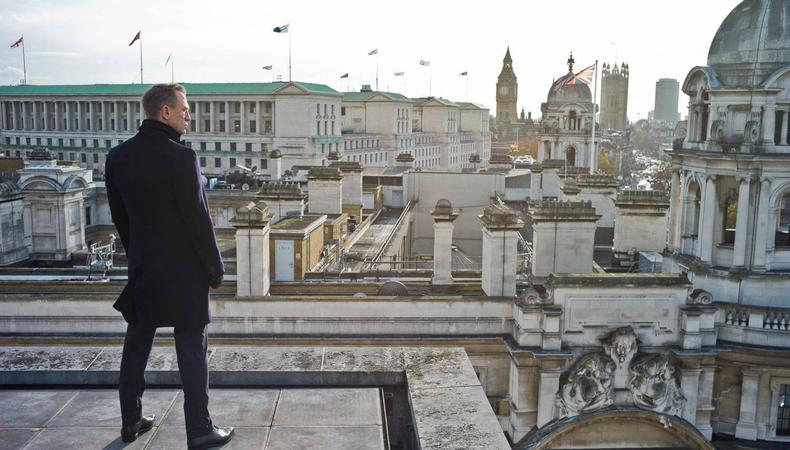 There's no one way to become an actor – so whether you end up in a West End play, on a TV show, or on the road to Hollywood, it's best to have a plan. If you're thinking of becoming an actor in the UK, read this guide to become informed about the process.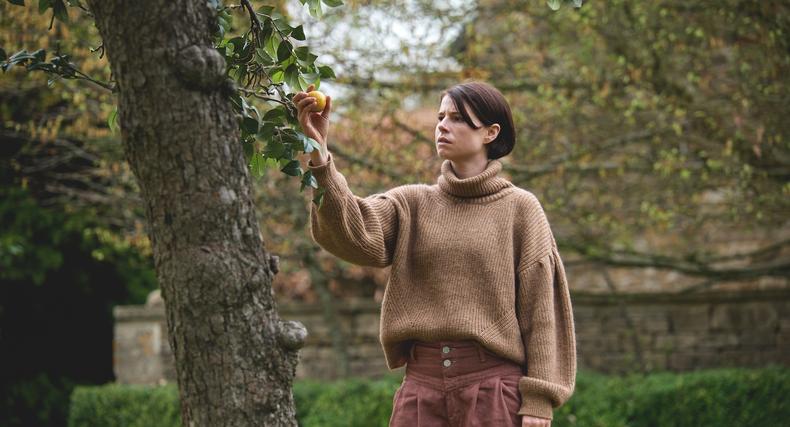 Jessie Buckley in "Men" Credit: Kevin Baker
Want to know how to get into acting in the UK? You'll need a mix of strategy, perseverance, and luck. To help you along the way:
Make your own opportunities. People will always tell you what a competitive industry this is, and it's true – there are a lot of people grappling for a comparatively low number of jobs. Work won't just fall in your lap. Unless you're one of the lucky ones who is plucked from obscurity, you will need to work to make your own opportunities.
Create your own work. Write your own plays, short films, or sketches – wherever your strengths lie. Call upon your friends and loved ones to help promote your work, just as you in return can help spread the word about your fellow actors' projects.
Find your tribe. Making it as an actor is often directly linked to remembering that your competitors are also your comrades. So one must keep the mindset that your fellow actors are potential future collaborators. You'll have a better chance of progressing with each other's support.
Work on that stiff upper lip. If you don't have one already, be prepared to grow a very thick skin. Even successful, established actors will encounter dismissiveness and impatience from people throughout the industry, and you'll have to learn to not only brush off the bad experiences but to learn from them.
Do your research. Speaking of the industry: Learn about it. If you don't know the ins and outs, you won't feel like a part of the industry. Do your research. There are a lot of resources available to you, so if you're serious about your career, you should make it your business to know as much as you can about who is who and who is working on what – otherwise you'll feel like you're on the periphery.
Get an agent. Finding an agent who works hard for you is imperative. Some will disagree and say this is situational, but if your agent has strong relationships with casting directors, you will go out on far more auditions than those who don't have one. Agents often attend drama showcases and make regular theatre trips on the lookout for clients, but you can't rely on being found on your own. You'll need to be proactive about inviting them to shows you're in; emailing when you're in an episode and requesting they tune in; or asking for a meeting via their assistants. However, as with everything, there's a fine line between being proactive and pestering people – if they're interested, they will let you know.
Budget for your dreams. Beyond the cost to train, if you so choose, you'll need headshots and a showreel before you even begin trying to land auditions. You should also consider getting a membership to a resource such as Backstage so casting directors can find you; buying quality recording devices and editing software so you can self-tape at home; and determining your transportation to and from auditions. Many actors will need a secondary gig as support between acting jobs.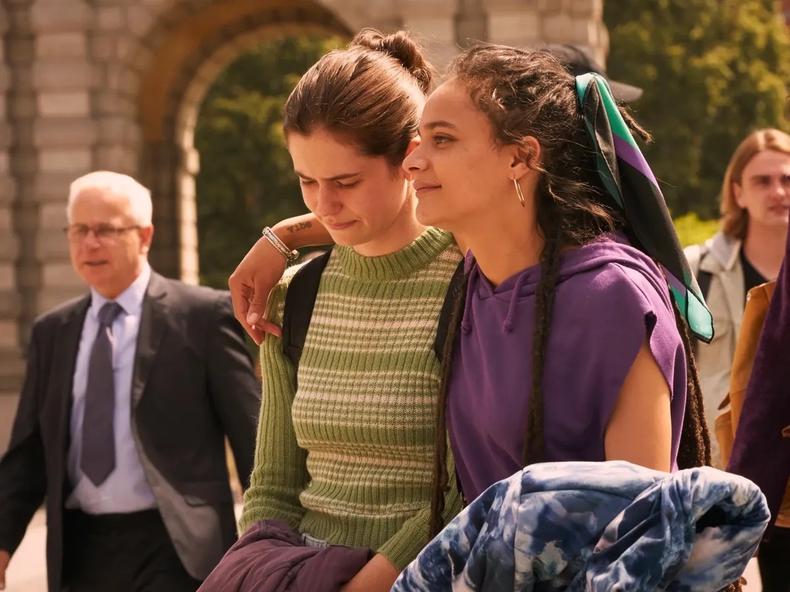 Alison Oliver and Sasha Lane in "Conversations With Friends" Courtesy Hulu
1. Seek training. While training isn't required to be an actor in the UK, it can certainly help. The UK is a fantastic location to study acting, with an abundance of drama schools boasting excellent educators and extensive lists of successful acting alumni. Consider your budget, your objectives, and your choice of commitment level when deciding on where to go for acting training.
Notable UK schools include (but are not limited to):
Bristol Old Vic Theatre School

London Academy of Music and Dramatic Arts (LAMDA)

Oxford School of Drama

Royal Academy of Dramatic Art (RADA)

Royal Central School of Speech and Drama

Royal Conservatoire of Scotland

Royal Welsh College of Music and Drama
2. Build experience. It's fine to start small. Amateur dramatics (the production of theatrical performances by non-professionals) is a great way to start, not just so you can participate in acting projects, but so you can also meet fellow actors and potential future co-creatives. It's a great way to hone your craft, learn from your peers, and build up your confidence as you develop as an actor.
3. Prepare your materials. To market yourself as a serious actor, you'll need a headshot, a CV, a showreel, and an online presence.
Headshots:

Quality

headshots

are one of the main components you'll need to invest in. Make sure your headshots do you justice, as they're the first thing a casting director sees.

Acting CV:

Approach your

acting CV

as you would any job CV: Keep it clear, concise, and professional. List project details transparently, but don't over-do the details. Looking at your CV, a casting director will want to establish:

What acting jobs you have done (preferably listed in chronological order)

If you have any training

A list of

special or unique skills

(if any)

How to contact you
If you're new to the game, you might need to pad it out a bit with school plays or amateur dramatics, which is absolutely fine. Just make sure to edit as you develop, and eventually you can take these off when you have more experience to add. You don't need to list your date of birth; instead, your age range (or "playing age") is more important, as is your height, eye colour, and hair colour. We also want to know what accents you can do, and if you're a singer, what your vocal range is. Be sure to keep your CV down to a single A4 page, which you can staple to the back of your headshot.
Showreel:

Your

acting showreel

is crucial. Make sure you keep it up-to-date, exhibiting only work that you feel represents you well, and under three minutes. Often, people disagree on what is acceptable and what isn't in a showreel; they question whether montage intros (an edit of quick clips of yourself as an introduction to your showreel) are dated, for example, but as someone who works in casting, I personally feel there's room for a bit of creative flair as long as the main point - your acting ability - is correctly communicated.

Online presence:

Having

your own actor website

can be a very useful way of collating everything you want a CD or the public to know about you. You should also give plenty of thought to

your social media presence

. Instagram, TikTok, and Facebook can be great ways of engaging with the public and expressing your personality – but make sure you are representing yourself professionally.
4. Submit to auditions and casting calls. Try to land as many auditions as you can when you're first starting out. If you're invited to audition, then the casting director thinks you have a chance of landing the role. You will learn from every meeting, even if it doesn't go your way. You won't always be given feedback, but you'll start to become adept at reading people's reactions and tuning into the subtleties of their responses to you. Find auditions for gigs in the UK on these databases:
Backstage:

The premium

casting platform

for actors and performers casts thousands of roles a week. It also offers

editorial coverage

that provides actors and performing artists with a wealth of advice, guides, news, interviews, and resources.

The Stage:

The Stage

is another great resource for UK actors looking for opportunities, particularly in theatre.
5. Network. Others in the industry will relate to your struggles and often they can provide really helpful insight, so be sociable. You can look to the union Equity for resources, or try groups and events such as:
6. Get signed by an agent. Just like actors across the pond (and across the world), actors in the UK have the best chance of success if they have an agent. Here's why:
Casting:

Being represented by an agent

who has strong relationships with casting directors will always bolster your chances of getting seen and therefore getting cast. Just as agents will assess what you can bring to their table, make sure you understand their position within the industry.

Negotiations:

Booking jobs necessitates a lot of conversations, and your agent is there to advocate on your behalf. They help negotiate contracts so you don't have to.
It's crucial you maintain a good relationship with your agent. You can't expect them to work hard for you if you are not holding up your end of the bargain. Stay organised and on top of your diary, respond to their queries as quickly as possible, and don't harbour resentment if you don't get cast. They're there to get you in the room; it's up to you to book the job.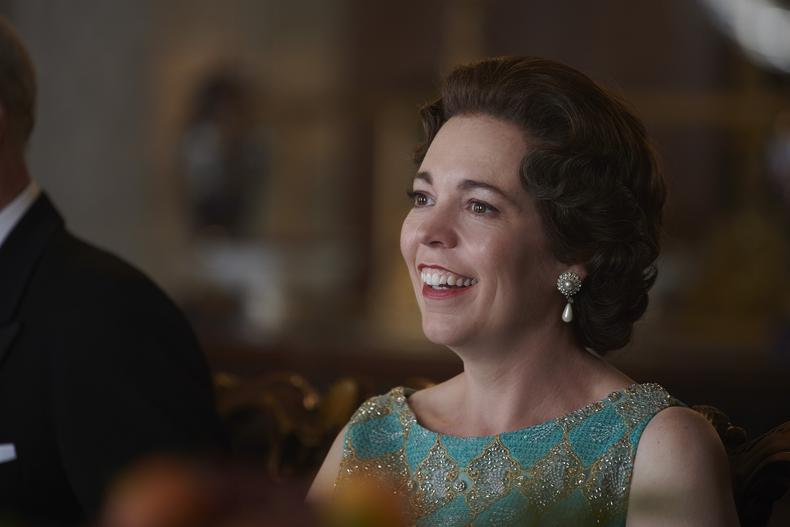 Olivia Colman on "The Crown" Credit: Des Willie / Netflix
Limiting your acting career to stage or screen might be a mistake early on. Be prepared for very different casting processes for each type of audition.
Self-taped auditions:

Creating a

perfect self-tape

is a matter of being believable in the role, making strong choices, and demonstrating that you understand the project. You'll also need the right equipment, including a cell phone or DSLR camera, a tripod and rig, a mic, and lights. Film against a solid, neutral background, wear a form-fitting solid colour, and ensure that you have a tight frame and camera height positioned at your eye line.

Theatre auditions:

Casting directors and directors will instantly pick up if you're not familiar with what you're reading. Not everyone will give you another go at it, so be sure that you've

familiarized yourself with the script

. You'll be expected to demonstrate your emotions in a more obvious way, although theatre auditions are often in close proximity and you might be seated directly opposite your reader and the director. If you are auditioning for an

understudy role

, don't be surprised if you audition for the assistant director and not the director.

Musical theatre auditions: You'll be expected to be at your biggest here – you'll need to project, exaggerate, and stand out as best you can! Arrive warmed up, and if there's an accompanist, it's likely you'll need to provide them with sheet music. If dancing is part of the audition, you'll be expected to pick up a potentially tricky routine very quickly, perform it back accurately and in time, and then somehow outshine your competitors all at once.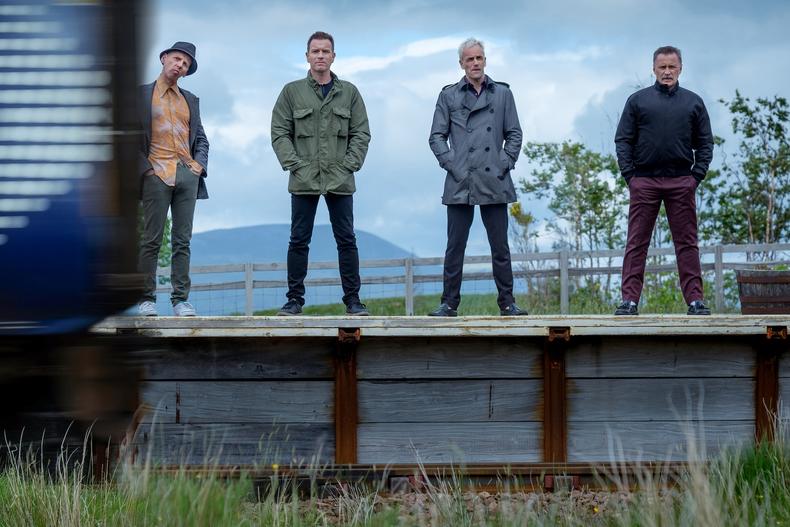 Ewan McGregor, Robert Carlyle, Jonny Lee Miller, and Ewen Bremner in "T2 Trainspotting" Courtesy Sony Pictures Releasing
While you can find acting gigs anywhere in the UK, if you do choose to live outside the main cities, you should be open to travelling for castings. The biggest acting hubs in the UK include:
London:

Acting opportunities abound in

London

, making it the obvious choice for actors seeking work.

Bristol:

A bustling city with a similar arts scene to London (on a smaller scale), Bristol has a fine reputation for theatre and is still within reasonable travelling distance if you are called to the capital.

Manchester:

Since the BBC moved up north, Manchester has seen a huge increase in TV production and created lots more opportunities for northern-based actors.

Edinburgh:

Home to the world-famous

Edinburgh Festival

, the city is an amazingly cultural city housing lots of creativity. It's particularly good for those looking to get into comedy.

Dublin:

The capital of Ireland (and home to the Guinness brewery, as an added incentive), Dublin is home to some exciting casting directors such as Louise Kiely and Amy Rowan.