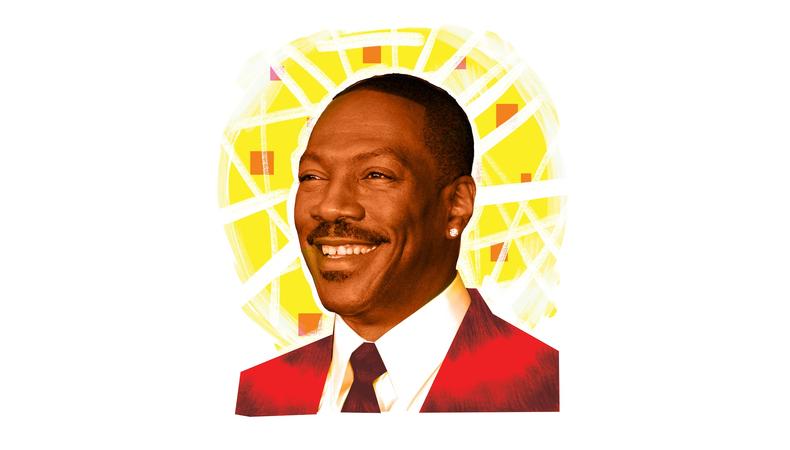 Eddie Murphy started working as a standup comic at age 15 (without his parents' approval) in his native Brooklyn, New York. Three years later, he got the gig most aspiring comedians dream of: NBC's "Saturday Night Live." His casting—alongside Gilbert Gottfried, Ann Risley, Charles Rocket, and others—revitalized the late-night variety show in the early 1980s and launched Murphy into the movie career for which he's still internationally known. "I think for what I wound up doing, there's no better university for a comic actor," Murphy tells Backstage. "There's no better place to have gone than 'Saturday Night Live.' It's Harvard for comic actors." Below, the "Dolemite Is My Name" star shares with us some of his earliest memories of breaking into the biz, as well as the comedic and dramatic performances that every artist absolutely must see.
Eddie Murphy, the One-Audition Wonder
How did you start doing comedy in the early days? And did you have any survival jobs?
My father was like, "You're gonna get a job, a real job. You're not going to be telling any jokes. You've got to get up and go to work. You've got to get up at 9 in the morning and you can't come back in the house until 5 o'clock." So, I had a half a year where I had a job at a shoe store. I was still doing comedy. You would work the weekend, every two weeks, you had gigs all the time. And I enrolled in college. Then six months into that, I got the "Saturday Night Live" audition.
What do you remember about that "SNL" audition?"
One guy was in the room: Neil Levy. He said, "Make me laugh." And you just do your schtick. But I was doing standup, so I had, you know, 15 or 20 minutes of standup. And I did impressions. That was really what got me in there, I think. Back then, I did Muhammad Ali and Howard Cosell and Jimmy Carter and Bill Cosby, all these voices. And they wrote on my audition thing—there was a file, once we got the show, we saw the file of all the different people's auditions—on my card they wrote, "Robert Townsend, but mean." Like I was a mean Robert Townsend. But they hired me! That's what they thought. I remember thinking, Am I mean? I got the job.
How did you first get into SAG-AFTRA?
AFTRA, that's TV, right? AFTRA must have been "SNL." And my SAG card was "48 Hrs.," my first movie.
What's one performance every actor should see and why?
"Raging Bull" with Robert De Niro is the single greatest performance by an actor, ever. My favorite. That performance and that movie…yeah. [And] everybody should see "City Lights" with Charlie Chaplin. The fact that Charlie Chaplin can make you laugh and make you cry with no sound makes Charlie Chaplin the baddest motherfucker ever. [Laughs] Nobody's fucking with that. It's like, yeah OK, you're funny, but let me see you do that when I turn all the sound off. Just the crudeness of the artist up there trying to connect and communicate with the audience—nobody can fuck with Chaplin.
READ: How to Become a Standup Comedian
What about a comedy album or special every aspiring comedian should see?
Richard Pryor was the inspiration from the beginning. That's the ceiling of the art form. Every comedian should see Richard Pryor's first comedy [film], "Richard Pryor: Live in Concert," when he has on the red shirt and the black pants and the gold shoes. That's what started all of this. Before that, there wasn't the comic doing an hour, the comic as the main event. Comics used to be opening acts. Now, it's comedians doing arenas and having an hour show. And back then, Richard was doing movies and stuff. Now, it's comics who have never had a movie or TV show that could sell out the Garden and make millions of dollars.
If you could go back in time, what advice would you give your younger self?
That guy, when I was in my early 20s, he's not listening to advice…. [There's] this story I've told before: I might have been about 18, and I was playing the Fort Lauderdale Comic Strip, and Rodney Dangerfield shows up. And he bumps everybody. So I go, "Mr. Dangerfield, can you stay and watch my act?" He's like, "Uh, yeah, sure, kid." So he does his show [and] I go up after Dangerfield—everybody's scared to go up. And I fucking killed after Dangerfield, right? Then I came backstage and was like, "Hey, what did you think?" And Rodney was like, "Eh, I don't know, kid, you talk that language, where are you going to go with that, talking about race stuff?" I was just shattered! Rodney had just shot me out of the sky. "Where are you gonna go with that, kid?" But I was undeterred, I kept doing my thing. Long story short, I get "Saturday Night Live," two or three years pass. I'm at Caesars Palace in Vegas, at the urinal in a leather suit. Right in the middle of "Delirious" and all that. And I'm peeing. And Dangerfield walks in and [goes] to the urinal right next to me. I look over. And he looks at me. He goes, "Hey, who knew?" [Laughs] So, I never took anybody's advice. Even somebody I respected, I never took anybody's advice. So, if I went to the young Eddie Murphy and said, "Hey, you gotta do it this way," he would think I was an asshole.