Edward Norton knew early on that an acting career was more than just the sum of one's talents.
Edward Norton Owes His Acting Career to a Letter He Wrote Edward Albee
Talent has a hand, certainly—you don't get your union card and an Oscar nomination for the same role, as Norton did with 1996's "Primal Fear," without it. But a real career is more about one's dedication to the craft, determined pursuit of exquisite skill, and unshakable work ethic.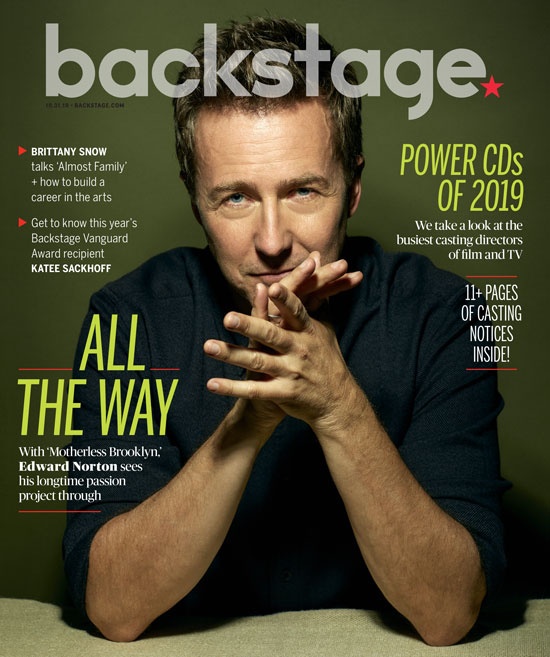 It was Norton's persistence that drove him as an upstart 24-year-old stage actor in the early '90s to write to Edward Albee about a one-act he wanted to produce, "Finding the Sun." That didn't pan out, but Albee was inspired enough to find Norton, then agent-less, at a downtown production of Brian Friel's "Lovers" and cast him in the Signature Theatre run of his "Fragments" shortly thereafter. He gave Norton his first paid acting gig—and the only proof the actor needed to know for certain that perseverance pays off. So much so that when an unnamed, top-tier casting director told him he should stop while he was ahead and find a different vocation, he thought, Fuck her, what does she know?, he remembers. "It's a good reminder to not really listen to anybody on any given day."
That personal clarity has now earned Norton the status of acclaimed multihyphenate. An actor and filmmaker who demands as much from those around him as he does himself, stories of Norton's meticulousness abound, from how he became an uncredited editor on the final cut of "American History X" to similarly becoming an uncredited writer on "The Incredible Hulk." Even throughout the accompanying photo shoot before this mid-September interview, he hops from front-of-camera to front-of-laptop, passing notes on lighting, angles, and wardrobe.
Now, he's putting his filmic aptitude to (credited) use on "Motherless Brooklyn," a long-gestating passion project—and his first time directing a feature since 2000's "Keeping the Faith"—set in the shifting social landscape of 1950s New York City. As writer, director, producer, and star, the period noir is perhaps Norton's most daunting and demanding project to date. Speaking with him about the process, though, it's evident that the weight of the endeavor—from securing the rights to Jonathan Lethem's 1999 novel to spending years "pushing hard to figure out how to get the resources together to do it the way [he] wanted at the scale [he] wanted"—had him right in his comfort zone. He was free.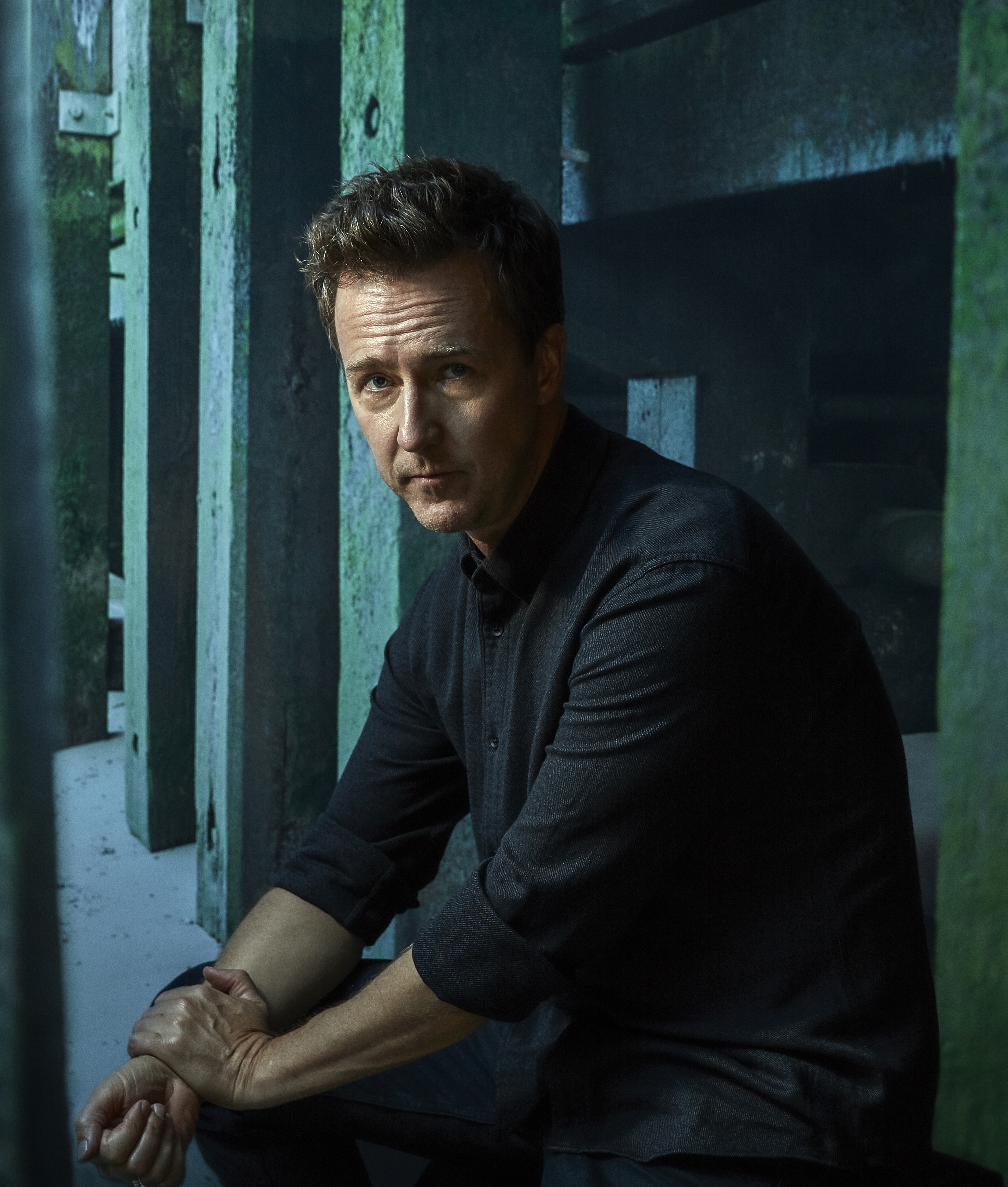 "There was a psychological liberation in knowing that I would sculpt and calibrate my own performance," he says. "It let me experiment very freely with no self-consciousness, no external mind trying to judge the arc of my performance—just [the ability to] do anything and know that I'm giving myself the raw materials to sculpt my own performance in a different dimension later. That was very nice for me."
Norton credits the male role models he had growing up with instilling in him the importance of intention while charting his own path.
"My family were strivers and hard workers," he says, sitting for breakfast in the West Village's Claudette before catching a flight back to Los Angeles. "My dad's work ethic was insane." His maternal grandfather, the influential real estate developer James Rouse, also mentored him as a self-starting artist.
"My grandfather was orphaned when he was 13 and made his way in the world to great success and status as a real community leader with pure scrap—just scrappy, scrappy, scrappy hard work to make himself up out of nothing." Fittingly, Rouse's work in affordable housing and progressive urban development also informed Norton's stake in the themes of "Motherless Brooklyn," which dive into gentrification's corrosive racial divides.
"He had a big impact on me and would tell me, 'You're gonna spend a lot of time in your 20s figuring out what you don't want to do, who the people you don't want to work with are. Don't be afraid,' " Norton recalls. "He used to tell me, 'Just strike out a lot—try and try and try and strike out a lot. That's how you sharpen your blade.' "
To hear Norton tell it, there's no better city for an actor to put that wisdom into practice than Manhattan. "When you come to New York and you want to be an actor, it's humbling, because you immediately know that, 'Yeah, you and everybody else,' " he says, smiling. "If you want exceptionalism or any idea of your destiny pounded out of you and into humility fast, you come here and say, 'I'm doing that.' "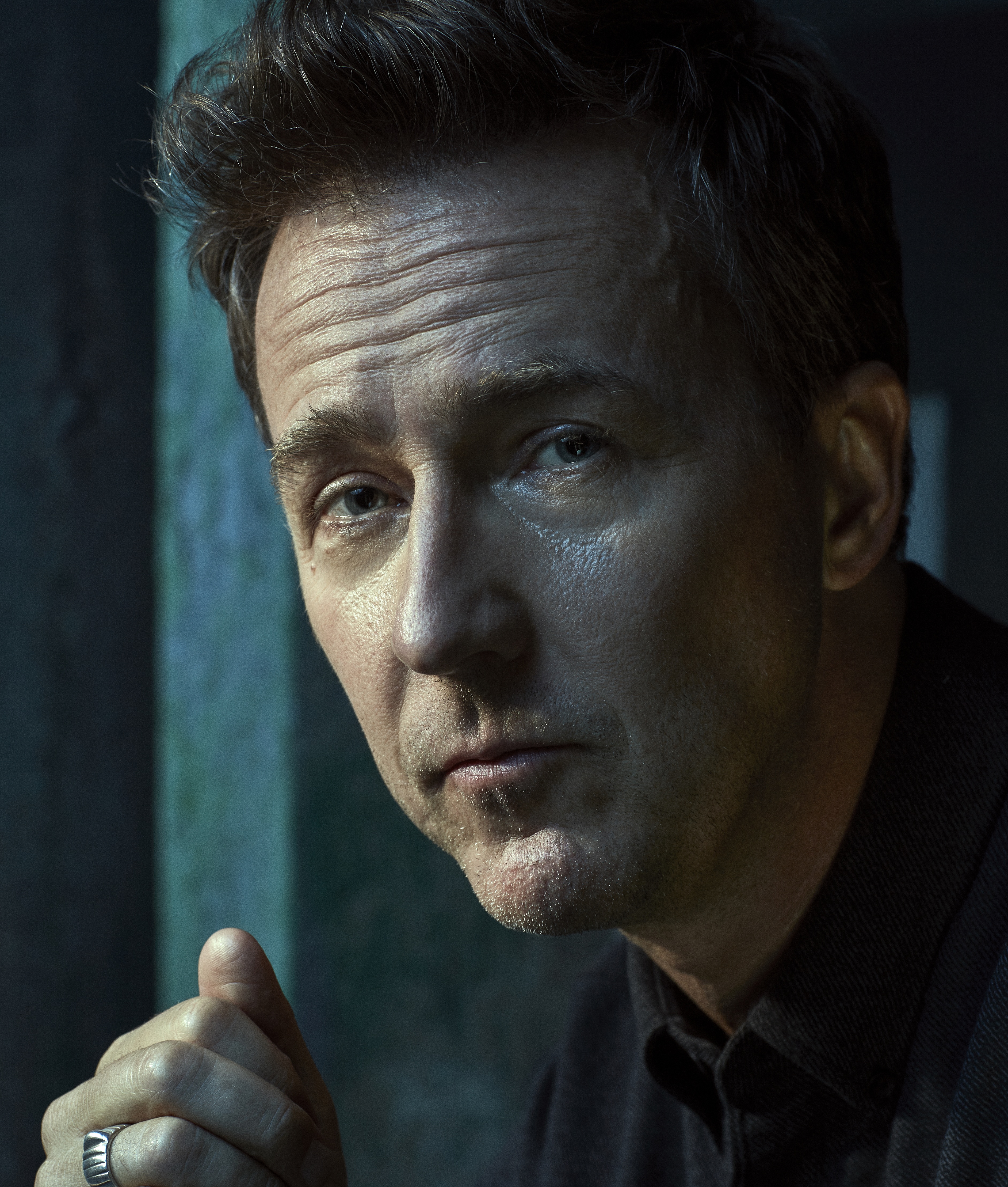 He moved to the arts hub to pursue acting after a brief stint living in Japan and earning his B.A. in history from Yale College. He studied under acting coach Terry Schreiber in the East Village, read the trades—he got his first play through a Backstage casting call ("I love that you guys are still at it. It's important, it's great")—and built a community of collaborators and artists from the ground up.
"The only antidote," he says, "is to just have your radar up and put yourself out there to start amassing data points about yourself as an artist [and] the kind of work you want to do, developing your own trade."
To this day, Norton works with those he met during his earliest years downtown—and "Motherless Brooklyn" is full of them. Of the actors playing opposite Norton's Lionel Essrog, a private detective with Tourette syndrome searching for answers about his boss' murder, nearly all of them are New York vets: Bruce Willis, Alec Baldwin, Willem Dafoe, Cherry Jones, Bobby Cannavale, Michael Kenneth Williams, Josh Pais, Fisher Stevens, Dallas Roberts—the list goes on. Plus, he met his producing partner, Bill Migliore, in 1992 as a result of a Backstage-cast production of Clifford Odets' "Waiting for Lefty."
"Bill and I laughed a lot about it; we were like, 'This is our chance to literally put everybody that we like, everybody that we think is good, in this movie,' " Norton says, adding that Avy Kaufman, "one of the great New York casting directors of all time," had little to do. "At some point, she looked at me and Bill and went, 'Are you gonna let me recommend anybody for any part? This is the easiest gig ever.' " Gugu Mbatha-Raw was the only person for whom he "broke ranks on my New York theater actor criteria."
"She's at such a liminal moment of being discovered by people in a broader way, which was exactly the kind of alluring draw that Lionel has toward her. I just thought she was really, really perfect."
Surrounding himself with a slate of familiar faces and past collaborators did more than just add to the film's New York identity; it allowed Norton as the leader in front of and behind the camera to put his trust in those around him in unlikely but demanding ways.
"I couldn't have anybody at any level who had what I would call the wrong kind of actorly preciousness about environment or concentration," he says, explaining that he knew that because he was both starring and directing, his movement to and from the "little bubble of illusion we create together" as scene partners would be a constant disturbance. He needed talent who could keep up.
"On films, with all the technical distractions, that's intrinsic sometimes, as actors, [that] you can create that little zone in which you're hanging in there together," he says. "I served a notice to everybody: There will be none of that here. I needed people with the technical chops and the facility to know to be ready and step in and nail it. That's where your deep roots with people and your shorthand with them, your confidence in them because of years of working together or knowing each other, pays off. The sensation when you know you're with your OGs, as it were, it really bolstered my confidence a lot.... But the headspace that you want to be in for a fluid, impulsive, instinctive kind of work gets polluted when your brain is outside looking at the technical process, no question."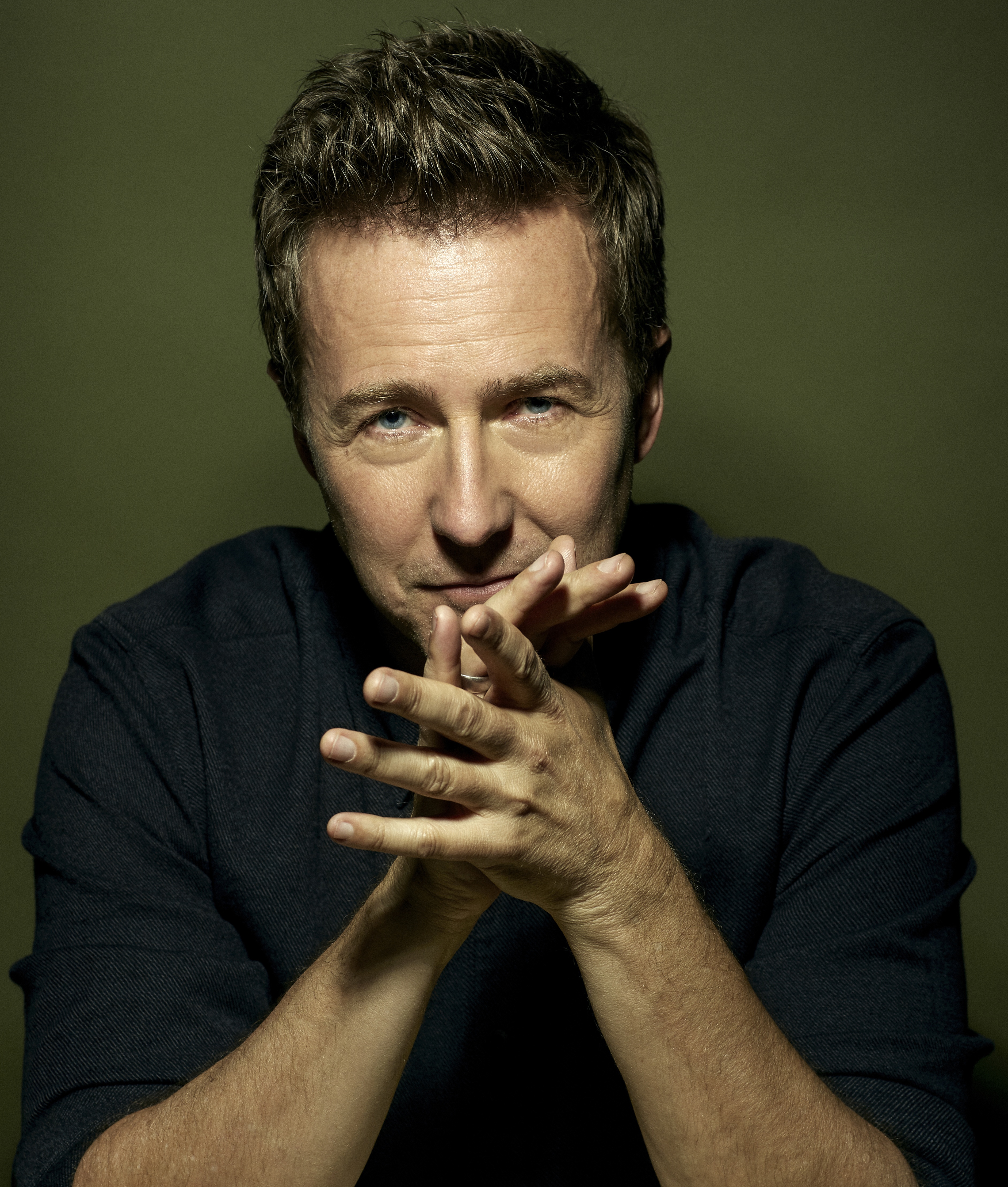 In order to play Lionel—and any of his most memorable characters, really, from "Fight Club" to "Moonrise Kingdom" to "Birdman"—Norton zeroes in on his innate plasticity. Where is there room to reinterpret, to play, to do the unexpected? Sometimes that calibration presents itself in voice work, sometimes in surprising line readings or emotional turns. The end goal is to "disappear and transform and become unrecognizable."
For Lionel, he adds, "the role had plasticity, for sure, in the sense that you could almost invent your own pastiche of how his [Tourette] condition expresses itself. I thought it was the kind of thing that I understood or that I felt I could come up with."
But specificity of expression does not always make a great actor, nor does the lack of it necessarily limit one's potential. Norton gives the example of Harrison Ford, who he says is "a terrific actor" and "iconic in a very rare way," but doesn't have the plasticity of, say, Dustin Hoffman or Daniel Day-Lewis. "His talent doesn't tend to be as transformative." The thought is less a criticism and more a testament to finding what works.
"You can tell when somebody's assimilated the authenticity and understanding of a thing so that it's coming out of them in a way that you can't really imagine that they aren't this thing," he says of what initially draws him to an actor. "Everybody has their own taste, and so your taste becomes what you think is good acting. But, of course, people have such wildly different sorts of talents."
No matter the kind of talent, Norton knows firsthand that an acting career won't get off the ground without a thoughtful approach and connections along the way. He looks to his own early experiences when offering advice for those just starting out: Persist, self-start, and collide with those around you.
"You have to be proximate with people who share the kinds of ambitions that you have," he says. "I always felt that acting in New York was like being a pinball in a machine: You can't get any points hanging out on the bumper, you've got to be slamming yourself all around, all over it.... So much of what evolved out of that [time] came out of strange collisions of people just being out and in the mix and aligning with each other and finding, 'Well, we can make this ourselves. We can do something ourselves. We don't have to wait.' "
This story originally appeared in the Oct. 31 issue of Backstage Magazine. Subscribe here.
Photographed by Stephanie Diani on Sept. 12; Styled by Natalia Bruschi