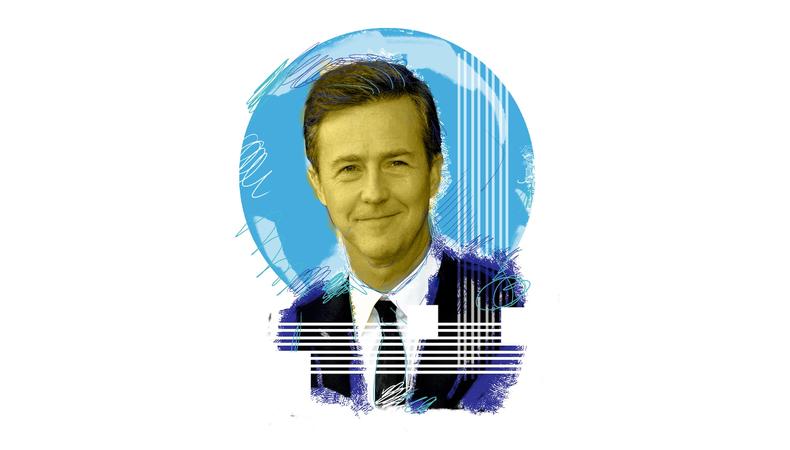 Edward Norton has long been a Hollywood force to be emulated, and with "Motherless Brooklyn," he's showing that he can, indeed, do it all. The period noir film's producer, writer, and director also stars as Lionel Essrog, a private detective who has Tourette Syndrome and obsessive-compulsive disorder. Here, the multihyphenate and three-time Oscar nominee looks back on his early career and shares the insights he picked up along the way.
With 'Motherless Brooklyn,' Edward Norton Plays by His Own Rules
How'd you get your SAG-AFTRA card?
I got my SAG card on "Primal Fear." They had to Taft–Hartley me on "Primal Fear," so I got my SAG card and Oscar nomination on the same film.
Do you have an audition horror story that you could share with us?
It starts as a horror story and then ends up a story of satisfaction. There was a casting director in New York in the '90s who was one of the biggest ones. I'm not gonna be harsh and say who it was; she was at one of the top sort of hyphenate two-partner firms and cast everything that was going on in New York then. I actually got an audition for the New York Shakespeare Festival; I went in and did Edmund's speech in "[King] Lear," and I think I did [something] from "Measure for Measure." And it was toward the end of the day; I had a cold, I remember. Maybe I sounded a little stopped up, but I know I wasn't that off my game. Anyway, she sat me down and sort of looked at my résumé and basically gave me the "I like to be honest with people, and I think you should be doing something else" [speech]. Not even, like, "Thanks a lot." She actually took the time to sit me down and say, "You got a degree in history. Why are you doing this?" And I was looking at her like, "Are you really doing this to me?" And then she was like, "I like to be honest with people, and I think that maybe this isn't for you and you should try something else." I remember going out on the street going like, "Oh, my God, the biggest casting director in New York just told me to get another line of work." And I remember thinking like, Fuck her, what does she know?
Then I ran into her a little while after "Primal Fear," and she was like, "Oh, my God, I'm so happy to meet you finally!" I said, "See you again, you mean." And she said, "What do you mean?" I said, "You mean, 'I'm happy to see you again.' " And she was like, "Oh, you never came through me, I would've remembered!" I said, "Oh, when I tell you, you're gonna remember." I was all ready to really stick it to her, [but] she, to her huge credit, went, "Oh, my God, did I give you the speech?" And I said, "Yes, you did," and she went, "Fuck me. I'm an idiot—good for you!" She was so nice about it that I couldn't, really. But I think that it's a good reminder to not really listen to anybody on any given day.
READ: Why to Emulate Edward Norton's Career
What's one screen performance that every actor should see?
There are so many. Things were formative for me at different phases. I was very affected by "Taxi Driver," I was very affected by "The Graduate," I was very affected by "Annie Hall." I see things now, like, Javier Bardem's performance in [Alejandro G. Iñárritu's] film "Biutiful," I marvel at that performance. He's obviously one of the greats, but knowing everything I know about making films and the way that they're done out of order and all those things—the emotional through line he sustained in that film, I'm still kind of reeling from that performance. It just crushed me.
What's one piece of advice you would give your younger self?
I'd have probably told myself to drive across the country a few more times while you can. Sometimes I would get very hung up on, like, "Well, I shouldn't go do this adventure with these friends because what if there's some audition I miss next week?" But doing things like getting in a car and driving across the country probably does more for your work and your understanding of people and places and voices and sounds than hanging out grinding. I think at that stage in your life, it's impossible to look forward and realize how little time you're going to have for those kinds of wide-open-to-the-world moments. Just go get 'em and soak 'em up.
What's the wildest thing you've ever done to get a role?
I had read this one-act play by Edward Albee called "Finding the Sun." I really liked the play, and I looked up the production history of it and found out it had never been produced. So I wrote him a letter—he was listed at the time! And I just said, you know, "I'm an enormous fan of your work and I read this play and saw it had never been produced and this was my reaction to it and would you ever consider letting some of us mount a production of it in New York?" And I sort of [added]: "By the way, I'm in a production of Brian Friel's 'Lovers,' it's actually pretty terrific, here's a review. If you by chance drop in, so-and-so is involved in the production who I believe has some connection to you through this." I was just doing anything I could to validate it, right? And about 10 days later, I got a letter back from him, and he said, "It's very interesting that you noted that, I'm very fond of that play, I liked your take on it very much. I absolutely would have let you do this, but I have just signed on to do a season with this new company, Signature Theatre, and we're going to do it as part of an evening of one-acts. Maybe you should come in and read for us. Your take on it was very nice. And I'll drop by and see your play if I can."
READ: How to Audition
I couldn't believe it. And two nights later, I came out from my show on East 4th [Street] and the producer was like, "This is Edward Albee." He had come to check it out, and was impressed and very, very nice and he said, "You must now come and audition for us." He ended up thinking I was too old for the play I liked, but they cast me in a much better part in a new play of his called "Fragments," which was part of Signature's season that year. It's wild the number of things that metastasized out of those days."