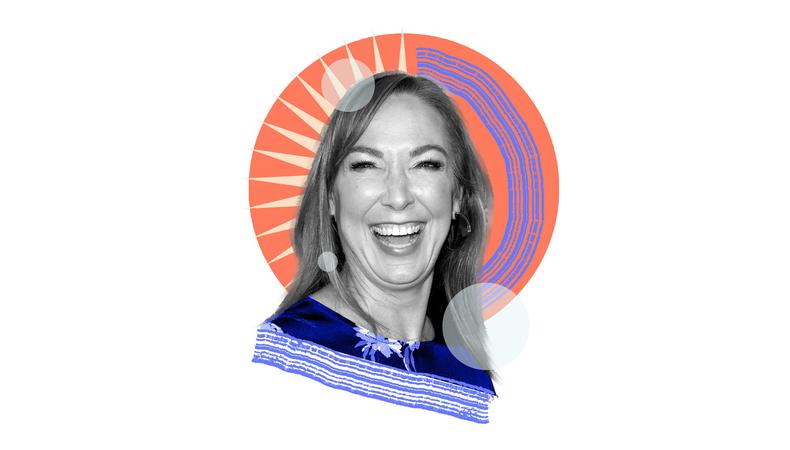 Elizabeth Marvel has always marched to the beat of her own drum. She credits the steady work that has marked her storied career to that unapologetic singularity. Since graduating from Juilliard in the early 1990s, Marvel has been a staple of both stage and screen, from starring in Edward Albee's "Seascape" on Broadway to playing politicos on TV on "House of Cards" and "Homeland." Now, she enters the Marvel Universe as the long-institutionalized Victoria Helstrom on Hulu's "Helstrom."
How did you land your first agent?
I was very fortunate, because I was in Juilliard in New York City. I took a little detour out of high school; I went to a boarding school for the arts and I was a visual arts major. I got into some trouble, so I didn't complete my portfolio when I graduated. I bummed around Europe, I followed the Grateful Dead a little bit, and, long story short, I landed at Juilliard. In my third year, we did, I think, "The Duchess of Malfi." A few agents snuck into one of the third year presentations, which I guess they weren't supposed to do. One of them was this gentleman, David Kalodner, who is a stellar agent and human being. He was my first agent for a very long time. He signed me at school. My entire fourth year, I had an agent. I didn't take advantage of it because I didn't want to leave the program. It was this weird psychic safety net. I didn't do the fourth year freakout all of my classmates did. I remained the dirty little hippie I'd always been and didn't really worry about it. [Laughs] I worked right out of school—I went straight to [the] Stratford [Festival in Ontario]. It's funny—a lot of my early life as an actor was kind of accidental. I'm a bit of an accidental actor. Not to say I don't work incredibly hard and don't take it incredibly seriously, but it wasn't my original intent.
What advice would you give your younger self?
I would say to my younger self something that somebody said to me a little later: "Put down a bat and pick up a feather" with regard to yourself. Not every job is the Olympics. It's all one painting, and we just keep working, so be gentle. I started working in the '90s. The thing that was selling at that time was the child-woman—girl-women, waif-y women that talked in baby voices and were very petite. No disrespect to that; that's a perfectly charming type. But that was what was imposed on women. I knew right out of the gate I don't have to get hung up there; that's not going to be my bag. [Laughs] I can keep doing my freaky thing over here and taking up a lot of space and not worry about it, because I'm going to live and die on my own sword. It's not about assimilation for me. I'm grateful, because I never got strung out about the whole beauty trip. Not that I don't look in the mirror, [but] I was not auditioning in bikinis. I've always been a character actor. I never had to worry about so much shit a lot of my women friends have had to wrestle with. That must be rough.
How did you first get your SAG-AFTRA card?
My SAG card—this is funny. It was a spinoff of "The Honeymooners" on HBO, pre-"Sopranos." It was me and Jane Krakowski; we were both babies, and we were the neighbors [in the show]. I watched Jane Krakowski go over to the prop table, grab a bottle, and make the choice that her character was going to be drunk. It was fantastic; it was hilarious. I learned right then and there about making a bold choice.
What's the wildest thing you've ever done to get a role?
I go in and do what I do consistently. I think one of the reasons why I've always worked is because I do things the way I do them, I see them the way I see them, I don't think about how other people want me to do them—except once. One time, I learned the horrible lesson of never trying to be something that I'm instinctively not.
What is your worst audition horror story?
I remember I had this audition for Edward Albee, who I adore, but it was before we knew each other, and it was at Lincoln Center. It was to do his play "Seascape." I was auditioning to play a lizard. I knew it was going to be really physical. I had on a pair of cutoff shorts and an old Black Sabbath T-shirt, and [I was] barefoot. He was so freaked out by my tattoos and my general appearance. I had to convince him that I wasn't some carny freak—that I was actually a graduate from Juilliard and had a pretty good career at this point—and to close his eyes while I read for a few minutes. Needless to say, when he opened his eyes, he cast me in the part, and we ended up being great friends.
What performance should every actor see and why?
I would say anything with Toshiro Mifune. [Director Akira] Kurosawa used him in, like, [16] movies, [including] "Throne of Blood" [and] "Seven Samurai." He often plays these warriors who are bombastic and roll in the mud, and then he can get incredibly still and, with one gesture, become epic. In "Throne of Blood," Isuzu Yamada is the woman who plays the queen, and she is his perfect opposite. Her stillness and concentration take your breath away.
When you were regularly auditioning, how did you typically prepare for an audition?
I was always off-book. I had something I wanted to go work on. It wasn't up to fate to see how I did, or up to someone's mood. I also do that in performance, too. Every show, I have something I want to work on when I go out. It's not, "OK, I hope they like it!" It's just a continuation of the work.
Which leads me to "Helstrom." What did you feel like you were working on by playing Victoria?
I had so much fun on that show. I've gotten to play devilish people, but never the devil, and that is delightful. It is so much fun to be all-powerful. I get to play a lot of very powerful people often, and it's very relaxing, because you don't have to do very much. You can't exert power—you get to sit back and let other people endow you with it. Also, all the stunts. I ended up doing a lot of stunts. They had me in harnesses hanging upside down on the ceiling and running around the room on the walls. That whole Marvel landscape is so giant and cosmic; it's really Shakespearean. When you have to play those giant archetypes and those kinds of stakes, it's very Shakespearean and it's really fun.
This story originally appeared in the Oct. 8 issue of Backstage Magazine. Subscribe here.
Looking for remote work? Backstage has got you covered! Click here for auditions you can do from home!