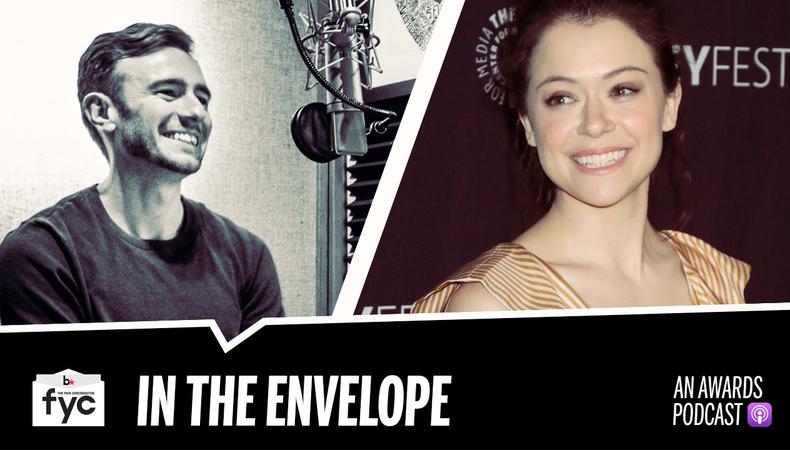 "In the Envelope: An Awards Podcast" features interviews with award-winning actors and other creatives. Join host and Awards Editor Jack Smart for a front row seat to the industry's biggest awards races!
Tatiana Maslany's auditions for "Orphan Black" were, as she puts it, "loaded with fear and loaded with uncertainty." But for someone as talented as Maslany, those are the exact ingredients for acting success.
The 2016 Primetime Emmy winner joins "In the Envelope" to talk about how fear and uncertainty fuel her inspiration; all of Maslany's creativity comes from leaning into the unlikeliest or most challenging of circumstances and simply responding, "Yes." It's a philosophy forged in the fires of theater sports and improvisation, as well as the liberating qualities of dance.
An on-screen actor since age 9, Maslany has brought her grounded yet bold approach to a variety of roles, and none more so than BBC America's "Orphan Black," in which she portrays around a dozen different clones, often acting and reacting opposite herself (or as one clone disguising herself as another), regularly reaching dizzying levels of acting prowess. Critics have hailed Maslany's transformations as some of the most masterful performances in television history. This summer saw the fifth and final season of Graeme Manson and John Fawcett's sci-fi thriller, in which Sarah, Alison, Helena, and the other "sestras" said goodbye to their devoted audiences.
Now, after those roles of a lifetime and a slew of awards, Maslany finds herself in high demand among Hollywood casting directors. Also in 2017 she starred in the Lionsgate and Roadside Attractions feature "Stronger," director David Gordon Green's retelling of the Boston Marathon bombing that premiered in September after its debut at the Toronto International Film Festival. Playing Erin Hurley, girlfriend to Jake Gyllenhaal's bombing victim Jeff Bauman, Maslany encountered a new array of challenges in humanizing a real person. Suffice it to say, the expert actor rose to that challenge.
Listen below to Maslany's thoughts on acting classes, being nerdy rather than cool, and roller skating to auditions.
Listen now on: