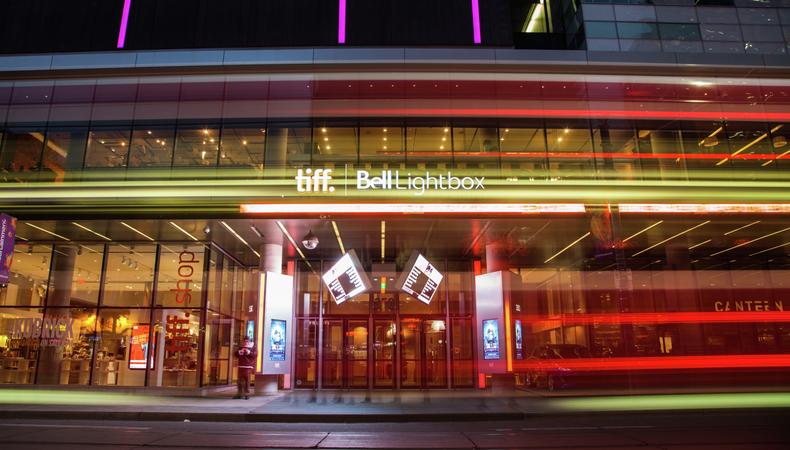 Every year when summer is turning into fall, a famous Canadian film festival kicks off a different kind of season. The Toronto International Film Festival, which launches a huge exhibition of films at the TIFF Bell Lightbox and other downtown theaters, brings out more attendees than any other comparable fest. And Hollywood has noticed, giving special presentations, premieres, and gala events for some of its biggest titles, generating awards season buzz.
Need some examples? "American Beauty" premiered at the festival in 1999 and went on to win the Oscar for best picture. "Ray" and "Silver Linings Playbook" scored acting Oscars after their respective TIFF premieres. And the People's Choice Award, given out each year after a massive tally from the attendees, is seen as a major predictor of Oscar-worthiness.
TIFF 2019 will run Sept. 5–15. Want to learn more? This guide covers all things related to TIFF. Discover more about the fest's awards, how to attend, how to get your own film screened, and how it all began.
When did the Toronto International Film Festival start?
TIFF began under a different name, A Festival of Festivals, in 1976 at the Windsor Arms Hotel. The festival was founded by Bill Marshall, Henk Van der Kolk, and Dusty Cohl. The initial offering, however, hit a snag when Hollywood studios removed all their films from the lineup. The reason? Studio executives believed the audience at the fest would be too insular. No one could predict that the festival would blossom into what it is today. Now the internationally recognized TIFF is home to more Hollywood fare in a single setting than pretty much anywhere else.
What is TIFF's purpose?
The Toronto International Film Festival (renamed in 1994) is a huge cultural event that brings a mass of enthusiastic moviegoers to Toronto's Entertainment District. In 2017, an estimated 480,000 attendees showed up. And over the years, it has become a gateway into awards seasons. Because the awards given at TIFF often go to big, buzzy films, it is seen as the beginning to the monthslong journey to Oscar season. The festival is crawling with industry folks, and big-budget Hollywood movies have red carpet premieres at the festival.
It is important to remember that TIFF is a people's festival that remains accessible, with affordable tickets and free passes for press. And unlike Cannes, which requires industry accreditation, TIFF is open to anyone and everyone. There is also a massive number of screenings; although the festival has shrunk the number over the last few years, it is still well north of 200 features. Many of these films are not Hollywood features. There are shorts, experimental films, documentaries, offerings from first-time directors, lots of art-house cinema, genre films playing at midnight, and a huge selection of international works. So while there is Oscar buzz at TIFF, the main focus is creating a large cultural event in Toronto for cinephiles across the world.
Who selects the films that screen at TIFF?
Submissions are selected by TIFF's programming staff. They split the massive number of films (256 features alone in 2017) into 15 categories.
Contemporary World Cinema: films from international directors
Discovery: a director's first or second film
Gala Presentations: red carpet feature films (with lots of movie stars)
In Conversation With…: talks with directors and other industry figures
Masters: features by renowned art-house directors
Midnight Madness: genre films such as horror with midnight screenings
Platform: a juried category that awards $25,000
Primetime: television episodes premiering on the big screen
Short Cuts: short films, both Canadian and international
Special Presentations: high-profile feature films premiering in Canada (and often the world)
TIFF Cinematheque: films from throughout the medium's history, often recently restored
TIFF Docs: documentary films
TIFF Kids: family films
TIFF Next Wave: films approved by a teen committee
Wavelengths: experimental and art films, both shorts and features
How can I submit a film to TIFF?
Submissions to TIFF are open on a rolling basis, starting in February of the same year. They have open submissions for shorts, documentaries, and features, both produced internationally and in Canada. Check this space for more info.
What about TIFF's awards?
The major prize of the festival is the People's Choice Award. As the name indicates, this prize is voted on by festival-goers. Each screening invites viewers to leave a vote for the film after the end of the show. These votes are tallied and weighted based on the size of the screening theater and the number of audience in attendance. The accolade is often seen as a major predictor of Academy Award winners. Since 2009, the award has been split into three: one for documentaries, one for its Midnight Madness screenings, and one more for the feature films. The award has a corporate sponsor as well; in 2018, it is the Grolsch People's Choice Award.
But that's not the only honor. The International Federation of Film Critics (commonly referred to by its European acronym FIPRESCI) assembles a jury each year and awards two prizes. Additionally, the Network for the Promotion of Asian Pacific Cinema (NETPAC) has a juried award for Asian films premiering at the festival.
TIFF has introduced its own jury to vote on a number of awards as well. Most of these awards cover local Canadian films split into several categories, including Short Cuts for shorter films, although there are also international awards. Last but certainly not least, the Platform award was introduced in 2015 and gives out $25,000 to director-driven films.
What are the 2019 TIFF award categories?
Here is a list of the awards given out this year:
People's Choice Award
People's Choice Midnight Madness Award
People's Choice Documentary Award
Best Canadian First Feature Film
Best Canadian Feature Film
Short Cuts Award for Best Canadian Short Film
Short Cuts Award for Best Short Film
FIPRESCI Prize – Special Presentations
FIPRESCI Prize – Discovery
NETPAC
Eurimages' Audentia Award
Toronto Platform Prize
TIFF Tribute Actor Award
Check out past winners here.
How often have TIFF winners and premieres gone on to win major film awards?
As mentioned, TIFF is often a platform to premiere films that producers consider strong contenders for the Oscars and Hollywood's major guilds' awards. These screenings are often given gala events, complete with the red carpet treatment. But with the festival season getting more and more packed, premieres take place at a number of festivals through the season. The smaller (and much more exclusive) Telluride Film Festival in Colorado has a six-year track record of hosting the premiere of each year's eventual Oscar best picture winner. In other words, the spotlight has somewhat shifted from TIFF, but it is still considered an Oscar-worthy premiere.
But how often do the TIFF award winners actually go on to win Oscars? The People's Choice Award is voted on by attendees, unlike the way members of the Academy vote on their awards. So although the People's Choice Award is often considered a bellwether for Oscar contenders, in the past decade the winner has gone on to win the best film Oscar only four times: in 2008 for "Slumdog Millionaire," in 2010 for "The King's Speech," in 2013 for "12 Years a Slave," and last year for "Green Book." However, People's Choice winners have earned nominations for the Academy's top prize every year in the last decade except once. So you can safely bet that big winners at TIFF will be heard about more through the rest of film awards season.
When and where does TIFF happen?
TIFF starts each year right after Labor Day and runs for over a week. For 2019, the 44th annual Toronto Film Festival will take place Sept. 5–15.
Since 2010, much of the festival takes place in the TIFF Bell Lightbox, the first five floors of the Bell Lightbox and Festival Tower in downtown Toronto. The TIFF Bell Lightbox serves as the headquarters for TIFF and conducts cultural events throughout the year. The space has five theaters, as well as an atrium, galleries, a library, and more.
Other theaters hold screenings as well. The event calendar lists 10 theaters including the Lightbox, an additional 14 screens at Scotiabank, three additional spaces holding select events and screenings—sometimes free—and a roof with social events.
How can I attend?
Tickets go on sale to the public a few months before each festival. You can purchase them online on the fest's official website. There are also packages that bundle tickets. And if there are no more available tickets for a screening, you can always "rush," showing up early to see if a seat opens. Several theaters have assigned seating, while others are general admission. (Attendees often queue outside the general admission theaters an hour before the screening to get their preferred seats!) To learn more, visit the TIFF website here.