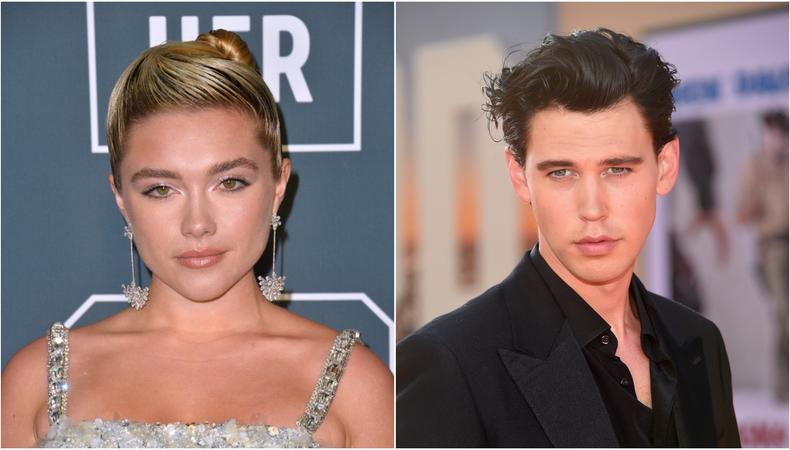 Welcome to Rumorville! Here, you can learn about casting news that's recently broken in Hollywood. Get a jump, and follow the trail all the way to the audition room.
Wondering what's on the development table this week? It's a change of locale for "Black Widow" star Florence Pugh and "Elvis" star Austin Butler. The duo is reportedly in negotiations to join the cast of the upcoming "Dune: Part Two," directed by Denis Villeneuve. Along with this exciting news, another Playstation property may be coming to the small screen—this time with the "God of War" franchise. As of now, the franchise is on the possible development slate at Amazon. And, lastly, the BBC has reportedly jumped into A24's "Shuggie Bain" series adaptation. Here's everything we know so far about these developments.
"Dune: Part Two"
According to Deadline's sources, Florence Pugh and Austin Butler are now in talks to join the second installment of the Denis Villeneuve-helmed "Dune" series. Legendary is staying silent on rumored cast pics, but Pugh would play Princess Irulan Corrino, the eldest daughter to Emperor Shaddam Corrino IV, and Butler is eyeing the role of Feyd-Rautha. Both actors have had big years so far with Butler starring in the upcoming Baz Luhrmann Elvis biopic and Pugh continuing her reign as Hollywood's current favorite with roles in Marvel's "Black Widow," "Hawkeye," and her recent casting in Christopher Nolan's "Oppenheimer." As for "Dune: Part Two," the sequel to the first installment was officially announced in October after a successful opening weekend at the box office. Timothée Chalamet, Rebecca Ferguson, Zendaya, and Josh Brolin will return to lead the cast with Villeneuve returning to direct, produce, and co-write opposite Jon Spaihts. Production on "Dune: Part Two" is expected to begin this fall with the film due for theaters on October 20, 2023. Francine Maisler is the casting director.
"God of War"
Another Playstation franchise is heading from the loading screen to the small screen. Joining "The Last of Us," "Uncharted," and "Twisted Metal" in recent adaptations, Prime Video is reportedly in talks for a live-action "God of War" series based on the popular mythology-themed franchise. According to Deadline, Mark Fergus and Hawk Ostby of "The Expanse" and "Children of Men" are heading the project with Rafe Judkins ("The Wheel of Time"). Both Sony and Amazon Studios are staying hush for now, but Sony Pictures and Playstation Productions have been busy lately getting their IPs onto TV and movie screens. Amazon on its own is currently working on a "Fallout" series, as well as a "Mass Effect" series in development and a new first-look deal with dj2 Entertainment. The timing is also perfect as "God of War" is set to drop its eighth installment "God of War; Ragnorok," later this year on Playstation 4 and 5. A casting team for the potential Amazon project has yet to be announced.
"Shuggie Bain"
After A24 and Scott Rudin Productions won the rights to 2020's Booker Prizer winner "Shuggie Bain" in late 2020, the BBC looks to be the team behind the curtain. Deadline reports that the studio is now developing the project, which was originally supposed to be produced by Rudin and Eli Bush; following a scandal, Rudin has removed himself from multiple active projects, which will assumedly include this one. Author Douglas Stuart is set to adapt his own work, which was based on his Glasgow upbringing and "​​follows the title character and his alcoholic mother Agnes. The sweet and lonely boy spends his 1980s childhood in run-down public housing while his mother struggles with drink addiction and reels from an abusive relationship." Stephen Daldry of "The Crown" is currently attached to direct the series, which will likely not make it to air until 2024.