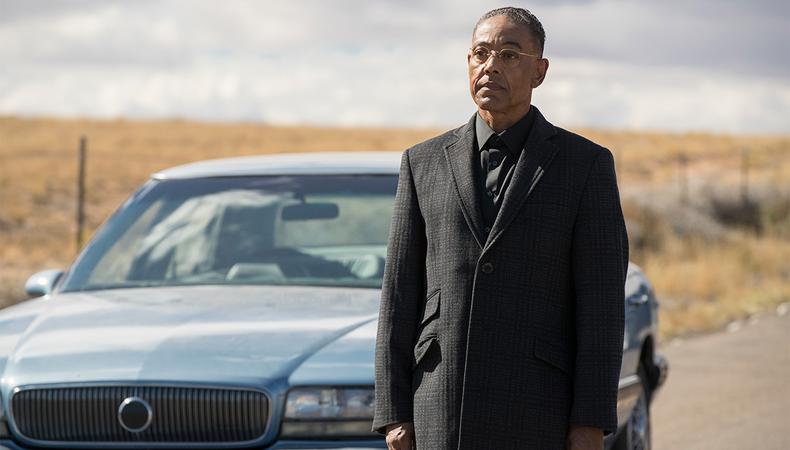 The following Backstage Live was compiled by Backstage readers just like you! Follow us on Twitter (@Backstage) and Instagram (@backstagecast) to stay in the loop on upcoming interviews and to submit questions live on camera.
Giancarlo Esposito has a career spanning many decades on both stage and screen. Best known for his string of roles with filmmaker Spike Lee ("Do the Right Thing," "School Daze," and others) and his fearsome, twice Emmy-nominated turn as Gus Fring on "Breaking Bad" and its prequel series "Better Call Saul," he's also in the last year been seen on Cinemax's "Godfather of Harlem" and duel projects for Disney+, "The Mandalorian" and "Stargirl," among others. In this deep-dive interview with Backstage as part of our ongoing digital series, The Slate, Esposito touched on his acting roots and offered advice that's helped shape the actor he is today.
Born to parents in the performing arts, acting has been ingrained in Esposito since childhood.
"I knew that the self expression of acting was in my blood all along because of my family lineage…. [The Broadway stage is] where I cut my teeth and that's where the real discipline of acting took over my life. It was the transition between stage work that I did to the film work that was the real moment in time where I realized that this would be my life. I had thought maybe I'd just be doing summer stock and some Broadway shows and be a theater actor all my life, but my desire was to reach a larger audience for one reason: to be able to think about how story uplifts people and draws them in and allows them a deep connection to a reflection of who they are. And to me, that became very important, being a mixed-race African-American Italian man in the creative arts. Those are the days I always look back to because I developed a great discipline and love, and it didn't matter whether or not I became known or unknown. It was the visceral feeling of performing that allowed me to connect with people, and it's still the same way for me today."
Esposito's audition for CD Shirley Rich was life-changing—but not because it went well.
"I read for her and I was feeling pretty good about my reading and she looked at me and she said, 'Giancarlo, your instincts are all perfect, but your acting style is for the theater. Of course, obviously, that's where you come, from but you'll need to adjust that for the camera…. You need to go and do Off-Broadway, call everything back, [and] you need to find straight dramatic acting and how that affects you and how that feels.' That advice was the best advice I've gotten in all of my career because of the way she told me. She was loving and compassionate and encouraging. I think of her always because when you have someone who believes in you and can be specific and nonjudgmental—she gave me that gift, and I just want to pass that gift on."
The actor knows how to abandon the fear of failure and build confidence.
"Have confidence, understand that you are original and valuable—and then just do your work. That's all. Close your ears to that voice inside of you that says, 'I'm not good enough,' and listen to constructive criticism. Take the best and leave the rest. It's the best advice I can give you because you know your strengths and you know when you're in the pocket and you know when it sounds right and you know when you kick butt, so you got to go with that. If you don't believe yourself, have someone tape you. And your mantra should be: I am here, I am good enough, I am ready; there's nothing that will stop me; I have an interpretation and an idea about what I want to deliver. And just go and do it and let all those other voices melt away."
Watch the full interview below, and stay up to date with future Backstage Live interviews on The Slate right here.
Looking for remote work? Backstage has got you covered! Click here for auditions you can do from home!