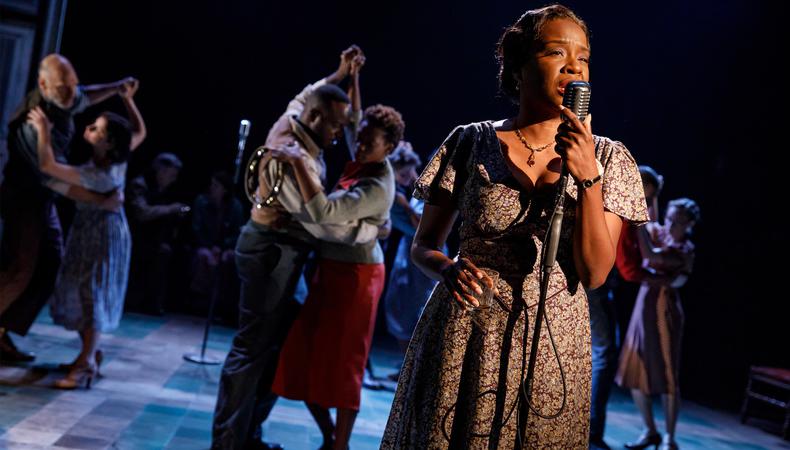 Reconfiguring the sacred songbook of Bob Dylan to fit an original Broadway musical is a mammoth task. It makes sense, then, that the person who made it happen for "Girl From the North Country" (opening March 5 at the Belasco Theatre) doesn't just have one job, but three. Simon Hale is an orchestrator, arranger, and music supervisor who, along with creator-director Conor McPherson, converted Dylan's existing canon to tell an original story. The musical, which first premiered at the Public Theater, now transfers to Broadway thanks to Hale's guiding principle: Artists need to follow their instincts.
READ: How Orchestrations Can Reimagine Rodgers + Hammerstein
You are an orchestrator, arranger, and music supervisor. What do those many hats actually mean?
Going in understandable order, as a musical arranger, what I've done on this show is taken Bob Dylan's songs as they exist and rearranged them to fit the play. Rearranging could mean changing the key, changing the structure, changing the feel, changing the harmony. Lyrics are utterly intact, of course, but you might take a bit of this song and then a bit of that song, join them so you hear them in a different shape. That's what an arranger does: take something and then reconceive it. It's like someone doing a cover version of a song.
Orchestration is to then choose exactly what each member of the onstage band does in the show. So, the piano player will have his information, the guitarists will have their information, the bass player and the violinists, they each have their own little script. Theoretically, when they all play at the same time, it makes a coherent noise that I have planned in my head. Orchestration is very specific to the instruments, and part of that is also the vocal arranging, which is what each actor sings, not just in terms of lead vocals but backup vocals, as well—whether it's choral or more gospel, and what harmony they are singing and at what time.
Then the music supervisor, on an ongoing basis through the production, is making sure it stays in the shape, as we continue to hit the Belasco. [I'm] continuing to monitor that progress and make sure the music is sounding the way Conor and everyone else wants it to sound, as part of the play.
You've worked on several musicals and plays, but is working with the Dylan songbook a whole other ballgame?
Yes and no. Listening to his songs, I felt a huge weight on my shoulders thinking, What am I going to do? How can we look at this incredible catalogue with respect, with creativity, with originality? Conor set the play in 1934, before Dylan was born, so once I got over the initial fear, that liberated me. It's not about him; it's not about his life, his records, or any of those things. This is as if these songs were written for this play. And to be honest, the other thing that really got me over that [fear] was listening to Dylan talking, hearing him talk about himself as an artist, as a writer, as a performer. He would always say, follow your instinct, do what you feel. He just feels instinct is the most powerful thing and that whatever you feel is the right thing at the time. I always take that with me.
Is there a balancing act between respecting songs that are very well-known while also reinventing them for the play?
Yes, there absolutely is. What I did was not make a massive point of listening to the different versions of the songs. I read something he had said about some of his songs, which is that some of the definitive versions of his songs were not necessarily the ones on the records. He said it might be from a particular tour, it might be with 30 people. That's interesting, because then you go, Well, actually, it isn't just about this particular version of "Like a Rolling Stone." It could just be looking at the songs as a piece of music, as a composition, lyrically and musically. And because he gave Conor his blessing to use the songs in any way, shape, or form dramatically, it allowed me to do that. And so I did.
When you're putting arrangements together in general, how much of the time are you considering the performer who will actually be singing them?
Always. You have to use your skill and your craft to think about the big picture. Those choices that you are making, whether it's an arrangement choice or an orchestration choice or a dramatic choice, are always about fitting into the moment and [asking,] what is the point we are trying to make here? Conor and I would talk about a lot of those things in the very early days, but we always trusted each other and trusted our instincts. You have to consider what you're doing and why you're doing it. A lot of orchestration, particularly, is done in solitude with nobody else, so it's just naturally in your head; a picture or a color. You have to do that to figure out what you are trying to say.
Do you work directly with actors at all? Or is your job mostly done by the time actors come into the process?
In terms of overall arrangements, in terms of geographic structures of songs and choices of mood and harmony, yes, I do work with actors. But some of that is done in the rehearsal room. Orchestration tends to be done by myself, but then in the rehearsal process I will be working with actors on tone and we can change things. We can be completely fluid. And in terms of vocal harmonies and that choral backup vocal type stuff, that would also quite often be done in the room. I would just think of things, write them down, and teach them to people right then. I'm not a singer, but I'll explain to actors, "Let's do this here, let's do that here, change this here."
Is it fair to say you are open to changing the score—a key or harmony, for example—based on the actor who's been cast?
Absolutely. Especially with this production, which is one of the most wonderful things about it. We're looking at our actors and our performers and certain songs in certain productions have been different, because Conor and I will think there's this particular strength and charm and appeal of one particular performer. It's not a question of right or wrong, it's just different depending on the performer.
How different is working on a musical with pre-existing songs compared to a musical with a brand-new score?
What was bizarre about this is that we have these existing songs, some of which are better known than others, but there were also some obscure tracks. What we didn't have was any direct artistic input from the composer. We were left to our own devices to do whatever we felt was the right thing to do in conjunction with the story and the bigger piece. If you are working with new songs on a musical theater production, the composer tends to be in the room. You are getting direct input—they may have just written the song—and it tends to be more of an open dialogue. That's not what happened on this production. We had nobody say, "Well, you can't do that," which was extraordinary when you consider his catalogue. What an incredible gift.
What advice would you lend someone who wants to pursue this line of theater musicality?
In an overall sense, be creative and follow your inspiration. We all have a different opinion; there's an author, composer, lyricist, and director, and we all feel that something is right or wrong, good or bad. You don't know why you make those choices, but you do, so be honest about that. And then, if you're interested particularly in theater, get involved, however that might be. Talk to people, get to know them, hang out, learn, listen, but be yourself. That is the most important thing. And of course there are the obvious things like work hard, be professional, be integrated. But do something because you want to do it for the right reasons and follow your own instincts, because you have got something that nobody else has got. Bob Dylan has absolutely floored me as an artist, and I think we can all take a lot from him. He has a quote: "All I can do is be me, whoever that is." And I just think that's totally right for all of us. Who we are, that's neither here nor there, but you can be honest and you can trust yourself and you can do what you feel is right. That is fundamental—for all human beings, let alone in art.