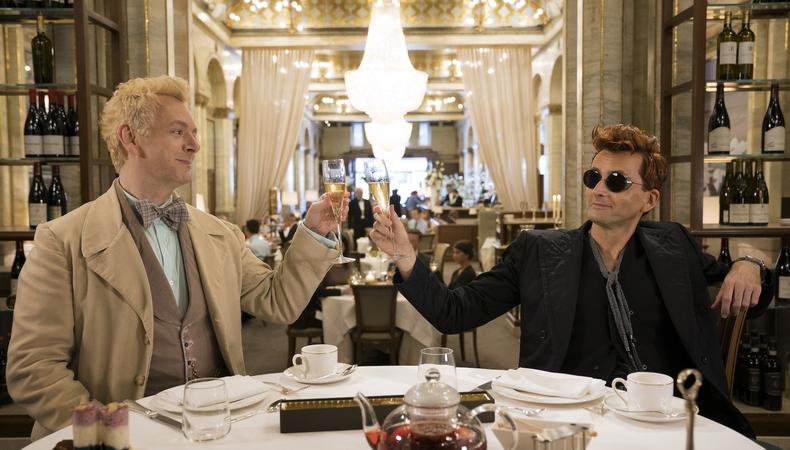 With an armageddon approaching and an antichrist to track down, it's a wonder that Michael Sheen as angel Aziraphale and David Tennant as demon Crowley look as immaculate as they do on Amazon Prime's "Good Omens." But that's because they have costume designer Claire Anderson in their corner for the adaptation of Neil Gaiman and the late Terry Pratchett's beloved cult-classic fantasy novel. Also starring Jon Hamm as Archangel Gabriel, Brian Cox as Death, Benedict Cumberbatch as Satan, and Frances McDormand as God herself, the designer had plenty to play with to create her series' divinely intervened world.
How would you describe the role of costume designer?
I am responsible for building the visual identity of the character, from the page to a real-life representation of clothed people. I'm really fascinated by [the fact that] when you look at someone, you know what job they do, you know what they're like, because we're all in tribes, we all belong to a group or a class. Maybe not as much in America, but in the U.K., you can always sort of tell who people are [by what they wear], and I was always fascinated by that, even before I knew what a costume designer was. I was always eyeing people up. Being a kid and going to church on Sundays was watching the communion queue and watching everybody's shoes and outfits—isn't that a terrible thing to say? But that's what I loved.
READ: How Actors Can Give Feedback That Actually Helps Costume Designers
What is singular about the costume design for "Good Omens"?
The source material, really. The book is really fascinating. And having the script written by [author] Neil Gaiman, you have someone from the original source writing the script, so that every time you have a question, you have the root cause of the information for the backstory right there. Everything was such a wonderful conversation. It wasn't that everything was agreed upon just like that, but there was an interesting conversation, a good dialogue around every decision. It was such an enjoyable journey—the most enjoyable journey I've had as a designer, really.
With whom do you work most closely on a given project?
I work quite closely with the production designer, but for this, a lot of the costumes had visual effects, small markers where I'm putting crosses of green tape on people's bodies. I did really enjoy the effects. It's quite difficult, because no job is ever the same, and so no process is ever the same. Every job you go into is so intimate, and you have a different relationship with every director. Special effects was another element in that romance, really.
In what ways do you think costume is elemental to an actor's performance?
The clothing you're wearing can transmit a signal to your audience, and they respond to that, so it's about communicating something. For "Good Omens," all of the cast was very interested to come in and see how they would be visualized and how they were going to be represented onscreen. But because Michael and David are the leads and are in almost every scene, they were there constantly [during the design process]. We had them on board very early, and we began looking at the book and the character description that we wanted to bring to life through costume.
Does it make your job easier or harder when actors have input?
Their input is part of my job. It's crucial. I'm there to facilitate the visual requirements of the film. It isn't about me. I am an artist in my own way, but I'm not a fine artist, I'm a collaborator. You [the actor] might have something in your mind that helps bring the character to life for yourself. I am there to help actors manage their expectations and realize their vision of their character. You're not working in isolation, and you need to be strong and hold true to what you know the director might want. It's better to have a big conversation and say, "We like this element, we like that element, let's take this, let's recut and use this!" It's a moving feast before you arrive at the final meal.
What would you tell someone who wants to pursue design?
I'd say study and read and expect to start as a junior in the department. It takes time to get to costume designer. Start with theater; theater is amazing because you can get free tickets to see all the fabulous performances and you meet great people and you get to stay out late and drink in nice bars—I think that's probably not the best thing to tell them. But in New York, Off-Broadway is so exciting. That's where everyone should start. And then you build up from there.
Want to hear more from the best creators in film, TV, and theater? Get it right here!