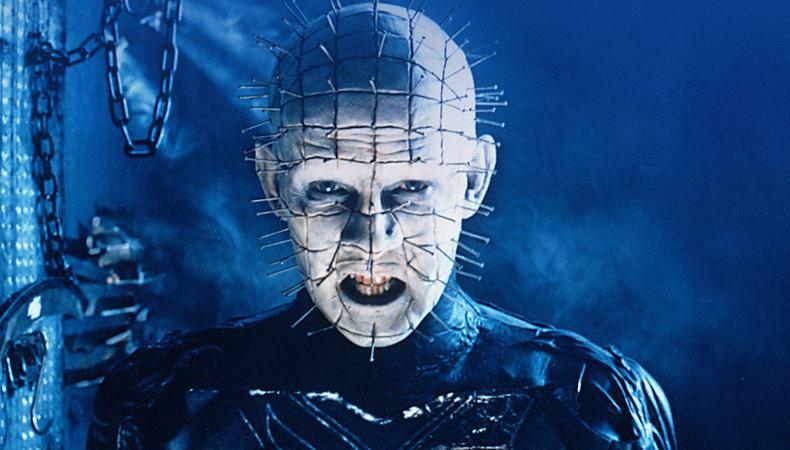 For those working in the film and performing arts industry, greenlit is a term everyone wants to hear. It means a project is officially a go and therefore is a great place for actors to find new casting opportunities. All actors have to do is essentially follow the leads.
So what's in the works for this week? Easily stay up to date with projects that have been approved by checking out our Greenlit series below. We update the article every Monday to include breaking news when it comes to what's in development and who's casting!
1. "Hellraiser"
Per Deadline, Spyglass Media Group and Hulu announced the upcoming cast of the David Bruckner–helmed "Hellraiser" reboot, with "Sense8" and "The L Word: Generation Q" actor Jamie Clayton tapped to play the franchise's iconic villain. "Grand Army" actor Odessa A'zion will star in the series, as confirmed by Spyglass and Hulu after months of rumors. Rounding out the cast are Brandon Flynn, Goran Visnjic, Drew Starkey, Adam Faison, Aoife Hinds, Selina Lo, and Hiam Abbass. Writers Ben Collins, David S. Goyer, and Luke Piotrowski will bring "Hellraiser" into the modern day. Colin Jones and Eric Souliere are the casting the reboot, which is due out next year.
2. "Till"
Frankie Faison, Jayme Lawson, Tosin Cole, Kevin Carroll, Sean Patrick Thomas, John Douglas Thompson, and Roger Guenveur Smith will join the previously announced Danielle Deadwyler, Whoopi Goldberg, and Jalyn Hall in "Till," according to Deadline. Coming from Orion Pictures and Chinonye Chukwu, the story follows Mamie Till-Mobley (Deadwyler), "whose pursuit of justice for her 14-year-old son Emmett Louis Till (Hall) became a galvanizing moment that helped lead to the creation of the civil rights movement." The screenplay is written by Chukwu, based on a previous draft by Keith Beauchamp and Michael Reilly and based on Beauchamp's original research, which he conducted for his award-winning 2005 documentary "The Untold Story of Emmett Louis Till." Filming is now underway in Atlanta. Kim Coleman is the casting director.
3. "Prophet"
Going from supervillain to superhero, Jake Gyllenhaal has found a new alias. The "Spider-Man: Far From Home" actor is attached to star in "Prophet," a Studio 8 superhero pic to be directed by Sam Hargrave, per Deadline. Based on the Image comic series from Rob Liefeld, the story centers on John Prophet, "a man who gains superhuman strength after being conscripted by the Germans and subjected to scientific experiments during World War II." Marc Guggenheim ("DC's Legends of Tomorrow," "Arrow") is penning the comic book adaptation. Further casting will be announced at a later date.
4. "Funny Girl"
Deadline reports that more stars have signed on to the upcoming Broadway revival of "Funny Girl." Jane Lynch, Ramin Karimloo, and Jared Grimes will join the previously announced Beanie Feldstein in the production. Michael Mayer will direct the revival of the Jule Styne and Bob Merrill musical, which will mark the first Broadway revival of the show that launched Barbra Streisand into stardom. The original book was written by Isobel Lennart; the new production will have a revised book by Harvey Fierstein. "Funny Girl" begins performances on March 26, 2022, at the August Wilson Theatre, with an official opening on April 24, 2022. Additional casting will be announced at a later date. The Telsey Office is the likely casting agency.
5. "The Patient"
Although always on TV in some capacity, Steve Carell will once again be back in a starring role for a new FX series. According to Variety, the veteran comedy actor and "The Office" star has been tapped to lead the limited series "The Patient" from "The Americans" team Joel Fields and Joe Weisberg. The show, described as a psychological thriller, has been given 10 half-hour episodes, and will follow psychotherapist Alexander Strauss (Carell) "who finds himself held prisoner by a serial killer with an unusual request: curb his homicidal urges. But unwinding the mind of this man while also dealing with the waves of his own repressed troubles creates a journey perhaps as treacherous as his captivity." Fields and Weisberg will write and executive produce the series, with Carell executive producing. No further casting has been announced at this time, and a casting team has yet to be made public. But be sure to keep an eye on "The Americans" casting director Rori Bergman for a likely repeat collaboration. Find out where Bergman looks for new talent here!
6. "Doomsday Machine"
"The Crown" actor Claire Foy is taking on a different kind of historical reenactment series. Variety reports that Foy is playing Facebook chief operating officer Sheryl Sandberg in "Doomsday Machine," a scripted series adaptation based on Sheera Frenkel and Cecilia Kang's New York Times bestselling book "An Ugly Truth: Inside Facebook's Battle for Domination." Coming from Anonymous Content ("Spotlight," "Mr. Robot") and Wiip ("Mare of Eastown"), the show will begin with the 2016 election and "will lift the veil on the relationship between Mark Zuckerberg and Sandberg, and the obstacles Facebook has faced on its relentless quest for growth." Pulitzer Prize–winning playwright and bestselling novelist Ayad Akhtar ("Homeland Elegies," "Disgraced," "Junk") is the series creator. No further casting has been announced at this time.
7. "The Blade Artist"
First reported by Deadline, Francis Begbie is back as Robert Carlyle. He is reprising his role in a TV version of "The Blade Artist," a sequel to "Trainspotting." Carlyle will executive produce and feature as a reformed Begbie (now known as Jim Francis) in the six-parter, which is being developed by Buccaneer Media. In the series, Begbie returns to Scotland for the funeral of a murdered son he hardly knows that confronts him with a past he can barely recall. The project is not yet attached to a network or streamer, nor has any further casting, including any other "Trainspotting" stars, been announced at this time.