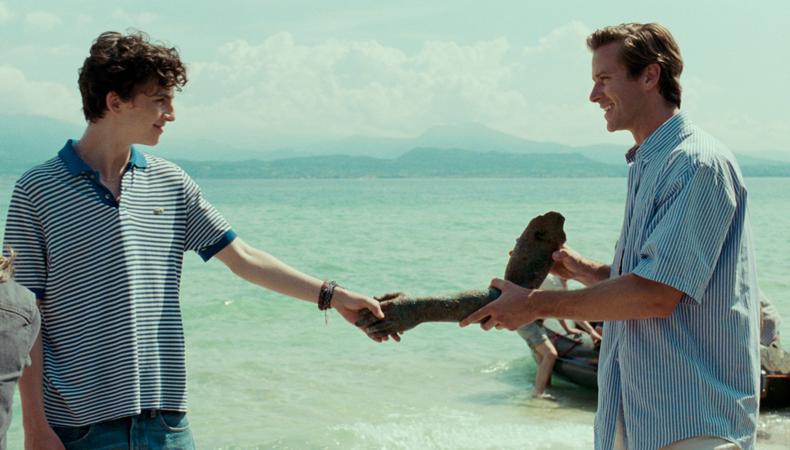 Greenlit means a project is officially a go, so all you have to do is follow these leads to stay up to date. You never know where you'll find an opportunity to land an audition!
"Call Me By Your Name" Sequel
Fans of the hit 2017 film "Call Me By Your Name" have something to look forward to with the upcoming sequel, titled "Find Me." According to director Luca Guadagnino in an interview with Italian newspaper "La Repubblica," Timothée Chalamet, Armie Hammer, and more members of the cast of the original film will be returning for the sequel. Not much is known about the plot of the new movie, but it will be based on the sequel novel, which features the same characters and takes place 10 years after the original story. Guadagnino confirmed he had made a trip to the U.S. to meet with an as-of-now unnamed screenwriter to discuss writing the sequel, but with the shutdown, work has been put on hold. Stella Savino was the casting director for the first film and will likely return for the sequel, whenever production gets going.
"Ant-Man 3"
"Ant-Man" will soon have a third installment coming out and, with it, a new writer. Jeff Loveness, a writer and co-producer on "Rick and Morty," has been tapped to pen the script for the third film in the Marvel Studios series. Peyton Reed is back to direct from Loveness' script after closing his deal in the fall, and expected to return are both stars Paul Rudd and Evangeline Lily. Loveness has just begun writing and Marvel has yet to publicly announce the project, so it is unclear when the film would begin shooting. When it does, though, expect to see Marvel casting director Sarah Finn back at work.
Obi-Wan Kenobi Disney+ Series
Another highly anticipated project has found its writer. The upcoming Obi-Wan Kenobi Disney+ series has tapped Joby Harold to write the script, joining James Vanderbilt and replacing Hossein Amini, who left the project in January. Harold is an executive producer on the recent "John Wick: Chapter 3—Parabellum" and has written the script for "Army of the Dead," but this will mark his first time writing for a television series. Ewan McGregor will return to reprise his role as Kenobi from the "Star Wars" prequel films. Filming is slated to begin at some point in 2020. Deborah Chow ("The Mandalorian") will direct. Sarah Finn was also the casting director for "The Mandalorian"—chances are high she'll be working on this new series, as well.
"Pretty Things"
Nicole Kidman will add another series to her résumé as, recently, she signed on to star in the upcoming Amazon Studios project "Pretty Things." The "Big Little Lies" star will play one of the two leads in the adaptation of Janelle Brown's forthcoming novel, which follows a grifter who cons a wealthy influencer in Lake Tahoe with a scheme that devolves into a game of revenge. This will be part of Kidman's first-look deal with the studio where she will produce via her Blossom Films banner. The second lead in the project has yet to be cast, but Reed Morano ("Skelton Twins," "The Handmaid's Tale") is attached to helm and executive produce the series.
"Superman & Lois"
Dylan Walsh has been tapped as a series regular opposite Tyler Hoechlin and Elizabeth Tulloch in "Superman & Lois," the CW's upcoming straight-to-series drama about the iconic DC couple. Walsh will reportedly play General Lane, father of Lois and Lucy, in the series, which comes from "The Flash" executive producer Todd Helbing, Greg Berlanti, and Warner Bros. TV. This will be a reunion for Walsh and the network, who previously co-starred with Lucy Hale in the series "Life Sentence." Like all major Berlanti DC Universe projects, David Rapaport and Lyndsey Baldasare will lead the casting team—learn how to audition for Rapaport here at Backstage!
"Black Mafia Family"
Finally, announced Monday morning, Curtis "50 Cent" Jackson will return to Starz for a new series. The multihyphenate signed a massive multi-series overall deal with the network in 2018 and is continuing to make good on that with "Black Mafia Family," a new drama he will produce that follows the criminal empire built by Demetrius "Big Meech" Flenory and his brother Terry during the 1980s. Jackson already helms another "family" series at the network with the original "Power" and its four upcoming spinoffs in the same universe. "Star" and "Power" producer Randy Huggins will serve as the series' writer.