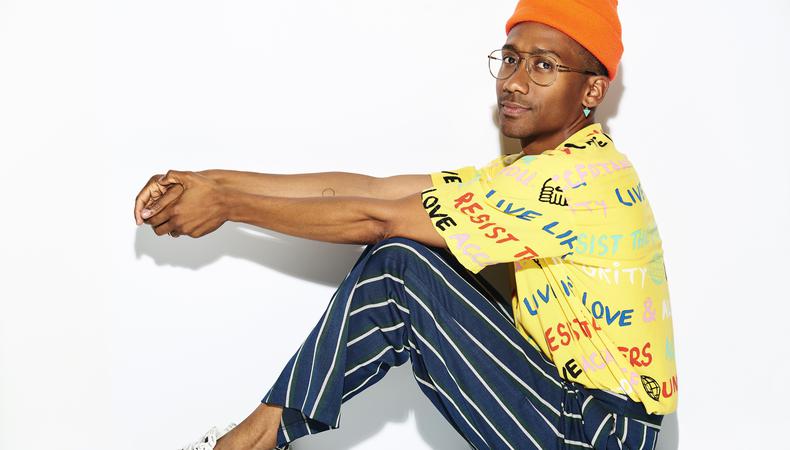 The following Career Dispatches essay was written by Griffin Matthews, who stars on the HBO Max series "Flight Attendant." He was also behind the viral video "Dear Amy Cooper: Broadway is Racist."
My greatest accomplishment in my career thus far has been: staying in the game.
I'm 38. I'm about to be 39. My age is not a secret. You can Google me and find out. I'm Black and you know what they say about our skin: "It ain't crackin'." It's one of the perks that God gave us. I play college kids on TV. I've been playing college students since I graduated from Carnegie Mellon University with a degree in musical theater in 2003. It's about to be 2021, so you do the math...
The game has been (mostly) good to me. I'm a blue collar actor, which means: I audition. I make endless self-tapes that I'm pretty sure no one watches. NOTE: they did not train us at CMU to make self-tapes. They trained us to "win the room," take notes from the casting director, shift on a dime. This modern day set-up of, "Do not come into the office, do not shake my hand, stay in your house, set up a music stand on top of a suitcase on top of a book, with a bed sheet hanging from a deer antler, delicately hooked on to a picture frame six feet away, while my husband is forced to be the camera operator, reader, and my personal life-coach-therapist" IS ABSOLUTELY INSANE. My marriage can barely survive the brutal reality of self-tapes.
But I love to act. And I have two kids and a mortgage. So...we (he and I) make self-tapes, because I'm trying to stay in the game.
I'm gay. I'm effeminate. I rarely "pass" on TV or in life. That's another unexpected gift from God: I never had the option to pass. I never had the chance to conceal my sexuality nor did I feel the need to. I never came out. I was born out! But because of that "outness," I've had to jump many hurdles to get people to take me—in this package—seriously as both an actor and a creative. Every job I book, every meeting I take, I feel like the goal is to "change their mind about who they think I am." (That could be my own personal complex. I have many.)
But I do think people are surprised when I share the fullness of my thoughts, feelings, opinions, and dreams. Turns out, my dreams are complex. They involve creating my own projects that expand the current, narrow definitions of Black men. We are soft. We are loving. We are queer. We are fem. We are fathers. And lovers. And skinny. And intelligent. We are everything.
Over the years, I've certainly run into many walls in my career, walls that were built by others and walls that were created by me. I've run into those walls headfirst, backwards, sideways, and sometimes they fell...and sometimes they fell on me. (Google "Dear Amy Cooper: Broadway is Racist." That'll give some insight into a few of the walls that I speak of.)
But here's what I've learned about the walls: you can climb them. And you must.
All of us get a different set of obstacles in this business—man made and God-given. They are there to strengthen your resolve; to call you into action; to force you to examine and re-examine your life and artistic choices over and over again; to strengthen your voice; to humble you.
Backstage.com asked me to write an article about my career and my activism. I think they wanted me to talk about my new television series "The Flight Attendant" on HBO Max, which also happens to be my very first adult role where I have an adult job and do adult things with other adult...men. Yep. You read that right. #gay
But in the middle of a pandemic when so many of my fellow blue collar artists are struggling, it felt more important to take this opportunity to stand in solidarity, to remind us that we will weather this storm. That we can (and should) use this historic moment when every theater in the country is dark to work on the racism that has run rampant and plagued BIPOC artists for far too long. We can take this moment to hold our leaders accountable and allow new leaders to emerge. We can use this moment of quiet to garden, take walks, play with our dogs, raise chickens, have babies, love on our spouses, get involved in politics, binge watch TV, read, sing, cry, and breathe.
This pandemic is just another wall that we must climb. On the other side of it is perhaps our greatest career accomplishment: We stayed in the game.
Looking for remote work? Backstage has got you covered! Click here for auditions you can do from home!