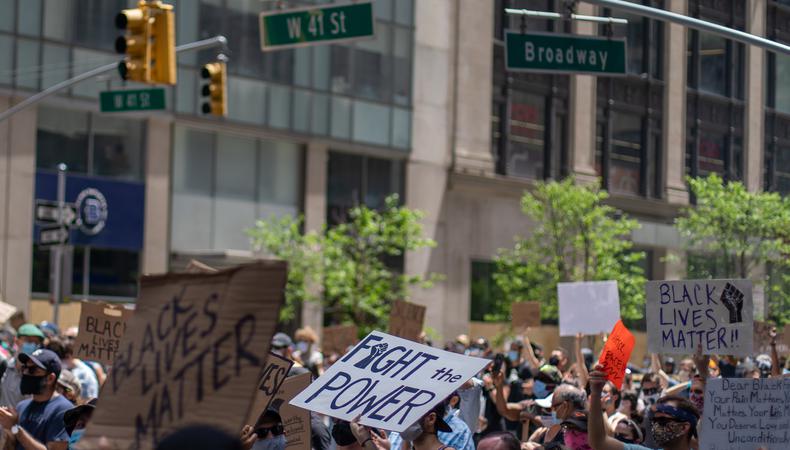 There were of course no Tony Awards this year, thanks to the coronavirus pandemic. But if they had occurred—they'd been planned for June 7—they might have seen the first Black playwright in 33 years win a Tony Award for best play.
That'd have been Jeremy O. Harris, whose "Slave Play" ran in the fall and was an early frontrunner for awards gold. Though we won't know how they would have turned out in 2020, the Tonys have a long history of excluding people of color from their ranks, with only two Black playwrights in the awards' 73-year history ever having taken top play honors. As Harris himself described it on Twitter: "Black writers [win] Pulitzers not Tonys."
The would-have-been Tonys now coincide with a period of civil unrest as Black Lives Matter protests surge around the world, pushing matters of systemic racism to the fore within specific industries, including Broadway.
"The Broadway community always stands up for everyone else—we're always there for the LGBTQ community, anyone needs us, we are there, all hands on deck," says Adrienne Warren, who pre-pandemic was starring as the titular songstress in "Tina – The Tina Turner Musical." "But when it comes to Black lives, there was so much silence. I think there was a stigma to the phrase Black Lives Matter; by saying so as an institution, you were making a political statement when in fact, saying Black Lives Matter is a statement of humanization. It doesn't make Black people special, it just makes us feel human."
It was the broad industry silence around Black Lives Matter back in 2016 that led Warren, then starring in the majority-Black Broadway musical "Shuffle Along," to co-found the Broadway Advocacy Coalition. Their inaugural event that year, Broadway for Black Lives Matter, was in part responding to the murder of Eric Garner at the hands of police. "I was onstage performing in front of a sea of white people that had no idea this entire cast was hurting so deeply," Warren recalls. "I remember looking out onto our stage and our ensemble was performing some incredible number, and they had tears in their eyes and smiles on their faces."
Britton Smith, a swing in "Shuffle Along" who also co-founded Broadway Advocacy Coalition, saw the organization from its inception as a way for Black Broadway professionals—performers especially—to steer the conversation around action.
"We're often asked to hold the red bucket [for Broadway Cares/Equity Fights AIDS] or get dressed and raise money at a gala, but when it comes to police brutality and racism and mass incarceration, there's something beyond raising money that needs to happen," Smith says. "We also need to understand, What are the laws that allow what happens to all these people? We decided it was important for the arts to finally meet law and policies, so we built this relationship with the folks at Columbia Law School and since 2016 we've really deepened our practices of how art and law and policy work for the people."
Warren, Smith, and the rest of the Broadway Advocacy Coalition will share those practices with their industry with Broadway for Black Lives Matter Again. Beginning June 10, the three-day forum will be devoted to healing on Day 1 (just for Black industry members), with Days 2 and 3 devoted to listening and accountability (for all industry members) in order to, as Warren explains, "move towards a different theatrical landscape [and] figure out, What is it that we want this industry to look like and what are the steps we can take to do so?" (Registration for the forum is open here.)
The Broadway Advocacy Coalition is one of several organizations and individuals seizing this moment of national reckoning to demand conversations be had around the systemic racism that has existed since Broadway's inception.
Among them is "We See You, White American Theater," launched on June 8, with a mission statement signed by over 300 theater-makers who identify as Black, indigenous, or people of color. "We have watched you un-challenge your white privilege, inviting us to traffic in the very racism and patriarchy that festers in our bodies, while we protest against it on your stages," the letter reads. "We see you." At the time of its publication, signees included Lin-Manuel Miranda, Tarell Alvin McCraney, Danielle Brooks, Billy Porter, and Sandra Oh.
Theater, like its television and film counterparts, has long been more inaccessible for people of color. That's been most true on Broadway, theater's commercial entity, and even truer in terms of principal creative roles (writing and directing). Looking at the 2019–20 Broadway season that would have been, Harris was the only Black playwright debuting a new play. The figure is not an anomaly.
READ: Black Actors Respond to Black Lives Matter
Looking again to 73 seasons of Broadway and the Tony Awards, across the five principal creative categories—book and score of a musical, director of a play and musical, and play—just nine Tonys have ever gone to Black people.
Stephen C. Byrd and Alia Jones-Harvey of Front Row Productions remain the sole Black lead producers working on Broadway.
Sixty-nine acting Tony Awards have gone to Black actors, but in concert with the above statistics, that is further proof of the ways in which white creatives have traditionally capitalized off of Black bodies and Black stories in theater. Black playwright and actor Griffin Matthews spoke to this in a widely circulated video posted on June 1 captioned, "Dear Amy Cooper: Broadway is racist."
"A director saying in a casting session that an actress doesn't look Black enough to be in [my play] 'Witness Uganda' is what Black people call the paper bag test and that is Amy Cooper," Matthews says, referring to the white woman who recently called the cops on a Black man bird-watching in Central Park to viral effect. "Strong-arming a Black writer after you've already purchased the rights to my work by saying, 'I will not produce your show if you do not change the title, exit your role as lead actor, and exit your role as lead writer' is a direct threat and that is Amy Cooper." (Matthews' play, by the way, did open Off-Broadway in 2015, no longer under the title "Witness Uganda" but renamed "Invisible Thread.")
Where the theater industry may go from here—and whether tangible change will be implemented—cannot be known at this time. There are however some glimmers, including a petition currently making the rounds to make the Black-owned Apollo Theater the 42nd Broadway house. (Of Broadway's existing theaters, not one is owned by a person of color.) The Change.org appeal has, as of this writing, been signed by nearly 16,000 people; among them is Warren who, incrementally, is both hoping for and working towards more actionable change.
"One thing our ['Tina'] producers did that I was very impressed with was, we had what's called a 'truth session,' where the door was opened for us to have a Zoom call as a company, so people could sit and listen and actually hear and see the pain people are feeling within this community," she says. "That was very powerful for us to feel heard and seen and if we felt some kind of way about the actions that our company took, we could articulate that.
"That was definitely one step."