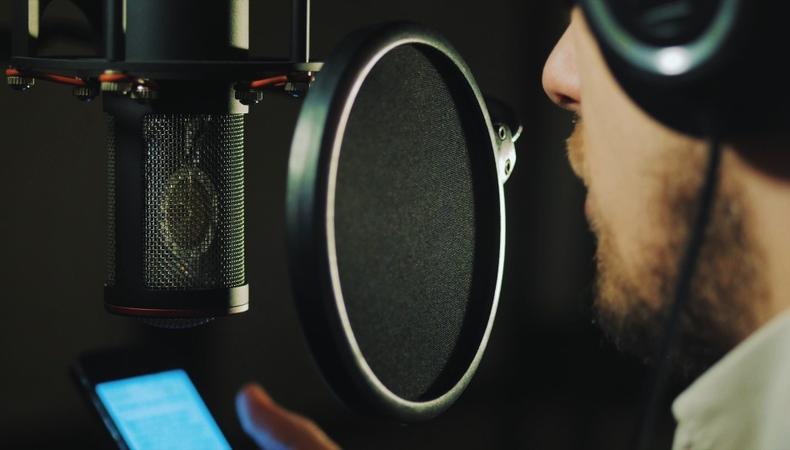 Between writing, producing, and voicing commercials, I'm also involved in casting voiceover projects, and over the past 40 years, I've seen the demands on professional voice actors grow considerably. In addition to auditioning and recording multiple projects daily, voice actors have to be their own engineers, editors, producers, marketers, and more.
On average, approximately 200+ actors submit auditions for every VO job posted, whether local, regional, or national. (I've seen upwards of 500 auditions come in for national campaigns.) But contrary to popular belief, most producers listen to every audition in their quest to find that perfect marriage of voiceprint and product.
These are the things I ask for in an audition (like most professional production companies) from actors in the V-O business:
1. You must have a studio-quality setup.
Voice actors today must have a professional home studio or access to a professional studio. I listen very carefully to determine whether production values on auditions and final tracks are broadcast quality.
2. You must be a professional voice talent.
In other words, you've done this before—preferably a lot. If you're a newbie, get training before you jump into the audition pool. You're competing against a lot of talent.
3. Read the performance directions carefully.
Don't audition if the specs don't fit your vocal parameters. If it calls for a specific kind of voice or an age and you're not even close, don't submit. If it asks for an accent, make sure you give them that. If the client states that they don't want something, make sure you don't give them that.
4. Read the recording directions carefully.
Please follow them to the letter. If they give a file-naming template, follow the template. If they ask for just one take, make sure you give them only one. If they ask you to slate just your name—at the top, at the end, or not at all—do that. If they ask for .mp3 format, give them that format—not .wav or .aiff or .mp4.
5. Time yourself.
Commercial copy is virtually the only copy that's timed in 15-, 30-, 45-, or 60-second increments, so reading to time is crucial. In a typical audition, though, you're good to go if you're within a couple of seconds of the actual time stated.
READ: Everything You Need to Know About Promo Voiceover Work
Recently, I sent feedback to all the actors who auditioned for a project I was casting in an effort to reinforce their good work habits and remind them to pay attention to the details. Here's the original audition posting:
Male, 35-50, baritone, :60 Radio spot for a Southern California car dealer. Must sound conversational, knowledgeable, friendly, a little hip, cool, mature and not sell-y. This calls for a rapid delivery, so watch your time. No accents. Read the VO only, one take, please. Slate your name at the top simply as, "This is (your name)." Please record your audition at 44.1khz, 16-bit mono, .mp3 format, 128kbs (or less). Label your file IRVINE BMW-YourName.mp3. Please follow the template. And break a lip!
After the auditions were submitted and the final voice was chosen, I wrote to everyone who auditioned and gave them the kind of feedback they rarely get to share thoughts a producer's perspective in hopes that they'd be better armed for other jobs. Here's what I told them regarding my points above.
You must have a studio-quality setup: Most of you had a great setup, but I heard too many auditions that were unusable for broadcast. A few recorded at a level that was barely audible. My advice is if you're not sure about your booth sound, send a sample to someone you trust to make sure it's up to snuff, needs tweaking, or sounds terrible. Then find a someone who can troubleshoot your noise floor and mic setup and get you sounding great.
You must be a professional voice talent: About 90 percent of submissions sounded professional. The other 10 percent need training. I strongly advise those of you who want to throw your hat into the voiceover arena to get as much training as you can before trying to compete with the pros.
Read the performance directions carefully: The majority of auditions read the directions well and delivered accordingly. But there were a lot of performances where it was obvious the directions weren't followed. There were also a lot of people who don't understand their vocal range. This spot called specifically for a baritone, yet I heard tenors and bassos. I cautioned against submitting if you had an accent, yet there were a few distinctly Southern-accented reads. There were even a couple of British reads.
Most submissions followed the directions the letter, but there were too many exceptions. Everyone gave me one take, but a couple of you sang the jingle. at least 20 people forgot to slate. About 10 percent of submission were in formats other than .mp3. I received .mp4s, .aiffs, .wavs, even files that had extensions I'd never heard of. And 30 auditions didn't follow the file naming template. If you can't follow a simple file-naming template, how can you be counted on to follow complex directions in a session?
I don't do this kind of follow-up on all the projects I cast but occasionally I have the time to let folks know what goes on behind the scenes in VO casting and how they can guarantee that their audition will be heard.
Marc Cashman creates and produces copy and music advertising for radio and television, and was named one of the Best Voices of the Year three times by AudioFile Magazine, and has been a keynote speaker and Master Class instructor at VOICE 2008-2014, Keynote Speaker at VO Atlanta 2012, as well as Master Class instructor and panelist at VO Mastery in 2017. Winner of over 150 advertising awards and a working voice actor, he instructs voice acting at all levels through his classes, The Cashman Cache of Voice-Acting Techniques in Los Angeles, CA, and teaches undergraduate and graduate students at CalArts. He also coaches one-on-one with voice actors all over the world and conducts online VO classes. You can get a copy of his best-selling book, "V-Oh! Tips, Tricks, Tools and Techniques to Start and Sustain Your Voiceover Career" through his website, on Amazon.com, or through his Square page. Marc can be contacted at marc@cashmancommercials.com or www.cashmancommercials.com.
Get all of your acting questions answered by peers and experts on the Backstage Community forums!
The views expressed in this article are solely that of the individual(s) providing them,
and do not necessarily reflect the opinions of Backstage or its staff.