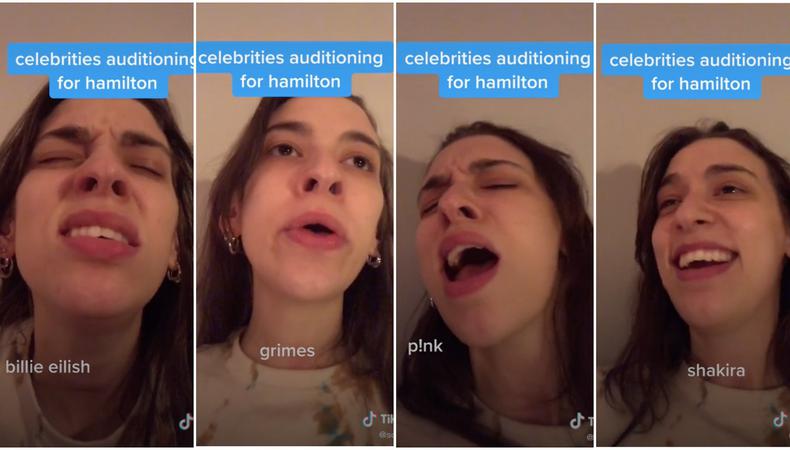 What would Billie Eilish sound like auditioning for the role of Hamilton in the musical that is also called "Hamilton"? What about Miley Cyrus auditioning for the role of Hamilton adversary Aaron Burr? Or Shakira for the George Washington? Granted, you may not have thought to ask these questions, but lucky for all of us, Sarah Coffey (@scoffeyx) answered them anyways, with her viral TikTok: celebrities auditioning for "Hamilton."
Here's how Coffey hatched the viral idea, and her advice for the aspiring TikTokers out there (apart from just, "Make stuff that you like. Blame the algorithm. Go to therapy").
Where did you first get the idea to do this particular TikTok?
I'd started experimenting with a Billie Eilish impression after watching her documentary. One night I was bored alone at home and I started singing with Billie's voice to different songs. Eventually "Hamilton" came up. It was the perfect crossover of my interests. I was going to only do Billie in the TikTok but then I thought, Why not just include some other impressions I have in my wheelhouse? Then I slowly created my lil' dream cast.
How did you decide which celebs to include?
I don't really have a process of deciding—usually I'll do artists that I already like or already can mimic. When I run out of ideas, I think about who's popular, who has something distinct about their voice or personality, and I try things out. I'll try out anyone though—if I can do the impression, I'll eventually find a way to put it in a TikTok.
Each impression is scary spot-on. How did you perfect each one before the TikTok?
I didn't actually prepare much before recording that video. I was on my couch awake at midnight for absolutely no reason, so I wasn't really thinking much. That's usually when I make the best content: when I'm not thinking. Sometimes for fun I'll try out some impressions on my own, walking around the house or recording little videos. I'm also a musician so when I record music and don't love the way I'm sounding, I take inspiration from different artists to push the sound in a different direction. I'm accidentally practicing impressions all the time.
What other sort of preparation did you do prior to actually filming?
The first time I found out that I could do singing impressions other than Britney Spears and Clay Aiken, I was on tour with my bandmates. I think we surprise-covered "Ocean Avenue" [by Yellocard] and I started singing in a pop-punk voice. After that, we sat in the parking lot laughing while my bandmates asked me to try out different artists, and often my first instinct was the right instinct. Some come naturally because of how unique the voice is—everyone can do their own version of a Britney because her voice is so recognizable. Grimes has her distinct lisp. Miley's got that nasally twang. As a singer, I've learned to use different parts of my throat, nose, and mouth to make my voice sound different. When I feel less confident in an impression, I'll look up interviews and songs that the artist sings and just sing it or speak it right back after I listen.
The TikTok now has 2.5 million and counting likes. Did you anticipate this kind of response?
I feel like on TikTok, you can never anticipate, even if you post a video that you know is amazing. It's so unpredictable. I've posted videos that I thought were dumb that got hundreds of thousands of likes, and I've posted videos that I thought were comedy gold that fell totally flat. I've learned not to think too much about the outcome of a TikTok. Then when something goes viral and get's a lot of attention, it's just an added benefit.
READ: How to Get ab Agent Through TikTok
Have any notable folks reached out to you/commented on/engaged with you or the video?
I'm not much of a name-dropper because I'm a class act, but I will say that an unwritten person left me feeling like I had a pocketful of sunshine. And if I do say so myself, another celeb had me feeling like her best friend.
It was Natasha Bedingfield and Doja Cat.
What do you like about TikTok as a platform to create?
I've heard people say "the cream of the crop rises to the top." That phrase is, like, not cute. Like I would never say that in the middle of a conversation, but it's very true. There are so many smart, creative, funny people making content on TikTok. Some success is random but if you are really good and really committed, your content will get seen. I've connected with so many cool people. I want to write a damn screenplay and cast only TikTokers. Sue me!
What advice do you have for others who want to create content on TikTok?
Stop giving a shit about what your middle school crush will think about you if he sees your TikTok. Make stuff that you like. Blame the algorithm. Go to therapy.
Looking for remote work? Backstage has got you covered! Click here for auditions you can do from home!