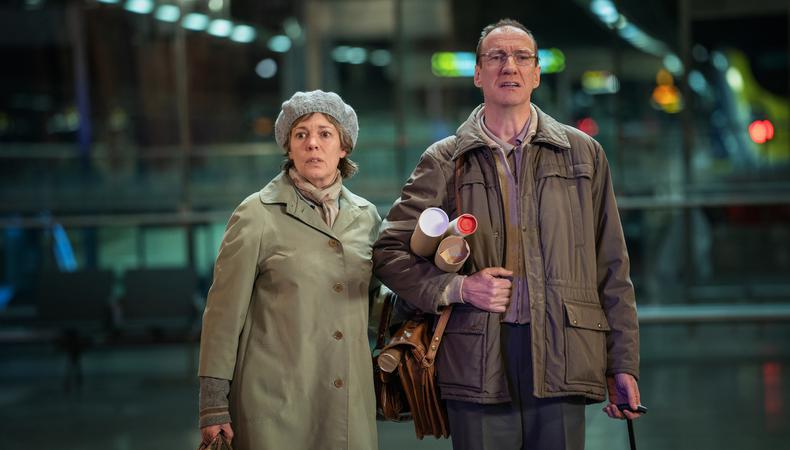 "There is a feeling that if something feels too familiar or if it isn't asking any new questions, then, in the bluntest sense: What is the point of it?" Will Sharpe asks. "It definitely feels right to feel unsafe in what you're doing. Taking some kind of a risk or making some kind of sacrifice feels like a rewarding space to be operating in."
It's a question Sharpe says he's grappled with through his years both in front of and behind the camera. Answering it is in part what first set his career in motion as a filmmaker. While he initially trained in classic performance and was a one-time member of the Royal Shakespeare Company, the Japanese-English talent premiered his debut short film "Cockroach" in 2009. Then, in 2011, his feature film directorial debut "Black Pond" earned he and collaborator Tom Kingsley a BAFTA nomination for outstanding debut.
Despite that early career success, Sharpe didn't land his next break as a writer-director until 2016's Channel 4 dramedy "Flowers," which starred Olivia Colman and ran for two seasons.
"Taking some kind of a risk or making some kind of sacrifice feels like a rewarding space to be operating in."
This year, he reunited with Colman on HBO's acclaimed "Landscapers," which airs its finale episode on Dec. 27. He also directed the Benedict Cumberbatch–starring Amazon Studios feature, "The Electrical Life of Louis Wain." To hear Sharpe tell it, he needed that career lull to zero in on the kinds of stories he actually wanted to tell—ones that felt unsafe and unfamiliar.
"Before I got working on 'Flowers,' there were a couple other projects that I had been pitching," he recalls. "And I started to get feedback: 'Why are you pitching these ideas?' 'They don't really suit you.' 'It doesn't feel like you would want to make this kind of thing.' 'Why don't you just go and work on the thing that you really want to make?' "
It was that very feedback which led him to create "Flowers." "[It was] me trying to guess what would get made, rather than just writing what I needed to write," he continues. "So I've been very grateful for that advice, and I think of it often."
That advice has never served him better than on "Landscapers," an inquisitive, cerebral, at-times romantic treatment of an otherwise grisly subject matter. In telling the real-world police investigation and conviction of Susan and Christopher Edwards for the 1998 murders of William and Patricia Wycherley (Susan's parents), Sharpe along with co-creator and writer Ed Sinclair lean into the unexpected.
Several scenes show various versions of the truth depicting the same act; others will showcase fantasy sequences of Susan viewing her life as a spaghetti western; and others tap into a French New Wave–inspired approach to Susan and Christopher's literally for-better-or-worse marriage. Where you think "Landscapers" may fall in step with other true-crime limited series, Sharpe and Sinclair reject convention.
"There were certain ideas about how to challenge the form, and so initially, I worked very closely with [Sinclair] on how to streamline those ideas," Sharpe remembers. "The first thing we talked about was this idea of different truths and the truths that Chris and Susan had to tell themselves. How can we bring the audience with us on this journey, and present them this story in different ways that feel discreet, like they exist independently of each other, but also are part of this cohesive whole?
"That makes the audience feel a different way, depending on how it's presented," he says.
Sharpe emphasizes, though, that such creative swings need to come naturally as a result of the story, not as a precursing guide. While he values the ability to "challenge the form" and to try new approaches to storytelling, Sharpe advises those who want to get started in the field, "If you lead with that, it doesn't work." That impulse "​​has to always come from the characters." Working with U.K. screen and stage royalty like Colman and David Thewlis, in this case, invited the opportunity to lead psychology-first in his approach to the story.
"It gives the whole world of the show this precariousness and this vulnerability," he says. "It's kind of like you're never quite sure [of the truth].
"It's also us being honest with the audience about the fact that this is just our version of the story," he concludes. "We can't ever know exactly what was going through these people's heads. But we're trying to be fair and empathetic in the telling."
Fair and empathetic in the story of two killers? That may be the most unassumingly impactful approach of all.
Ready to get started with Backstage? Become a subscriber here!