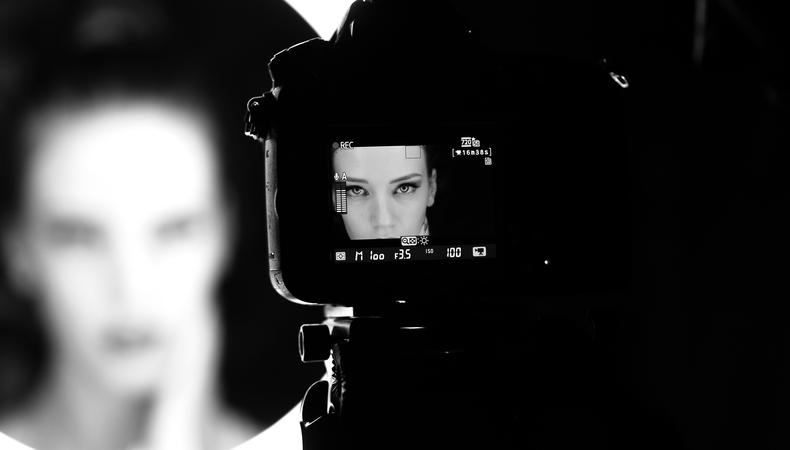 Headshots are not one size fits all. I sometimes have a client ask me to create a headshot that they can use for both their modeling and their acting endeavors. Sometimes a modeling shot can be used as an acting headshot, but most of the time they are not interchangeable. So what are the objectives for each and what makes them different?
Modeling Headshots
Modeling headshots typically feature performers wishing to be cast in fashion and beauty advertising. An amazing model is going to be skilled at communicating through their eyes, knowing how movement and light shape their face. Editorial and fashion modeling is about selling a lifestyle. The goal of fashion or beauty ads tends to be about creating fantasy around a product versus having the audience relate to the person in the advertisement.
Modeling headshots tend to be more artistic and flatter the subject. They say less about who a person is and more about how they are capable of appearing. There is a greater emphasis on the mood, lighting, and artistic merit of the photograph. Makeup, lighting, composition, and retouching are used to creatively flatter the subject and remove the flaws. There may or may not be eye contact in the model headshot.
Acting Headshots
An acting headshot is about selling the actor. In the headshot, the actor's personality is the most important and should be easily identifiable. It must show versatility and an appeal that falls within the spectrum of the roles the actor wishes to play.
I don't believe an actor should aim for getting just a "general headshot." General equals boring to me, and casting directors don't have the time or interest in figuring out who you are as an actor. For any given casting call, hundreds (if not thousands) of headshots are received from people who look similar to each other. If an actor expects their headshot to stand out, it is not enough to just show what they look like.
I cannot stress enough that your acting headshot needs to look exactly like you. If an element on your face is permanent or can't be covered with simple makeup, then it should appear in your headshot. And yes, you want great lighting, but you don't want shadowy artistic lighting. Actor headshot lighting should be clean so that casting directors can get a clear idea of what you look like.
And eye contact is a must!
Looking for remote work? Backstage has got you covered! Click here for auditions you can do from home!
The views expressed in this article are solely that of the individual(s) providing them,
and do not necessarily reflect the opinions of Backstage or its staff.