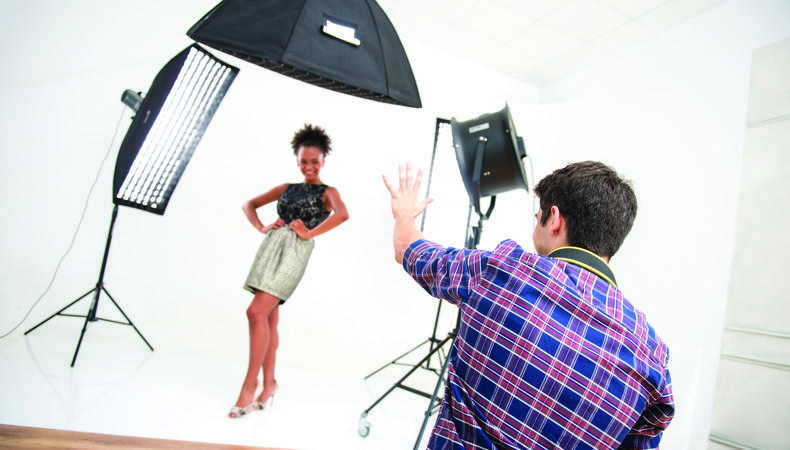 What's in a headshot? For starters: your look, your brand, your type, your age range, your possible occupations, your professionalism, your socioeconomic background, your personality traits, your inner emotional life…Yikes! That's a lot of pressure to put on one photo! Is your headshot really that important?
The simple, honest answer is "Yes!" Your headshot is a crucial part of your package; in fact, it's the front page. You may not judge a book by its cover, but you will certainly be judged by your headshot. Your audition begins the moment you walk into the room, but your headshot may allow or prevent you from getting into that room in the first place.
But you're an actor, you say. You contain multitudes! How can one picture possibly capture all that you have to offer? And therein lies the great challenge of the headshot: capturing the nuances and shades of you as an actor in one convenient image.
Now that we've convinced you of its starring role in your career, you may have questions about this mysterious item. Let's clear up some things. We're here to help you navigate the world of headshots
Headshot Basics
Headshot Research
During Your Headshot Session
Printing Headshots
What do I need a headshot for?
Everything! You will need a headshot for every single aspect of your acting career. But here's a starter list:
Your website

Your marketing materials: postcards, business cards

To bring to auditions

Your online casting profiles

To submit to agents and managers for possible representation
Your headshot is your calling card. It will, and should, be the cornerstone of your marketing materials: your face will literally be the face of your website, casting profiles, postcards, resume. Your business cards and postcards should always have your headshot printed on them.
Think of your acting career as a web, and your headshot as the unifying center that ties together the various threads. It therefore serves a crucial organizational purpose. Your headshot is what will make you instantly recognizable across channels.
Let's talk about branding. Think of any famous brand: each has a carefully chosen and designed icon that is instantly identifiable. You can look at the giant yellow golden "M" arch of McDonald's and know what to expect: a Big Mac, super size fries, a Happy Meal, etc. You want your headshot to do the same for you as an actor. Your headshot puts a face to your brand. As an actor, you are pitching yourself as a product, and your headshot is the image that best represents that product.
Branding is key for your social media and online professional presence. Many actors like to make their headshot the profile image for their Twitter, Facebook, and Instagram.
You'll need both digital and hard copies of your headshot. These days, you'll mostly be submitting online. You'll need to upload your digital headshot onto your online casting profiles; projects will not even allow you to submit unless your profile has a headshot, and the first thing casting directors see with your submission is your headshot.
For theater auditions, it is standard practice to bring a hard copy of your headshot, so you should always come to an EPA armed with your headshot. Many theater casting offices even ask actors to mail their headshots and resumes into the office for consideration. For film, commercials, and print auditions, it is less common to need a hard copy, but it's never a bad idea to bring one, especially if it's the first time you are being called into a particular office.
When you submit yourself to agencies for possible representation, whether by email or mail, a headshot is the first item on the list of materials required for consideration. And any time you go to a workshop with a casting director or agent, you should ALWAYS bring a headshot. Which brings us to the next point.
RELATED:
What does a casting director want from a headshot?
Here is where the branding really comes in. When you or submit to a project, your headshot is the first thing casting will see. Casting directors are busy people. They sift through hundreds to thousands of submissions for any given role, so for one thumbnail to grab their attention, well, it must be a really good thumbnail. Or say they've met you at a workshop; they'll recognize you from your online submission based on the hard copy you've given them (or the copy printed on your business card).
The casting director's job is to put together the pieces of a puzzle. They want to be able to look at your headshot and immediately get a sense of how you might fit into that puzzle. They have specific ideas about the roles they have to fill. They don't have time to ponder your myriad out-of-the-box possible characters; they will take you at face value. Even if you want to play against type, it's important to recognize how you may initially be seen.
As actors, you know the importance of a first impression. Therefore, your headshot will determine what types of roles you get called in for. Do you play tough guys with a heart of gold, or secretly sexy nerds? Are you the kindly grandmother? The sassy teenage daughter? Especially when starting out, your headshot can determine the course of your early career.
Image consultant Tom Burke lists some of the qualities that casting directors glean from your headshot: "Casting directors or agents need to look at your headshot and know instantly your age range, where you are on the economic scale (upscale, middle class, blue collar, etc.), where you are on the attractive scale (despite what your mother tells you), your role in society (mom, educated professional, victim, CEO, etc.), and various aspects of your innate personality (sweet, friendly, gruff, powerful, etc.)."
Your headshot should look like you! That may seem like obvious advice, but this is a common complaint among casting directors. We've all felt betrayed by false advertising. You know that unpleasant feeling you get when you take a bite of a chocolate chip cookie, only to find that the chocolate chips are actually raisins? That's how casting directors feel when you walk into a room looking nothing like your headshot. As headshot photographer Marc Cartwright says, "The casting director is on your side. That is why they called you in to audition for them. They want to fill the role just as much as you want to book it. You want to get called in for projects that are right for you. This doesn't happen if you are deceiving the casting director with headshots that don't look like you."
Your headshot should show casting directors both the intangibles and tangibles of you as an actor: how you look on camera, your essence, your energy and personality. Casting directors want to see who you are, what you bring to the table, and why you're worth bringing in for an audition.
WATCH
What Are Casting Directors Looking for in Headshots?
RELATED:
What makes a good headshot?
You will be identifiable by your headshot, so naturally, you want to look great, right? In fact, maybe it's time to get a makeover! But hold up just one second. You don't want to look too good in your headshot.
Wait, what? But I thought you just said my headshot should be the best representation of me! It should, and that's exactly why you want to look like one person, and one person only: yourself. Your headshot has an undeniable physical component: you want to show off your silky hair, your almond-shaped eyes, your high cheekbones, etc. But your headshot is about much more than superficial appearance.
The real job of your headshot is to capture and convey elements of your personality and your brand. Again, your headshot is selling you. You are one-of-a-kind. Your headshot should show that. If your headshot doesn't give an accurate sense of who you are and the specific characters you might play, it's not a good headshot.
A helpful exercise is to do before getting headshots is to make a list of some of your best qualities as an actor: traits you would want to represent as part of your brand. Now ask your friends and colleagues to do the same.
Your headshot should look like you when you walk into a room, so it should represent how you look on a good average day, not necessarily your best day. Unless you're planning on getting your hair and makeup done professionally for every single audition you go on (unlikely), you should do your makeup as you would on any given day. Natural makeup is best; you want to look like you're not wearing makeup. Save the glamour shots for your website or your modeling profile
WATCH
What Makes a Good Actor's Headshot?
RELATED
What makes a bad headshot?
In addition to overly made up, distracting jewelry, patterns . The worst feedback an actor can receive is "wow I didn't recognize you" or "this looks nothing like you!" distracting background. You want the focus to be on your face, not on the cool architecture behind you. You want the casting director to be wondering "hmm, I wonder what they're thinking about?" rather than "hmm, I wonder where this was taken?"
RELATED:
How can I find the right photographer?
Headshot photographers are easy to find. Finding the right headshot photographer, however, is another story. There are many worthy candidates out there, but like with everything in the acting world, it's all about finding a good match.
It might be tempting to have a friend with a camera take your headshot (or worse, take some selfies). Your friend might take great landscapes, but a good photographer is not necessarily a good headshot photographer. Headshot photography is all about capturing essence and expression, and remember that the quality of your headshot reflects directly on your professionalism.
As with anything in the industry, ask for referrals. Look at your friends' headshots. Make a list of your favorites, and ask for the names and contact information of the photographers who took the winning shots. Going through people you know can also give you insight into how easy a photographer is to work with and their personality.
Do your research on any prospective headshot photographer. Look at their website and browse galleries of their past work.
It's important to have a conversation with a photographer prior to committing, to make sure you are on the same page and have compatible visions for the final product. Some photographers will offer a consultation.
RELATED:
What should I know before getting my headshots taken?
Before having headshots taken, you should have a very clear idea of what you want out of your headshot session. There's a lot more preparation involved than the obvious. You definitely want to get your hair and makeup done, but you want to put in a lot of mental preparation as well. What will you be using your headshots for? Which types of roles do you want to play? What types of projects do you aspire to be a part of?
Look at the styles of the TV shows you want to be on. If you're looking to be a staple on noir shows or late-night crime time, a dark, gritty look headshot fits that tone. If you aspire to be SNL's newest cast member or a sitcom darling, a bright, sunny, and goofy shot is a better idea.
Also think about the types of roles you want to play. If you're going for high-powered executive, you'll want your hair, makeup, and clothing to reflect that. If you're going for high school queen bee, you'll want to make sure your wardrobe and makeup is age-appropriate.
RELATED:
What should I wear?
Simplicity is key for headshot wardrobe: the focus in your headshot should be squarely on you: not your clothes. Busy patterns and large, distracting jewelry are a no-go. Bright jewel tones are best: red, blue, green, yellow...any solid, primary color. You know what looks best on you: pick colors that bring out your eyes and compliment your skin tone. Stay away from white (which can wash you out) and black (which can give the illusion of absorbing light from the rest of the photo).
If you play more buttoned-up characters, you may want to wear a jacket. If you play more free-spirited or open-book characters, feel free to show a bit more skin (though not too much - be careful of wearing clothing that is too revealing - it can take away the focus from your face).
What are some good headshot poses?
The irony of a headshot is that, though it's a still image, you shouldn't look still. The last thing your headshot should be is boring. There should be some attention-grabbing quality leaping out at the viewer, whether that's an enigmatic Mona Lisa smile, an infectious humor, a mischievous glance, a pensive stare...you get the idea. Think of a headshot as a freeze frame of you in action. What are some of your strongest qualities? You want your headshot to capture those. Your warmth, your inviting nature. The focus of a headshot is on your eyes, and it's important for your eyes to be engaged and tell a story.
Some classic headshot poses:
Head-on, facing the camera: this is a classic for a reason. They get to see you, and all of you!
Slightly angled away: this pose is especially effective for film. Think about it: how often does an actor look directly into the camera, or directly face the audience?

Over the shoulder: this one is slightly more mysterious, unusual, and edgy
Be aware of your chin; you don't want to tilt your face too far up or down. Keep your back straight, and don't cross your arms - you want to have an open and welcoming stance.
RELATED:
How many looks should I have?
You should have at least two to three looks. It's standard to have a theatrical, more serious shot, and a smiling commercial shot showing your teeth. If you have a niche skill or bookable talent, it's a good idea to take a few snaps of you in your element. For example, if you are a bodybuilder, you want to show off your guns. If you're a musician or a pro athlete, your instrument can play a supporting role.
How much should a headshot session cost?
Headshots are expensive. Expect to pay anywhere from $400 on the cheaper end to $1,500 on the more expensive side. You don't have to break the bank to get a great headshot. However, you don't want to cut corners either. Remember, your headshot is a direct reflection on you and your professionalism, so it's worth investing in.
It's also worth asking yourself what hidden fees might you not be factoring in.
Getting headshots involves more than just taking photos. Be sure to ask for a breakdown of the cost. Most photographers will charge a flat fee for the session itself. However, expect to spend additional money on the following (or ask if they are included as part of the package):
Hair and makeup

Retouching - some photographers do retouching themselves

Printing

Editing

Different looks (some headshot photographers only include a set number of looks and will charge extra per photo)
WATCH
Makeup Tips for Actor Headshot Sessions


RELATED
What questions should I ask a headshot photographer?
Here are some general questions to ask:
Do you have a portfolio of your past work?

What are your rates?

What is included in your rate?

Do you shoot indoor or outdoor?

How many looks does your session include?

How long is a session?

Do you recommend anyone for makeup, hair, retouching?
RELATED:
What can I expect from a headshot photoshoot?
The length of a headshot session varies, but can last anywhere between at least one hour to three hours, depending on how involved the shoot is.
WATCH
How Long is an Average Headshot Photoshoot?
You should bring all your wardrobe changes with you, and keep makeup and a small mirror handy for touch-ups (unless you have a makeup artist on hand). If you're shooting outdoors, you may have to scope out local public bathrooms to change in. Wear comfortable shoes, especially if you will be walking to different locations - your feet won't show up in the shot.
Your photographer will shoot you from various different angles.
WATCH
How to Prepare for Headshot Photoshoots

How can I relax during my headshot session?
Now that we've spent all this time convincing you how important a headshot is, you might be nervous. Don't be! The key to a great headshot is to be relaxed. Have fun! A great headshot is one in which your personality shines through. If you're too stiff, you may still end up with the perfect headshot - for an incontinence commercial.
Having a rapport with your photographer is especially helpful to relax. Have a conversation with your photographer. Think about the characters you want to play and try to inhabit the mindset and physical space of that character. Some photographers will even direct you.
WATCH
How to Loosen Up Before a Headshot Session

RELATED:
What headshot background is best?
Outdoor or indoor is a matter of personal preference. It's worth asking a photographer if they have their own studio setup, or which scenic locales they have in mind. Again, simplicity is best.
Natural light gives a softer quality, while studio lighting can seem harsher and sharper. However, indoor lighting can lend a polished quality, and leaves you less at the mercy of the elements.
Contrast is good - for example, if you have dark hair, a black background isn't a good idea. You want to pop!
WATCH
Which is Better: Indoor or Outdoor Headshots?

How often should I get new headshots taken?
Any time you change your look, you need new headshots. If you cut your hair more than a few inches, dye it a different color, gain or lose a significant amount of weight (more than ten pounds). General consensus says every one to two years you should get new headshots. Reevaluate how your headshots are either benefiting - or hurting - your career on a regular basis. Are you getting positive feedback on your headshots? Or are you getting called in less because your headshot doesn't look like you?
Trends are also something to be mindful of. Headshot photographer Marc Cartwright recommends getting new headshots every two years for adults, and every six months for children. He says, "You want to stay current with what casting directors are looking for in a headshot. For instance, at one time black and white headshots were popular. If you present a black and white shot today, some may assume you haven't auditioned since 2005. It is also a good idea to understand the medium through which casting directors see your headshots. Many use online galleries, which means your headshots are showing up for them as small thumbnail images. You may want your main picture with a tighter crop on the face so that the eyes can be easier seen easier. A three-quarters shot won't stand out as much in an online gallery of actor headshots."
RELATED:
How many prints should I have made?
Evaluate what you are going to be using your headshots for. If you're trying to get an agent, your headshot bank should be well-stocked so you can mail prints to agency offices or bring them to seminars. If you are focusing on EPAs and theatre auditions, you should always bring a headshot and resume with you. Again, bringing a hard copy of your headshot is not as mandatory in the film/TV/commercial world, but many auditions do require or ask you to bring them, so you should have some just in case. Depending on how many agents and casting directors you are meeting and auditions you are going on, you should have anywhere between 20 to 100 headshots printed at a time. Keep in mind that you should be getting new headshots every one to two years, so don't overdo it by printing a thousand headshots, but keep more than 20 in your bank (you can always print more if need be).
Should I get my headshot retouched?
Nobody's perfect, and your headshot shouldn't be either. That being said, you want your headshot to be the best possible representation of you, so that means some light retouching to eliminate distracting elements of the photo, and (lightly) enhance your best features. Acceptable retouching includes smoothing a few stray hairs, evening out skin tone, bringing out the light in your eyes. Of course, this doesn't mean to go overboard with the Photoshop to the point that you're unrecognizable. Retouching is all about striking the right balance.
Wrinkles are a touchy subject. L.A. headshot photographer and Backstage Expert Marc Cartwright advises actors to keep in mind their realistic age range when retouching: "Skin has texture. Even the smoothest of skin. Skin gets more texture as we age. The first thought that pops up when I see a headshot with overly retouched, plastic-looking skin is, What are they hiding? Something feels off. In overly retouched photos, casting can't trust what the actor will look like, and therefore won't waste time calling that actor in to audition. The age of a character is one of the most important factors in selecting actors for a project. Think about your age range and work with your retoucher to make sure your skin looks realistic to your authentic perceived age."
Another thing to keep in mind when retouching is how polished you want your headshots to look. For example, Cartwright says, "If your goal is to get cast in roles that portray trashy criminals or people from economically challenged backgrounds, you might want to see all the flaws to help with the illusion. Of course, you still want to be professional. Your retoucher should work with you on striking a balance between what looks character driven versus what looks like you don't care. On the other hand if, for example, you are going for the upscale business look, you may want to clean the shot a bit more to give a feeling of impeccability."
WATCH
Retouching Actor Headshots: How Much is too Much?

How should I format my headshots?
Most actors print their headshots vertically, though some print horizontally. Whether you go landscape or portrait is a matter of personal preference, though printing vertically makes it slightly easier and more intuitive for a casting director to turn over your headshot to read your resume on the back.
Print in color. Black and white headshots are all but obsolete.
Even though your headshot will be attached to your resume, it's important to have your name printed somewhere along the border of your headshot. There's no standard font, and some actors use this as an opportunity to pick a typeface that represents their style and personality, but you want to pick something easy to read. Some actors also like to have an external white or black border framing their headshot, and your name can be printed in this border.
Headshots should be printed 8 inches by 10 inches, and stapled to the back of your resume (which should then be cut to size or printed at the same size to match). You should staple your headshot and resume in four places, with one staple in each corner, in line with and about a quarter of an inch away from the edges. The flat side of the staples should be on the side of the photo, while the pinchers should be on the resume side.
You can also opt to have your resume printed directly on the back of your headshot, though many casting directors discourage this, as sometimes they prefer to be able to separate your headshot and resume if need be. Printing your resume directly on the back of your headshot can also make it more difficult to make additions and updates to your resume.
RELATED
How do I pick the right headshot?
Now you have a ton of great headshots. How to pick just one (or two, or three)? Now is the time to ask for other people's opinions: friends, colleagues, professional contacts. Even though it may seem narcissistic or uncomfortable to ask other people to look at a hundred pictures of your face, we're not always the best judges of ourselves (we tend to be biased).
Your photographer should give you a flash drive, disk, or link to an online gallery of your images from your shoot. Ask people to take a look through the gallery and pick their favorites. Take a tally of the winning shots. Ask them to also say a bit about why they were drawn to their picks, maybe write down some adjectives that came to mind with each image ("you look fierce in this one!"), and some features that pop out at them ("your eyes are baring into my soul!"). Compare this list with the one you made before getting your headshots: how do they match up? Were you going for bubbly, but ended up with moody? Again, think about how you are going to be using your headshots, and pick the ones that tailor to the types of projects and roles you want to go for.
RELATED:
Check out Backstage's Headshot Photographer Listings Yellowpages.