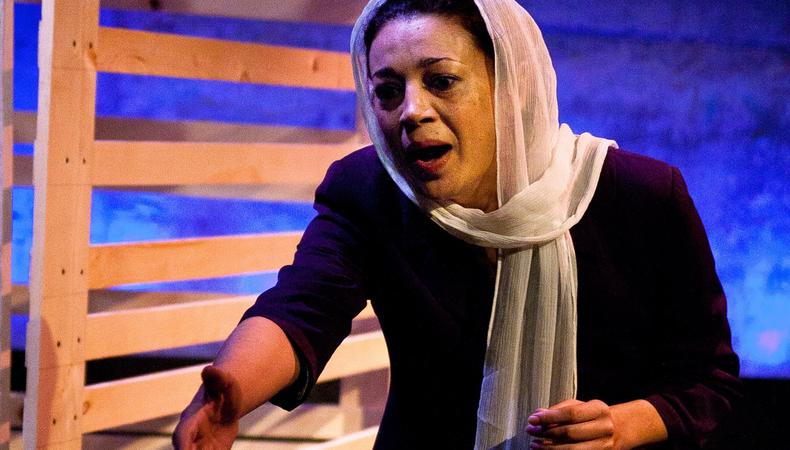 "Shaheed" means "martyr," and that's exactly what the late Benazir Bhutto was to the Pakistani people. Aware that she might be killed by her country's Islamic fundamentalists, she nonetheless put herself forward publicly in October 2007 as a candidate for prime minister of Pakistan, a post she had held twice before. Two months later, on Dec. 27, she was assassinated. Like many non-Pakistanis, that's really all I knew about this heroine, whose murder left her countrymen numb with loss and despair, her death symbolizing the end of any hope for liberal values.
But with writer-performer Anna Khaja's engrossingly informative one-woman show "Shaheed: The Dream and Death of Benazir Bhutto," seen earlier in the 2010 New York International Fringe Festival, we gain a rich understanding of the frustratingly complex web of politics, corruption, and cultural, religious, and family conflicts in which Bhutto was ensnared. Pointedly directed by Heather de Michele, the penetrating play (with development by Luis Reyes) is structured as eight distinct monologues, each set on the day of Bhutto's assassination but voicing the thoughts and emotions of radically different characters. At first we are struck by the multiplicity of perspectives on Bhutto revealed by these fictionalized one-sided conversations, each one had with the martyr in the moments before her death. But as the coherently written play proceeds, culminating with an imagined speech by Bhutto to herself, it weaves a series of heart-stopping ironies that show the interconnectedness of all of our lives, dreams, nations, religions, and histories.
Khaja is a gold-standard actor, convincingly portraying a cast of compelling characters that comprises an inquiring Pakistani-American college student, Condoleezza Rice, Bhutto's suspicious niece, a trashy journalist, a brainwashed Pakistani girl, and two men: a poor rehri driver from Rawalpindi and a Boston University professor. Transforming her vocal sonorities, accent, posture, and mannerisms, aided only by simple costumes and props changed speedily behind set designer Maureen Weiss' wooden see-through fencelike structure, Khaja is utterly transporting. She takes us deep into the psyches of seemingly diverse individuals who are all scarred by their conflicted feelings toward Pakistan, just as the country itself, a nation born of Islamic idealism, has been torn by a host of internal and external forces.
Khaja draws such a multilayered portrait of her subject through the seven different views her characters so persuasively project that I grew concerned about how her portrayal of Bhutto in the final scene would live up to that rich dimensionality. How could an actor, in one soliloquy, amalgamate everything we had been told about this complicated, extraordinarily special woman? Khaja does it with her eyes. She pulls everything else down, takes a seated posture leaning way back in her chair, softens her voice, and avoids the light. It's the intensity and energy of her gaze that prove almighty.
Though proffering a wealth of facts and opinions, Khaja's provoking play may leave you with unanswered questions, particularly about America's role in Bhutto's demise. That's not a criticism. Maybe we should have asked what was going on long before this.
Presented by Culture Project's Women Center Stage at Culture Project, 45 Bleecker St., NYC. March 11–April 21. (212) 352-3101, (866) 811-4111, www.theatermania.com, or www.cultureproject.org.
Critic's Score: A+