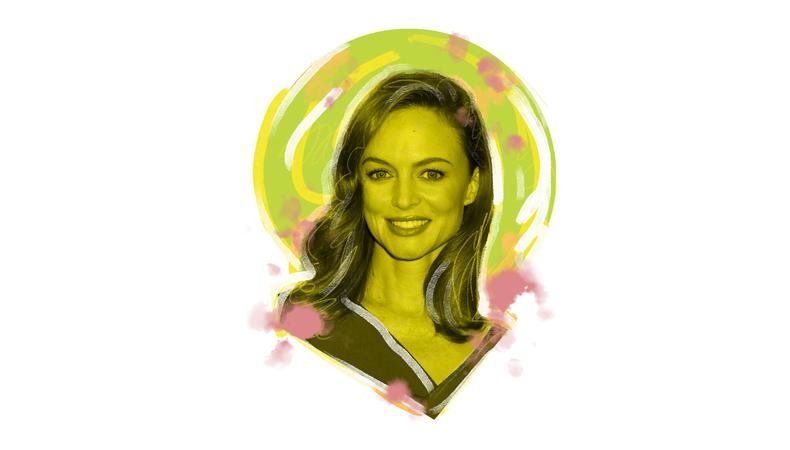 From the teenage accomplice to a pharmacy robber in "Drugstore Cowboy" to CIA agent Felicity Shagwell in "Austin Powers: The Spy Who Shagged Me" to the stripper with a heart of gold in "The Hangover," the roles Heather Graham has played certainly run the gambit. But few feel quite as fuss-free and personal as her latest turn in the new Canadian drama and TIFF darling "The Rest of Us." Graham stars as Cami, a divorced single mother who, upon the unexpected death of her ex-husband, invites his new wife and daughter to live with her. Ahead of its release from Gravitas this Friday, Feb. 14, Graham discusses the film's director Aisling Chin-Yee's distinctive style and the preparation techniques that help her get into the mind of her characters.
How did you first get your SAG-AFTRA card?
It was a hair commercial. I had to say this line, "Hair doesn't feel like hair," and I got my SAG card. I think I was 16, 17. Saying that line got me my SAG card, so I was excited.
9 Tips for Your First Day on Set
Tell us about your first day on a professional set.
My first movie was "License to Drive" with Corey Haim and Corey Feldman, and I remember driving onto the Fox lot and thinking I'm being paid to act with actors [whom] I've watched their movies and now I get to hang out with them. I was a kid when I started, so you get a lot of leeway because you're so young. They teach you; it's easier than if you started as an adult and you were expected to know this stuff. I'd been in plays in school, so I was dreaming of this for almost 10 years as a little kid wanting to be on a movie set. My parents didn't like that idea. I always felt like I was in my element, and I finally found something I felt really good doing. I always felt like an awkward kid in high school. For some reason, when I was on a movie set, I always felt a lot better and more confident. Of course, I was terrified. I was super scared, [but] something about it felt really good.
What advice would you give your younger self?
I do remember that in my school, I was considered a nerd and a geek and I didn't wear good clothes—and then I would audition for the "pretty popular girl." I'd be like, "They don't understand, I am not this." It gave me a new way of looking at myself: Wow, I can transform myself into this other person. If I could give myself advice back then, beyond acting, you really have to love yourself. This applies to any stage of your life. I think often, as a kid or an adult, it can be easy to get into people pleasing and trying to please other people in order to feel good about yourself. At the end of the day, you really have to love yourself first.
How did you get your first big break? Who was the casting director who cast you?
I auditioned for "Drugstore Cowboy" when I was 18, and I think [Richard] Pagano [and Sharon] Bialy were casting. That was the first time I was in an arty, successful movie with Gus Van Sant, Matt Dillon, Kelly Lynch, and James LeGros. I feel like that was the first time I got to live in this world of this artistic filmmaker. I grew up in suburbia, where pretty much everyone was a little bit like a John Hughes movie. To go into this world where people were reading Charles Bukowski and William S. Burroughs and listened to Tom Waits and [to] be exposed to all this cultural stuff that I was not exposed to as a kid, it was really exciting.
How to Get in the Room With the CDs Behind 'The Act' + 'The Handmaid's Tale'
How do you typically prepare for an audition?
I've taken a lot of different acting classes, so you take the best parts of everything you've learned. I definitely do a lot of imagination stuff. The acting coach I've went to for the most years was Harry Mastrogeorge, and recently I started working with Warner Loughlin. She has this technique where you create all these memories for your character from the past, and you live through the memories and then you come up to present day. With Harry, it's a lot about imagining what you life's like and imagining yourself in those circumstances. I do a lot of imagination work. I come up with an intention. As soon as I get the audition—to be honest, I'm a bit of a hard worker, and I'll put aside four or five hours. I try to work on it as much as possible. Ideally, I'd like to have two weeks, not to think about acting, but to think about being that character. What is my intention? What is my goal? What is my basic need, my whole life and how I ended up as I am on that day? It's psychology. You have to analyze the character and come up with your intention.
Do you have an audition horror story you could share with us?
I think I'm much better when I'm shooting things than when I'm auditioning. I think some people are amazing auditioners. I've definitely done good auditions, but I'm better when I have more time and I can relax. You know when you get that script and you have to go in the next day? It's nerve-rracking, it's hard. In my perfect world, I would have more time to work on it. Even when you have more time to work on it, it can still be terrifying. It's really frustrating when you get close to good things and then you don't get it.
What's the wildest thing you've ever done for a role?
I've definitely lobbied for parts. I once tried to get a part by sending a tape. They wouldn't see me, so I sent a tape to the people that I knew and I sent a tape to the casting director. It was from a book, so I just read a scene from the book and tried to get them to consider me—but I still didn't get it. That's the thing you learn from acting: You have to be OK with getting rejected and keep putting yourself out there and not take it too seriously when someone doesn't choose you.
What has playing Cami in "The Rest of Us" added to your acting skills?
I loved that the director got a very realistic tone. She didn't use any artificial lights, she only used the lights that were in the room naturally. It felt very real because there weren't a lot of movie things around. She had the DP and the camera follow me around before the scene, after the scene. She filmed a lot. I never had that before where someone followed me around that much and wanted to see every single moment. That was really fun as an actor. Not just coming in to do a scene and do lines, but they cared about what you're thinking when you walk into a scene. I love acting in moments when there's no dialogue, I think it's really fun.
What performance should every actor see and why?
I remember I had seen Mary Louise Parker in "Proof." That was so good. I think of the movie "Harold and Maude" because I was inspired by the story. I really love Ruth Gordon in that. She was so spirited and I feel like it's hard to be a woman in the culture and not feel beaten down. Watching that movie and seeing her as this vibrant, alive, magical person at 82 years old, it was inspiring to me. I saw it at a young age, and I based some of my life philosophy off of her in that movie. Her performance is very special to me.
Want more stories and advice from the best in the biz? Read more from the Backstage 5 here!