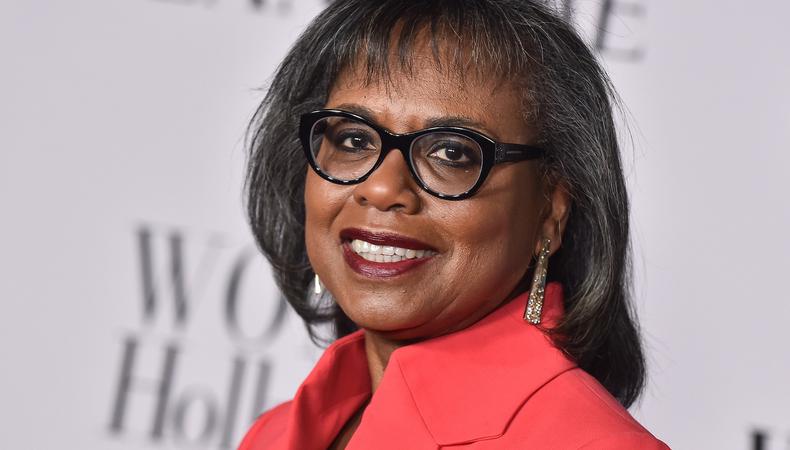 Having fought her own battle with sexual harassment, Anita Hill is now helping Hollywood with its own #MeToo reckoning. On Sept. 29, the Hollywood Commission for Eliminating Harassment and Advancing Equality, led by Hill, released a survey of nearly 10,000 workers in the entertainment industry. The survey found that a majority of workers don't believe that abusers in positions of power will ever be held accountable and that many still have not shared their experiences with harassment because of fears of retaliation.
Because of the survey, the Hollywood Commission will launch a platform where workers can file anonymous complaints.
"For too long in Hollywood, there have been 'open secrets' about the harassment perpetrated on workers by powerful people who are able to successfully evade accountability for their actions," said Hill, who is the chair of the Hollywood Commission. "With this survey, we have identified the most vulnerable workers in Hollywood and the resources and systems that will provide support and a safety net for them. Our expectation is that these tools will be the foundation to build a new era of transparency and accountability for all workers in the entertainment industry."
The survey of 9,630 workers shows that many who experience harassment and abuse have not reported it, because they believe that nothing will be done; according to the survey, only 45% percent of men and 28% of women believe that a person in a position of authority or status will be held accountable for harassment.
Since the growth of the #MeToo movement after it became a viral hashtag in October of 2017, only 48% of workers have seen progress in fixing power abuse in Hollywood. Of those who reported harassment, 41% experienced some form of retaliation. And according to the survey, the type of person most likely to harass and abuse someone is a person who has power over who gets hired and who gets to keep their job.
Said one anonymous survey respondent: "The culture of entitlement and power that exists for producers, directors, production managers, and other above-the-line people trickles down. Sexual harassment is part of the bullying, lack of consideration, and general bad behavior that these people believe is their due to dole out, because they believe they can, and that they are the masters of the universe." The full survey can be read at HollywoodCommision.org.
In response to the survey, the Hollywood Commission is launching a repeat offender platform and bystander intervention training. The repeat offender platform will enable those who experience harassment to anonymously file a complaint. If multiple complaints are received about one person, then the platform will notify the complainants and they can decide whether to release their identity and participate in an investigation. The platform will launch in beta mode in early 2021.
The bystander intervention training is a program that will train workers on how to intervene if they witness a colleague being harassed. The Hollywood Commission is piloting bystander training with 450 entertainment workers.
The Hollywood Commission will also release three more reports in October around bias, bullying, and progress since #MeToo with sexual harassment and assault.
The Hollywood Commission is a nonprofit that brings together Hollywood production companies and the unions to develop and implement cross-industry systems and processes to eradicate harassment, discrimination, and power abuse. Its partners include Amazon, Disney, CBS, Warner Bros, and SAG-AFTRA. It was founded by LucasFilm president Kathleen Kennedy and entertainment lawyer Nina Shaw.