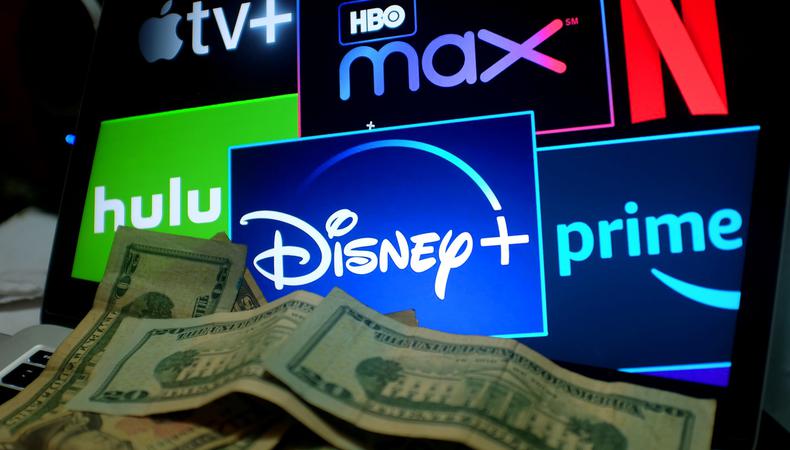 Streaming services like Netflix, Hulu, and Amazon Prime Video have changed Hollywood's distribution model, and industry unions are fighting to keep up with their exponential growth. The services' practices may even cause the International Alliance of Theatrical Stage Employees (IATSE) to go on strike. From new contracts to wage changes, here's why Hollywood unions are asking for more from streamers.
In 2019, SAG-AFTRA made a new streaming agreement.
When it comes to film and television contracts, SAG-AFTRA always negotiates with the Alliance of Motion Picture and Television Producers (AMPTP). But in 2019, the union made a separate agreement with Netflix that applied to any scripted projects produced and distributed by the platform. It established a residual structure for works that are licensed and produced by Netflix.
A year later, the union negotiated another contract around residuals, among other things.
In 2020, SAG-AFTRA negotiated a TV and theatrical contract that covered film, television, and new media, which includes streaming. The union also ensured 2.5–3% yearly wage increases over the contract's three years. Currently, residuals are calculated based on the amount that a performer was originally paid and how many subscribers the streaming platform has. It's estimated that performers will see a gain of over $750 million in streaming residuals over eight years.
Here's how else the residual structure changed.
Unfortunately, in exchange, SAG-AFTRA agreed to a new residual structure for broadcast television, costing actors over $170 million in network residuals, according to the Hollywood Reporter.
Now, SAG-AFTRA's new president, Fran Drescher, wants the contract to be restructured.
In an interview with the Wrap, Drescher said that one of her priorities as the new guild president will be to further improve streaming wages and residuals. "It's frustrating to not know how well a show does on a streaming platform and that our members are not benefiting equitably," said Drescher. "A ratio of monies paid to a member must remain in direct correlation with the deal made with the studio. If the studio makes money, the member should, too, and the health plan needs to be paid into. There must be a clean relationship where everyone makes money as well as gets benefits, as long as the project does."
Drescher added that the current residual income from streamers is comparable to broadcast residuals. "I know that many of our members survive on their residuals," she said. "We want to make sure that we're continuing to do the best for them. In the past few years, the union has developed a residual formula that gets every actor paid money for as long as a show stays on that platform, which is great. And the money paid is comparable to the network residuals that had been our lifeblood."
What do SAG-AFTRA members think of the new contract?
Many in the union agree that wages and residuals from streaming platforms need to increase. SAG-AFTRA has two governing parties: Membership First and Unite for Strength. For the past four years, Unite for Strength has been at the head of SAG-AFTRA; former union president Gabrielle Carteris belongs to that party.
Membership First is unsatisfied with SAG-AFTRA "under-negotiating" contracts with streamers. "We have lost hundreds of millions of dollars because our contracts have not kept pace with exhibition platforms as they have evolved," notes the party's website. "We must look at streaming as the new standard and negotiate contracts accordingly. Streaming residual calculations are outdated and insufficient. It's time for our union to demand that residuals calculations reflect the extraordinary value of our work and ensure that we participate in the financial life of our projects in perpetuity." Membership First also criticized SAG-AFTRA for "[giving] away broadcast residuals."
The International Alliance of Theatrical Stage Employees (IATSE) also wants to renegotiate its contract.
Many on-set crew members recently began verbally protesting their long hours and low pay, particularly when working on new media and streaming projects. When it comes to some of the highest earners in the industry, like Netflix, Hulu, Amazon Prime Video, and Disney+, many don't feel the pay for their crews is comparable to the streamer's earnings or demands on crew members' time. A major sticking point for IATSE, the union that represents crew members and craftspeople, has been the lower wages that have been paid on projects thanks to streamers' "new media" classification, as rates for new media were set before the explosion of streaming services. Residuals for those projects are also lower, and some streaming projects are not subject to pension or health contributions.
The union claims that it's time for streamers to pay up. "New media is media. We helped build it. We deserve to be paid fairly for it."
IATSE has authorized a strike if demands aren't met. Here's what that means for film and TV production.
IATSE recently rolled out a historic strike authorization vote; nearly 99% of voting members gave union leaders the go-ahead to launch a strike beginning Oct. 18 should negotiations with the AMPTP around both working conditions and equitable pay continue to stall. If IATSE goes on strike, it will effectively shut down film and TV production in the U.S.
Who in Hollywood supports IATSE's goals?
Drescher, Bradley Whitford, Kerry Washington, Mindy Kaling, Jane Fonda, Lily Tomlin, and many other actors have expressed support for IATSE. SAG-AFTRA recently released a joint statement supporting the cause. "On behalf of our hundreds of thousands of members working across film and television, we stand in solidarity with our IATSE brothers, sisters, and kin," the statement reads. "The basic quality of life and living wage rights they're fighting for in their negotiations are the issues that impact all of us who work on sets and productions. We stand with the IATSE."
This story originally appeared in the Oct. 14 issue of Backstage Magazine. Subscribe here.
Looking for remote work? Backstage has got you covered! Click here for auditions you can do from home!