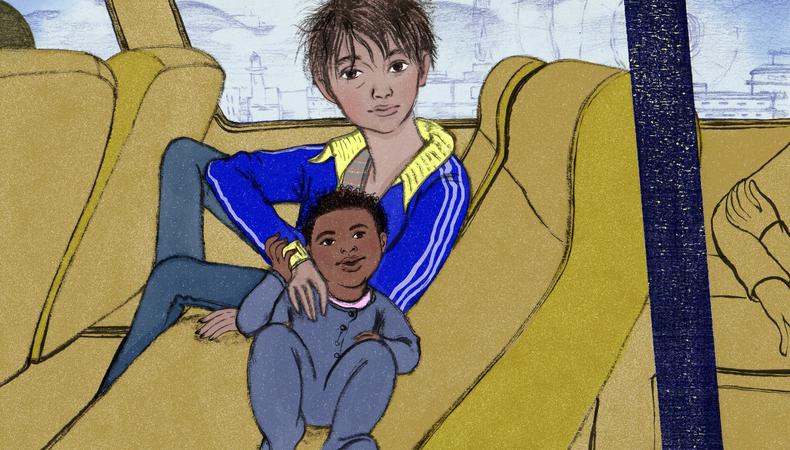 "Capernaum" ("Chaos"), Lebanon's entry for the foreign language Academy Award, was Jennifer Haddad's first job as a casting director, which seems fitting considering she was tasked with finding a cast full of first-time performers. Director Nadine Labaki created a story centered on an imprisoned little boy that incorporates immigration, legal, and ethical issues. She wanted the talent to relate to the hardships depicted onscreen, so Haddad scoured the streets of Beirut, where she'd been freelancing for eight years. She began screening talent immediately after her initial meeting with Labaki, and, after a five-month search, assembled a stellar group of actors, many of whom were stepping into feature film roles—or roles of any kind—for the first time.
What was the casting process for "Capernaum"?
I would leave my house at 6 a.m. every day and scout until 7 p.m., come back to the office, write everything, reorganize my file, try to show everyone who I was excited about, and get back on the streets at maybe 12 a.m. or 4 a.m. to see the kids who come out at night. I wanted to find everybody myself, and it became this huge challenge. I refused to go to a lot of places I had been told to go. I [wanted to] be in the street trying to find people in their natural environment. It wasn't only about finding the actors, it was about finding the details to make the stories even richer and more real.
What were auditions like?
Nadine would put them in character, and sometimes she gave them exact lines and sometimes she would describe the situation and let them improvise. We did a lot of improv and reading, even though I don't think any of the actors read the script—most of them didn't know how to read—so we had to really make things clear and give them the most context possible to let them say what they wanted to say. We had the luxury of time to get to know the actors. She added things from their real lives into the script. They wanted to tell her their stories and make sure that their lives were well represented, because, for most of them, they thought this might be their only chance to be heard. The cast was eager to tell things the way they were, and they were super generous about sharing their experiences.
READ: 71st Cannes Film Festival Crowns 'Shoplifters,' 'BlacKkKlansman'
When looking on the streets to cast real people, how did you know someone was right?
When I heard their stories, I understood who did it for me in less than a minute. People with strong personalities who were excited to know more about the film, who had been waiting for an opportunity like that, who came up to me and were present and willing were the ones that were chosen. I never auditioned anybody before the actual audition.
With Yordanos, the Ethiopian woman, I had seen at least 300 Ethiopians before I met her. They were all, for good reason, scared and a little hesitant, because we're in a country where their rights as [undocumented immigrants] are not protected. Yordanos saw me and she smiled and reached out to me. When someone has something to share with you, you need to give them the space to share it. It's the same for every other actor—everybody has a story, but what they have in common is the will to do something new and to want to be exposed.
Why was it important for the actors to be similar to the characters they were playing?
If they didn't exactly fit the profile, they would be very similar to it. If you find a kid who is completely broken, he will not want to reenact this moment because he's already living all those horrible moments in his life, and it's not easy to live in poverty or marginalization. With Zain [the film's lead], for example, I understood that he was very, very close to the character but he wasn't entirely it, so we could play around it. It could be influenced by a thing that he sees in his environment, but not necessarily be living it himself. This made him a little bit stronger than the other kids, he could just be more comfortable with himself around us, and I said the same with all the actors. With the father, for example, he doesn't have 10 children he sends into the streets to beg, but he had a difficult childhood. I knew that he'd been through a lot and that he could give Nadine the intensity that she wanted without having to be exactly the character that he's playing.
What memories about this casting process stand out to you?
I met Zain less than a year before Nadine's film. I was in an area that is very poor trying to find kids for a commercial, and I remember seeing Zain with a bunch of kids. He was the youngest, and he looked much younger than his actual age. I thought he was maybe 6 or 7 years old, but apparently, he was 11. That's the contrast that he has, he has the mind of an 11-year-old but the looks of a 6-year-old, which makes him amazing to look at on the screen. He was very excited; he knew what he was doing, he wanted to act but he just couldn't be bothered. He wanted to just continue doing whatever he was doing at the time.
I came back to that area and that day I saw 70 or 80 kids and I was about to leave because the kid was nowhere to be found, and he just ran, he sprinted and he jumped on somebody's shoulders and looked me straight in the eye and he just gave me this piercing look and I just knew from that moment that he was the kid. I found some stairs that were a little bit private and I sat him down and I just started asking him questions for, like, 50 minutes. I wanted to know what he was doing and if he went to school or not, if he was happy or not, what he did, what his ambitions were, how he is around his family, around his friends.
He was super cool. I asked him, "Zain, do you think you're smart?" And he had his chocolate bar in one hand and juice in the other and he was looking super young, and he just grinned at me and said, "Not really." I automatically knew that he was the kid. He was the only kid that answered my questions; all the other kids were so confused and were really too shy to talk about themselves, but he was a very expressive kid. He just wants to talk; he would create a space and he would make you hear him, which is what I was looking for. You want somebody to fill up your space.