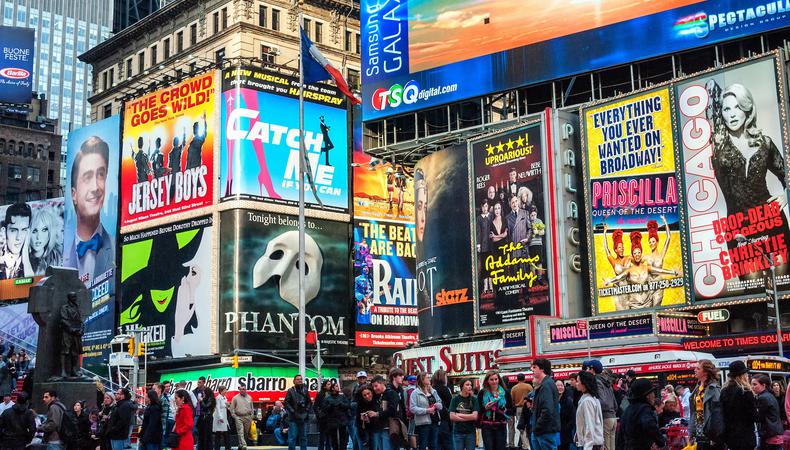 Last summer, the cast members of "Diana," the new Broadway musical about the Princess of Wales, were quarantining together in a hotel in New Jersey. They were getting ready to film the new musical for Netflix—but first, the cast had some demands. It was after the murder of George Floyd, and every industry was being called to examine the ways in which it was upholding white supremacy, including theater. "Diana" had released a statement in support of Black Lives Matter on social media, but its actors were determined to make sure the show lived up to that promise.
"We were like, 'Yes, we've got some oppressors in here, this is what we want to do. We want to make this a better space,' " said "Diana" cast member André Jordan. "We need to make sure that we're doing our part in this movement in our show, the best way that we can."
Most of the cast members came together and came up with a list of demands, which they then presented to the show's producers: They wanted a statement in support of Black Lives Matter added to the show's program. They wanted a safe way to report microaggressions or racist incidents that occur. They wanted unconscious bias training for the company and creative team. And they wanted costume designer William Ivey Long, who had been publicly accused of sexual harassment, to step away from the production.
According to Jordan, the producers were open to listening to the cast and meeting the demands. A third-party HR company was brought in and an anonymous tip line was created so that company members can report any incidents. (The line is overseen by the stage manager and the company's Equity deputies, which includes Jordan). The entire production, including the producers, participated in anti-bias training. Long was not present at the Netflix filming of "Diana" and is no longer working on the production, though his costumes are still being used.
Jordan recently offered on Twitter to talk to any actor or theater artist about how to communicate their "wants, needs, and asks" to producers. So far, he's spoken to cast members of "Hadestown," "Jagged Little Pill," "Ain't Too Proud," as well as regional productions, such as the "My Fair Lady" national tour.
That means Jordan is not alone. Actors have been speaking up and pushing for Broadway and the theater industry to be more equitable. The recent March on Broadway protest was organized by two actors Courtney Daniels and Nattalyee Randall, who demanded the Broadway League remove producer Scott Rudin from its membership—which would prevent him from producing on Broadway. Rudin recently announced he is stepping down from the League.
Recently, the Broadway Advocacy Coalition announced a new program called Reimagining Equitable Productions. REP is now working with "Company," "Tina: The Tina Turner Musical," and Disney Theatricals to help those productions create safe work environments.
"The industry is finally awakening to the importance of utilizing the first day of rehearsal for naming a standard of equity within the workplace and measures of holding that standard accountable," said actor Britton Smith in a statement. Smith is the co-founder of REP and is president of BAC. "REP encourages producers to provide a space to create a set of values WITH their cast and crew to enable everyone's full participation in the workplace."
Kimberly Dodson is another actor who took the downtime she had during the pandemic to start organizing. Prior to the shutdown, Dodson was a cast member in "Harry Potter and the Cursed Child" on Broadway, which had a run-time of almost six hours. Last September, she co-founded an advocacy group called Everybody Black, which published a list of demands for Broadway producers. The demands included producers providing access to therapy and mental health resources, and abolishing the six-day work week and 10 out of 12 technical rehearsals.
"The way that Broadway functions is that it just kind of exhausts us," says Dodson. "Theater workers believe it's just the name of the game: eight shows a week for six days a week, and tech rehearsal. And I think what this moment has done for all of us is we've started to dream—dream a little bit about what our workplace can be."
In March, Everybody Black launched a letter writing campaign, contacting the Broadway League and the owners of the various Broadway houses, such as the Shubert Organization CEO Robert W. Wankel (which owns 17 Broadway theaters). They received responses from the theater owners, telling them that there is work being done internally.
To Dodson, the responses fall short. "They have put in writing to us that they are doing some kind of work behind the scenes, even though we are not privy to that work," says Dodson.
Everybody Black will continue pressuring the theater owners and the Broadway League. Says Dodson: "We still need these [demands] to be mandatory. And it's definitely not enough for any of this to be up to an individual producer. No theater worker should wait for some 'nice producer' to make their workplace safe. It needs to be something that is across-the-board mandatory for the entire Broadway community. Otherwise, we're leaving people helpless."
Working on "Diana" has made Jordan less afraid to speak up for what he needs. He was particularly passionate about mental health support so the producers of "Diana" are now paying for five therapy sessions each for its cast and crew. Jordan was also passionate about body positivity, so now no one in the costume department is allowed to remark on the actors' bodies, such as comments about weight loss or weight gain. These are just some of the measures, of many, that the "Diana" production has made in response to feedback from its cast during the pandemic. ("Diana" was in the middle of preview performances when Broadway shut down last year; it will resume performances on Nov. 2.)
To Jordan, the key was that a majority of the company were willing to come together with a cohesive set of demands, and to stand strong together. "If you've got at least two people in your show who see something's up, who want to make a change, you owe it to yourself and to the rest of your company to move forward and say something," he says. "And to try to encourage others to get behind you."
Dodson has since left New York and is now working at Baltimore Center Stage, a regional house which has eliminated 10 out of 12s and the six-day workweek. She believes that change is possible, because many like her are working to make their dreams of a better Broadway a reality. "I have a lot of faith that it's going to happen," she says. "We've gone through too much to go back to any kind of normal. There are too many people working to make it happen, so it'll happen."
For his part, Jordan urges his fellow actors to not be afraid, saying, "We don't have to operate from this place of fear of speaking up and losing our jobs. It's so 2019, it's so over. We're so past that. We're so much better than that. We deserve so much better than being afraid to speak up when someone says something racist or about your body." He adds passionately. "We do plays for God's sake! We deserve to be happy. It doesn't have to be this hard."
Looking for remote work? Backstage has got you covered! Click here for auditions you can do from home!