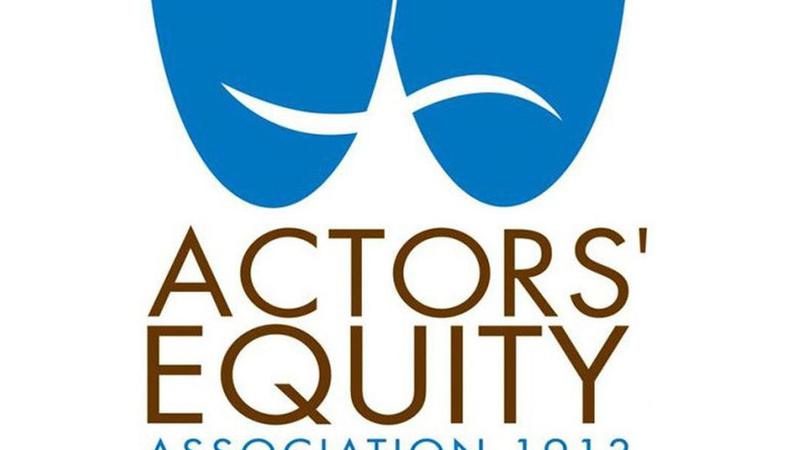 On April 22, hundreds of theater workers—many of them actors—marched down Broadway. They made stops at the Winter Garden Theatre, shouting, "Hey hey, ho ho, Scott Rudin has got to go," in reference to the Broadway producer.
The protest also made a stop at the office of Actors' Equity Association in Times Square, chanting, "No news, no dues, tell Equity fuck you!" Because, in addition to protesting the film and theater producer, the march attendees were also protesting their union, who they saw as ineffective in protecting its membership from racism, sexism, and unsafe work environments. That is why some actors have started withholding their dues from the union, a campaign called #NoNewsNoDues.
Actor Eden Espinosa made this clear publicly in an Instagram post, where she wrote: "I will pay my dues when you have a plan of action and actually prove that you are taking care of your members. Which we already know you're not; which we already know you don't act in our best interest. You're in bed with producers and theater owners. Which makes it hard to give people answers when your mouth is in a compromised position. YES I SAID IT. DO BETTER. PROTECT US."
Other actors commented in support of Espinosa's post, with "Be More Chill" actor George Salazar writing, "I froze my membership last year when I lost my health coverage. Honestly fuck them! Their dependency on producers shows that at the end of the day, they are nothing."
As part of the March on Broadway, the organizers released a series of demands specific to Equity, calling for the union to advocate for a safer, less racist Broadway. One asked for "a full report on how the 2019–20 Equity dues were spent and what percentage was spent to help conversations around diversity." Another read: "We want a full list of organizations that AEA is working with to help Black, Indigenous, and POC feel safer." Greater visibility for trans, non-binary artists, and artists with disabilities was also part of the demands.
"We want to have these conversations with our union just so we can come back together stronger and safer," says Courtney Daniels, who organized the March on Broadway alongside fellow actor Nattalyee Randall.
Though there's language in union contracts denouncing bullying and discrimination, that doesn't mean actors are supported when they speak up against these issues, says Daniels. For one, racist behavior is not a fireable offense within the union contract. At the March on Broadway, former "Dear Evan Hansen" understudy Diamond Essence White recalled being told she wasn't "WASPish" enough to play Zoe, the female lead and the role she was hired to do. The production team also told her that her hair "looked like a stump."
"Honestly, we have been trained to keep our mouth shut," Daniels says. "We have been trained to be oppressed. We have been trained to not speak up or you will be blacklisted. This is how the business is. We were trained from college, from show to show to show to show, to never challenge people. And that is supremacy at its best." And as for the hotlines that Equity has offered for members to report issues: "We've had many, many colleagues and friends try to call the hotline and have gotten nowhere," says Daniels.
Actor Eva Noblezada, who was the lead in "Hadestown," has been withholding her dues from the union for the past year. She wrote a Twitter post in which she said, "I will pay dues when I see you DO something that helps/progresses the people you are claiming to protect. My wallet goes to my survival and being OK. Not funding your absence."
The issue is personal for Noblezada. She had a vocal injury in 2019. And because the show was campaigning for the Tony Awards, she was not given sick leave to recover.
"I felt like I couldn't say no, because they kept telling me, 'No, no, you can't take a day off," says Noblezada. "I was taking 15 milligrams extra prednisone a day."
She didn't feel like she could report the incident to Equity, because she knew actors who have tried and were met with inaction. "I'm looking at stories of my peers and my colleagues and people I know in the industry who have tried to bring up horrible things have happened to them, to say, 'This isn't OK.' 'Well, we can't do anything about that.' Or they're silenced or they're gaslighted."
Noblezada also talked about how the cast of "Hadestown" had to come together to petition producers to pay them above Equity minimum, especially when they were asked to do extra, unpaid work, such as the copious amounts of press interviews for the Tonys.
Says Noblezada: "There have been many, many, many, many, many times where the cast have come together and gone to the producers, asking, 'Why are we getting paid X amount? This is itty bitty teeny, weeny, yellow-polka-dot-bikini pay, on a seven-minimum-weeks-straight with no days off [streak] for Tony Awards. This is wrong.'" She questioned why there wasn't a better contract in place so the actors didn't have to speak up for themselves on pay issues, saying, "It's such a trivial thing to argue for what we're worth."
This is not the first point of contention that Equity had had with its membership in the past year. Recently, a petition circulated, that was signed by multiple Tony winners, asking for the union to consult its membership on COVID-safe reopening guidelines. The union responded by hosting a town hall and releasing new guidelines for vaccinated workplaces.
Last year, Equity came under criticism from its membership for increasing the minimum weeks its actors had to work to qualify for health insurance coverage.
What actors are now looking for is more "transparency from the union," says Randall. "I feel like I have been left in the dark about a lot of things. I would love for the union to just come out and be like, We have messed up. And we've messed up so gravely—we need to really redo this and restructure it."
Randall and Daniels have been in contact with Equity leadership about implementing the March on Broadway demands. There's also an Equity Convention April 25–28, where its delegates will vote on new member resolutions.
In recent days, following member calls for the union to put Scott Rudin on its Do Not Work list, it sent an email to members saying it was unable to, because Rudin bargains with Equity as part of the Broadway League. Executive director Mary McColl released another statement calling on the Broadway League to denounce Rudin and prevent him from producing on Broadway. The statement also encouraged members to report any instances of "bullying, harassment, or intimidation," saying, "We can and will take action." Members can call 833-550-0030 or visit ActorsEquity.org/safety.
A representative for Equity said the union is working on releasing numbers around its spending. They also said, "Equity has been working since last year on the diversity and inclusion retrofit, which seeks to #ChangeTheStage from an anti-racist perspective. It is also devoted to improvements for all marginalized groups, including transgender and nonbinary members and members with disabilities. Equity's retrofit is the internal framework for an ongoing process by which working groups of staff, members, and councilors analyze the union's operations and make policy recommendations to council to move Equity toward becoming an antiracist organization."
The union also recently hired its first vice president: Wydetta Carter, who will be the first Black officer to serve the union in over 40 years. Carter will focus on "creating a governing body that is diverse and inclusive."
Meanwhile, actor and Equity delegate Kimberly Chatterjee wrote on Facebook supporting the #NoNewsNoDues campaign: "For everyone participating in #NoNewsNoDues I hear you. Your passion and ability to organize is incredible. I personally will be paying my dues because I want more staff to be hired back so we can get more AEA contracts approved, and we need money to do that. But I know the union is a hot mess right now so I'm not here to change your mind!"
She also encouraged members to be part of the AEA for Single Payer campaign, to advocate for universal health insurance for Americans, which will eliminate the need for private insurance.
According to Daniels, the goal isn't to dismantle the union. It's to improve it so that it better responds to the needs of its members—so that when actors go back to work, they will be safe not just from COVID, but from harassment, bullying, intimidation, and racism. The actors want their unions to create a plan.
"We are not against the AEA, we want to bring these actions to them so they can be aware," says Daniels. "This is the time to rebuild. Because once we do, we will be in a safer place. We can go up against the big dogs, like the Broadway League, if they have our back."