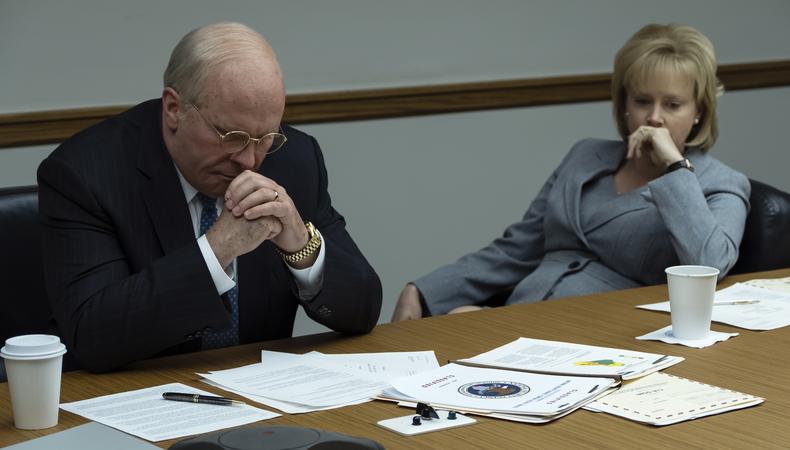 Without hesitation, Adam McKay knows "Vice" is unlike anything he's done before—and perhaps unlike anything we've seen. "I've never experienced a movie like this," he tells Backstage.
That's a lot coming from the filmmaker who pushed the boundaries of mainstream comedy with "Anchorman," "Step Brothers," and Funny or Die, and then took home the 2016 Oscar for co-writing "The Big Short." Still, "Vice" falls in line with classic McKay and his auteurist outrage—and the story here certainly warrants such anger.
Depicting former Vice President Dick Cheney's ascension to the White House to become the most powerful person in the world, McKay cites him and his contemporaries as "one of the most challenging subjects I've ever worked on." To get through it, he relied on his actors more than ever.
"The mystery of 'Who is Dick Cheney?' was so large," McKay explains. "I did a lot of research on my own, of course, but actors like Christian Bale and Amy Adams, they become like detectives."
Playing Cheney and his wife, Lynne, "Vice" reunites Bale and Adams following their awards-nabbing work in "The Fighter" and "American Hustle." But here, perhaps more so than in any other role, each delivers the kind of go-for-broke transformative performance only achievable through osmosis-like investigation.
"They would find stuff I hadn't heard about. They would find physical tics and recurring movements that they would base in psychological stories," McKay says of the cast, which also includes Sam Rockwell as George W. Bush and Steve Carell as Donald Rumsfeld. "Actors are always part of the character creation, but I've never experienced it [to this extent]."
While McKay endowed his actors with unprecedented character authority, the actors, too, had to have faith in McKay, who instills the film with both unrelenting historical accuracy and moments of outlandish surrealism. (There is a minutes-long bedroom scene using only Shakespearean dialect.)
READ: How Actors Really Get Into Character
"Most of the movie is grounded in reality, but even for the stylistic leaps, my rule of thumb was [to] play it real," he says. "And they were game for it. Here's the thing: We think of Christian Bale as this looming actor—which he is—and Amy Adams, as well. But they're also really fun. One of the hallmarks of any great actor is their collaborative ability."
It should be said that an orange-hued shadow looms large over any politically themed project today. But McKay insists Cheney alone did not set the stage for Trump. One goal of the film, in fact, is to demonstrate the scope of political corruption over the last half-century—all while remaining furiously entertaining.
"There is a much bigger transformation going on in America that really goes back four or five decades. These presidents did not curtail executive power, and we're seeing it right now," he says. "Fortunately, Trump does not have a Cheney, so it's more like they're loose in the supermarket just shoving things into their shopping cart. [But] it was definitely eerie as we were shooting and as we were editing how much it kept harmonizing with what's going on."
The film leaves little question of Cheney's malevolent intent, but simultaneously portrays a man who would do anything for his wife. That devotion is reflected in the narrative arc of the film, which frames Lynne as the impetus for much of the ensuing action.
"We interviewed a bunch of people from Casper [Wyoming], his hometown, and they all said no matter who Lynne would have married, [he] would have been president or vice president," McKay says. "What I discovered pretty quickly was that the reality Dick Cheney intersected with was Lynne. She's a force, and she's brilliant and ambitious. Amy just kills it."
All the actors do, McKay reiterates, evidenced especially by the film's few "dark moments" that haven't been reported. "I would do the work to kind of get the theme," McKay says, "but then the actors would take us 30 percent deeper. These actors know these people as well as anyone could know them."