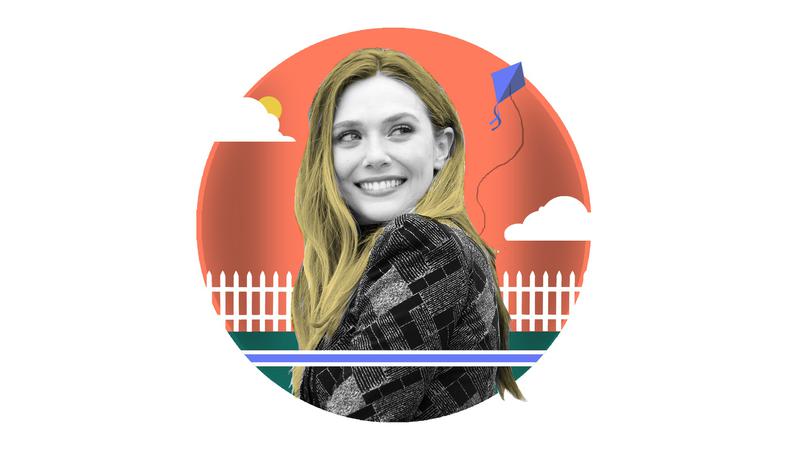 Growing up in Los Angeles can turn any teenager—even a movie musical–loving one like Elizabeth Olsen—into a jaded cliché. "I used to feel it wasn't, like, a valid job to be an actor," she admits. "That it was lame." She knew such an opinion was merely a pose. But it came to define the way she looked at performers for many years, before she found her way back to her childhood love for the arts. A decade after breaking out in Sean Durkin's indie drama "Martha Marcy May Marlene," Olsen, who's best known, perhaps, for playing Wanda Maximoff (aka the Scarlet Witch) in the Marvel Cinematic Universe, looks back on those jaded beginnings and shares the horrid "Game of Thrones" audition she'll never forget.
How did you first get your SAG-AFTRA card?
I got it when I was a child, because I did a commercial. I was young and I went through a phase of thinking I wanted to act as a kid, when I was like 9 or 10. What happened was I loved my extracurriculars, and my ballet teacher said I could be in "The Nutcracker" that year. And it was the one "Nutcracker" I never did, and it was because I was missing too many rehearsals because of auditions. The one job I booked was this commercial. It wasn't a national commercial, it was, like, Detroit or something. It was for parental controls on the internet. So, it was a very creepy commercial where I was in downtown L.A., and since I wasn't a SAG actor yet, they were allowed to work me really late hours. Not long, but late. There were all these people dressed like homeless people and drug dealers and prostitutes—none of this would be kosher today—and they're all grabbing at me. And I was dressed like a daisy. No one's ever found this commercial for me. I've never seen it! But that is how I got my SAG card.
What's one performance every actor should see and why?
Oh, there are so many. I guess there are two influential movies that I saw growing up. One was "Gone with the Wind." I've seen it so many freaking times. I love it. I know that we've had a backlash to it, but the performances! [Vivien Leigh]'s performance is just so—she's everything a woman is. She's flirty, vulnerable, angry, shy, manipulative. But then she's strong and definitive, then apologetic…. It's just an incredible performance. And then Diane Keaton in "Annie Hall." Yes, a Woody Allen movie, which is also, like, not the greatest name, but it's about Diane Keaton. It's not like it's a performance everyone needs to see, but it was really important for me to have seen it as a child, because I felt like it was a version of a woman that I was. Like, I think I could be that woman! Because I was seeing a lot of hot women, or mom women, or distressed women. And then there was this woman who was confident and would debate with him, but then she would also be neurotic and she'd be uncomfortable in her skin, but then she'd also be sexy and curious and flawed but hilarious. It just seemed like something, as a child, looking at prototype women, it was very important for me to have seen that.
Do you have an audition horror story you can share?
I mean, the one that I've shared was this "Game of Thrones" one that's already all over the internet because I remembered it when I was doing an interview. That was a horrible audition experience. It was when Daenerys, when her body was just burned, and she's talking to all the people, telling them that she's their leader. I was in the smallest audition space you can imagine. And the reader was just like, [in a monotone] "Blah blah blah blah." It was so small and then you're screaming; it was just strange. I love auditioning and that was not fun.
What is the wildest thing you've ever done to get a job?
I don't think I do wild things to get jobs. I mean, I write letters to people. Those are important to me. If someone doesn't see me for a part and I really want it, I will write a letter. And then I will audition and I still won't get it because they're right that they didn't want me for the part. But I still allow myself to be in that vulnerable position and do that. But, to me, that's not crazy, that's just, like, hustling.
What advice would you give your younger self?
To trust that your impulses and opinions are allowed to be voiced. I think when I first started working—because of the acting training I had at the Atlantic Theater Company, because it's founded by David Mamet, they really make you feel like there's all this shit that happens before the actors come and all this stuff that happens after the actors are there. Like, you're a piece of the puzzle. They kind of, in a good way, humble you. But they also kind of take away your agency and your ability to contribute. So, I guess I took it on too personally. When I was in a position with costume designers, for example, I was like, "Oh, well you've done this before. I haven't really done this before, so you know better"—when I knew the character better and I didn't like what I was wearing. Things like that. And I see young actresses who are in their late teens or something who look authentically themselves. I'm so impressed, because I was so scared at 21 to tell someone, "Oh, that's not how this girl who goes to Columbia would dress. I know how this girl would dress, because I go to NYU and I look nothing like this person, and I'm playing this person," you know? So that was a big learning process for me: to find my voice in building a character.
Looking for remote work? Backstage has got you covered! Click here for auditions you can do from home!