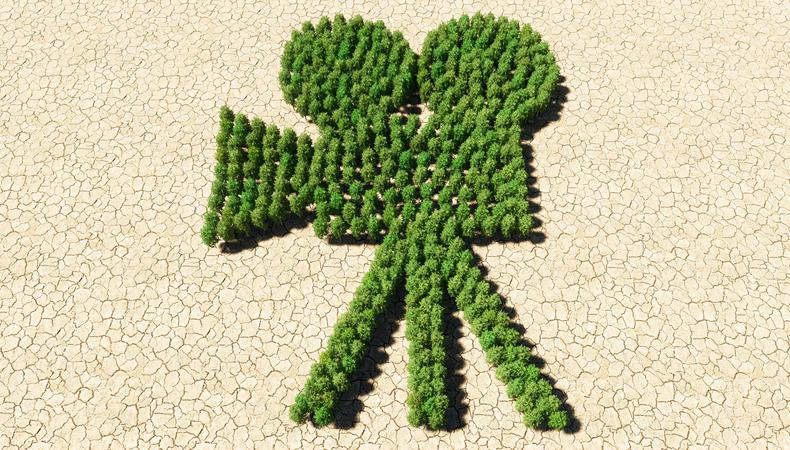 Despite Hollywood being known as an industry of excess, some of its biggest names are stepping up and asking themselves: how can we help stop climate change? Green practices are becoming increasingly common on film sets, big and small, to reduce waste and limit the carbon footprint of productions. Here's exactly how the industry is helping to stop climate change.
1. Banning Plastic Bottles
Kate Winslet wasn't just focused on delivering her Emmy-winning performance on the set of HBO's "Mare of Easttown." The executive producer–star made a simple request for the production to help reduce its environmental impact: "I said to the other producers, 'You know, we can't have plastic bottles on this set,' " Winslet said. "We gave every crew member and every actor their own bottle at the beginning of the show. And we calculated, across our six-and-a-half-month shoot, that we saved over 77,000 plastic bottles."
2. Donating Hardware
Building and lighting sets produce a lot of waste during film productions. To cut back, productions are using one of the basic principles of sustainability: recycling.
Variety reports that once shooting wrapped for FX's "The Assassination of Gianni Versace: American Crime Story," they donated "$60,000 worth of furniture, building materials, and appliances to Habitat for Humanity of Greater Los Angeles."
3. Using LED Lights
Studios like NBCUniversal are also using eco-friendly lighting equipment to help conserve the energy used by big-budget productions. LED lights, along with solar panels installed on trailers and soundstages, enable studios to drastically reduce their energy usage and help stop climate change.
4. Using Hybrid Vehicles
Burning fossil fuels is another known factor that contributes to the climate crisis. Research shows that replacing gasoline-powered vehicles with hybrid transportation on film sets can help studios move toward sustainability. Green Production Guide reports that 20th Century Studios was able to avoid 1.24 metric tons of CO2e (carbon dioxide equivalent) on the set of "The Woman in the Window" by switching to hybrid vehicles.
5. Donating Food
The United States Department of Agriculture estimates that the U.S. alone wastes up to 40% of its food. This waste ultimately ends up in landfills. Some producers now donate leftover catering as a way to cut down on waste while contributing to the community they're working in. According to Green Production Guide, "The X-Files" donated 2,500 meals to Vancouver-area shelters during its Season 11 shoot.
6. Rewearing Outfits
The industry is also implementing green practices at awards shows and beyond to help stop climate change. At the 2020 Academy Awards, many stars—including Oscar winners Joaquin Phoenix and Jane Fonda—committed to rewearing or recycling their red carpet outfits in order to reduce waste.
This story originally appeared in the Oct. 14 issue of Backstage Magazine. Subscribe here.
Looking for remote work? Backstage has got you covered! Click here for auditions you can do from home!