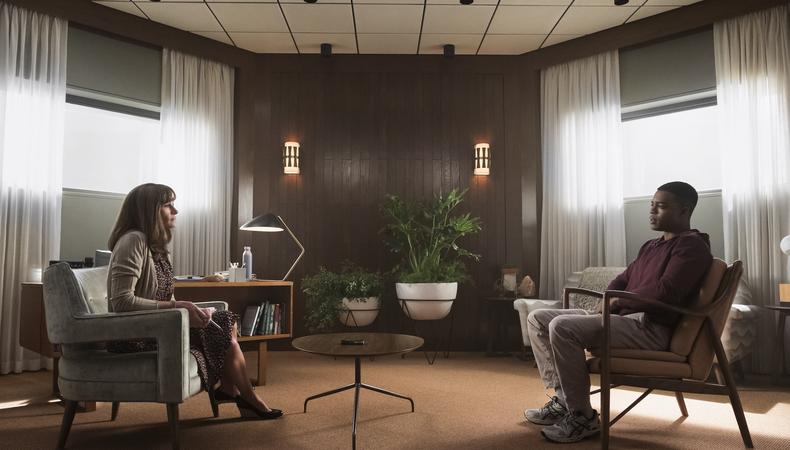 Julia Roberts has been a movie star and household name for three decades, but it wasn't until reading Micah Bloomberg and Eli Horowitz's scripts for Amazon's "Homecoming" that she was lured to television for her first series regular role.
In the summer of 2017, weeks before Gimlet Media aired the finale of "Homecoming"—Bloomberg and Horowitz's fictional podcast thriller—Amazon Studios greenlit a screen adaptation of the two-season series, attaching Roberts as star and "Mr. Robot" creator Sam Esmail as director. While Bloomberg had penned a pair of features and worked as a sound mixer on films including "All Is Lost," "Obvious Child," and "Mistress America," neither he nor Horowitz had ever come close to running a set. Now they're Roberts' co-executive producers, as well as the guys who write her dialogue.
They admit to feeling anxious prior to take one. "I thought that [with] somebody with that level of experience, there would be conflict or it would be difficult," Bloomberg says. "And I was just shocked because she was the most prepared actor every day, and she was the friendliest and the most open in her process, and she ended up being kind of the captain for the crew and the cast."
A large portion of "Homecoming" unfolds over a few weeks as combat veterans arrive at the Homecoming Transitional Support Center for what they and their counselor, Heidi Bergman (Roberts), are told is voluntary in-patient treatment. At the Florida-based facility, she becomes taken with a young black soldier named Walter Cruz ("If Beale Street Could Talk" actor Stephan James), but both depart after a mysterious, violent act.
Several characters' stories pick up a few years later, when a Department of Defense investigator (Shea Whigham) realizes that Bergman's boss (Bobby Cannavale) had darker intentions than helping the newly discharged reacclimate to civilian life. (In the podcast, these performances came courtesy of Catherine Keener, Oscar Isaac, Aaron Serotsky, and David Schwimmer.)
"Though the subject matter of the show is pretty intense, the set certainly didn't feel like that," says Bloomberg. "I don't think Julia would allow for that." Case in point: On Cannavale's birthday, she hired a mariachi band to interrupt one of their scenes. "We got it on tape," he remembers. "They finished, and then we had a cake, and then we did take two or three."
To secure the male lead, "Selma" and "Race" alum James began by sending in a tape. Whereas many actors feel they "want to dial everything up to 10, this is your one shot," James "had a real steadiness," recalls Horowitz. "That was something that was important and a little subtle about the character, the way he needed to show vulnerability without it turning into neediness." When he received a callback, James also had the best chemistry with Roberts, as well as the stamina to recite "monster" sections of "play-like" text without the luxury of rehearsal.
Cast members prepared to inhabit this world of PTSD and muddled memories however they saw fit. "Different [actors] had different habits of whether they want to return to their trailer and get into it, or whether they want to just load up on as many free snacks as possible," jokes Horowitz. He and Bloomberg left the majority of actor communication to Esmail, a tactic "to avoid them hearing three separate things."
Although the pair is still new to hosting auditions, Bloomberg says they "gravitate away from" actors merely "doing what it seems like the page would indicate…. We're looking for a choice. We're looking for someone to come in with their take on something." Horowitz clarifies that the choice should be more nuanced than "this character's got an intense Southern accent." He wants to see "little moments when [actors] pick a line, and it shows that they're actually thinking about that line."