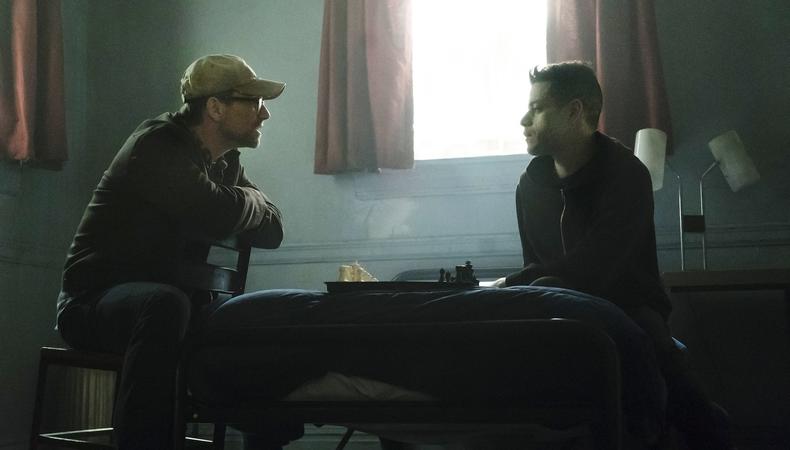 How do you take a cable series as immediately engrossing and zeitgeist-grabbing as USA's "Mr. Robot" and make it even better in Season 2? Expand it from 10 to 12 episodes and have first-time showrunner and creator Sam Esmail direct the whole shebang.
"It streamlined all those decision-making processes," Esmail says of his choice to sit in the director's chair throughout. "It streamlined it down to only me and the heads of every creative department, whereas before, there were a lot of things that could get lost in translation."
The creative strategy makes sense considering Esmail's singular visual style. The series is steeped in high-stakes, slow-boiling dread and drama; each off-center frame thrives in negative space and distills its protagonist's perception of reality. A socially anxious morphine addict and hacker genius, Elliot Alderson (played with calculating precision by breakout star Rami Malek) vibrates at a different frequency than the rest of society. The society he sees functions on the corruption and greed of a powerful few, and he joins forces with Mr. Robot (Christian Slater, who won a Golden Globe Award for his comeback turn) and fsociety, his hacker organization, to dismantle it.
READ: "The Must-Watch Cable Series This Emmy Season"
Of course, it was learned in the penultimate episode of Season 1 that (SPOILER ALERT) Slater's Mr. Robot is in fact Elliot's split personality and the embodiment of his late father—Elliot, in fact, created fsociety himself. But don't worry, that big reveal doesn't mean there's any lack of intrigue going into Season 2, particularly when it comes to the whereabouts of Tyrell Wellick (Martin Wallström), the reintroduction of Whiterose (BD Wong), and the loyalties of Angela Moss (Portia Doubleday).
That's not to mention Elliot's balancing act of sanity while losing memory and time, Jekyll-and-Hyde-style, to Mr. Robot.
"Initially, when I wrote this as a feature, the first season was just the first act," Esmail explains. "The movie would have never ended with the twist of Mr. Robot.... Now that Elliot is aware of the shocking realization of himself, how does he proceed? How does he negotiate that? That's the journey that we're going to start taking."
With a series this dense, it's important for all involved to be on the same page. That meant retraining behind-the-camera creatives to fit Esmail's aesthetic, and on-camera talent to work subtle visual cues around Mr. Robot's absence. "It actually made for some really interesting choices whenever we did rehearsal, because it was kind of like reverse engineering," Esmail says. "Christian's blocking was reverse engineered by the way the characters in the scene would block out the scene."
So did actors know the script's various twists before they came? "What I do before I even start writing all the scripts is...I'll call Rami and Christian and Portia and Carly [Chaikin] and Martin, and I kind of pitch the entire season to them so that they know exactly where we're going."
Actors cast for this season like Grace Gummer, Craig Robinson, and Joey Badass, however, weren't so fortunate. "Because I'm so tight-lipped about our characters and our storylines, agents and managers weren't getting a lot of information from me in terms of what their clients will be auditioning for or eventually playing on the series, so that was always a tough thing to negotiate," Esmail admits. "Luckily enough, we were able to get a lot of great actors and actresses cast this season."
New castings aside, the most important character to get right from the start was Elliot. Esmail recalls nearly tearing the script up and starting anew before Malek walked in the room.
"I'll be honest with you, I didn't know what I was looking for," he says. "I was auditioning people, and a lot of great actors came in, [but] they were starting to sound very cold to me and so I started second-guessing the script. I felt like I was being lectured by this guy. I felt like the character was being too obnoxious. And then Rami came in and just auditioned with this vulnerability and this warmth that instead of me feeling cold and disconnected from the character, it made me want to reach out to him and hug him. It's something that, once he did the audition, we all knew this was our guy."
Like this interview? Check out more from creators and Meet the Maker!