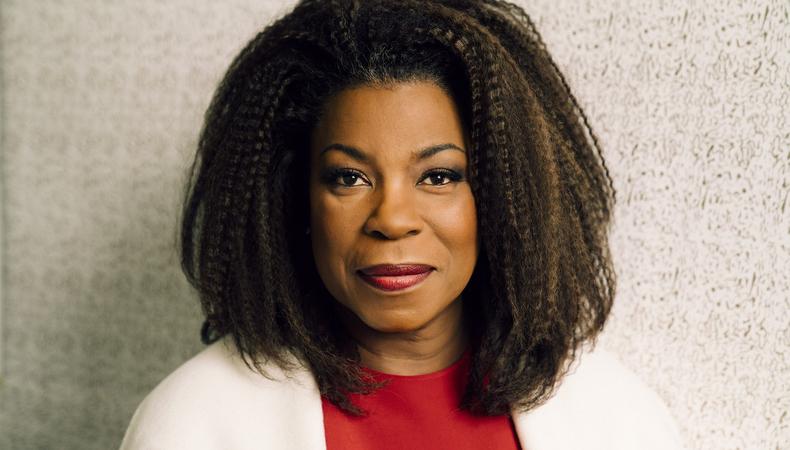 As wife to the central apartment building's super, Ron Davis (Frankie Faison), Patricia Davis has served as the anchor of NBC's "The Village" since its premiere last month. Fortunately, with Lorraine Toussaint, the character is in more than capable hands. A scene-stealing and dedicated performer for four decades strong (and perhaps best known for her ferocious, Critics' Choice Award– and SAG Award–winning performance on Netflix's "Orange Is the New Black" and currently on AMC's "Into the Badlands"), Toussaint detailed some of her career's greatest lessons and insights when visiting the Backstage studio March 18.
Toussaint first looks for authenticity in her scripts.
"I'm always looking for characters who are written truthfully and with complexity that doesn't feel forced, and those things were very present for Patricia. I read half the pilot and I called my manager and said, 'I want to do that one.' I loved her flaws because I'm always looking for the flaws in a character, the cracks in a character. Leonard Cohen said that's where the light comes in."
Finding collaborators is about asking the right questions.
"It's hard when you're just starting out because it's hard to ask the questions as directly as I am prone to ask them: 'Do you like your children? Do your children like you? Do you like your mother? Do you like dogs on set?' I think as a young actor, the best way to begin to ensure that you work with good people is by starting to be a good human yourself. I have found that I attract good people, and the ones that aren't, we don't hang around each other for very long."
It's all in the details, for better or worse.
"I was trained to create a character from the inside out, but I've also found extraordinary value in creating from the outside in.... Through a process of elimination, mostly, I get the physicality. The shoes are super important—what kind of shoes does she wear, not wear? Something like a purse. People who work with me are often challenged—I won't say irritated, but maybe in the beginning irritated—at my attention to detail. I am extremely detail-oriented, and I always go about it overly explaining sometimes in the beginning that I'm not general about anything. Nothing. And so that can be tough."
READ: The Definitive Guide to the Stanislavsky Acting Technique
Stanislavsky is Toussaint's technique of choice.
"As an actor, the basic Stanislavsky training that I got at what was then the School of the Performing Arts, which is now called LaGuardia, is what I use today. That basic training doesn't change. It's not complicated. That little grocery list of questions that have to be answered; all the exercises that came out of that training; all the memory and the emotional memory and all this stuff that I got drilled [on] every single day are a part of my being. That's my foundation and I don't veer very far from my foundation. That and it's really important to cultivate a vivid imagination."
For those who want to follow in her footsteps…
"I can just tell you my own footsteps, and I only know my own footsteps: Cultivate passion. I am passionate about lots of things. Not excessive things; there are a handful of things that I am really passionate about. A life lived passionately? I can't recommend it more. It's a glorious way to live. It takes energy, but you also gather to you the most extraordinary people and situations and experiences and circumstances that exceed your imagination. I live simply, but I live passionately. The passion feeds the work. And get some training, for god's sake! Everybody can't do this. That thing of, 'Oh, you're so pretty. You should be an actress!' No, you shouldn't. This is a craft."
In those early days, she relied on Backstage.
"Oh god, I love Backstage. Backstage was the bible when I was coming up in New York. Every single job was listed. And you weren't always guaranteed an agent; I've gone out on a few open calls [from] Backstage. Everything you needed to know about what was happening in the business was in Backstage."
Want to hear more from our Backstage Live guests? Check out our archives here!