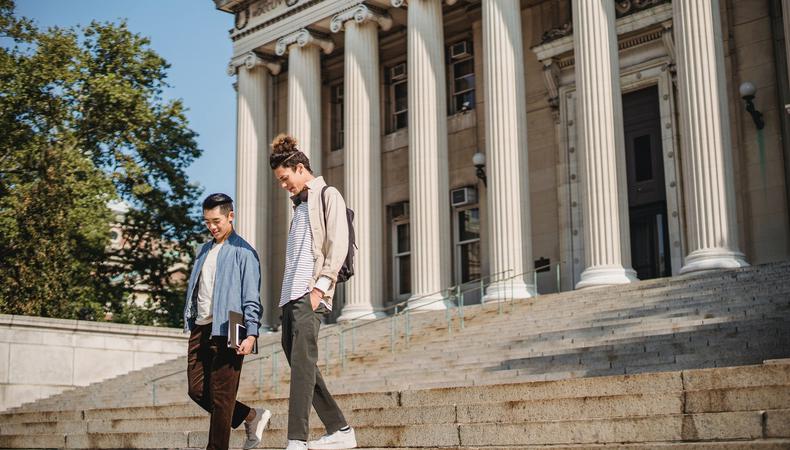 College is a big investment! With today's tuition ranging anywhere from $25,000–$75,000 per year students often have to scramble to figure out how to pay. There's no guarantee that the career you choose will pay for all of your expenses, so it's important to consider your future before leaping too quickly into student loans. Here are five ways teen actors can lighten the burden of college tuition.
1. Save
You're never too young to get a job and start saving for college. You can make a decent salary dog walking, babysitting, or even in food services. If you have been lucky enough to work as a young actor, you can also put that money away. Opening a savings account is a great way to earn compound interest (that is, interest added to the initial sum you put in the bank). There are also plenty of student accounts you can open to avoid service fees or to lower the taxes on the money. Saving can sometimes feel like an uphill battle. It can take a while for spare change to turn into big money, but just remember not to get discouraged. Every little bit counts.
2. Invest
If you make money as an actor, consider meeting with an accountant or a financial advisor to talk about investing some of your earnings in the stock market. If you understand the market and are capable of making educated decisions, you can invest in public companies and increase your profits as the company grows. You can also reap the benefits of compound interest, and earn money through both interest payments and investment returns.
3. 529 Plan
Ask your parents if they started a 529 plan for you when you were younger. This is a plan that parents can open for their kids when they're born so that in 18 years their investment can grow tax-free. This money can be used for any qualified expense related to education (for example, you can use it to pay for textbooks, computers, expenses related to accessibility for disabled students, or just for tuition). If you get scholarship money from a school, you're also able to take that amount out of your 529 to use for whatever you want. It's a great investment opportunity for students looking to save from a young age.
4. Grants and Scholarships
There are a lot of wonderful grants and scholarship programs for students in need of financial aid, no matter their economic situation. You may find these programs through the school you're attending or independently through high school programs. For actors, a great place to start is with acting and talent competitions, where prizes can range from $100 to upwards of $15,000. If you're an actor with a story to tell, there are also plenty of writing and essay opportunities out there to help ("Dear Evan Hansen," for example, hosts an essay contest with a $10,000 prize). These programs are great ways for you to build your skills and résumé, and they help you to pay off your college tuition by doing something you love.
5. Financial Aid
It's no secret that many schools (especially elite institutions) offer financial aid to qualifying students. While you don't have much control over the value, there are still ways that you can maximize the financial aid you receive. For example, if you receive a financial aid package that you believe is insufficient for you to attend, you can often appeal the decision to the school. There are also work-study programs that you can participate in, where a school will forgive portions of your tuition in exchange for work on campus. Working with admissions is a great example. It's also perfect for theater kids with natural charisma who would be eager to give tours. Just make sure you read your financial aid award letter carefully. This can be the difference between getting a deal you can be satisfied with and being unable to attend.
There are plenty of other ways for you to earn money for a college fund. For example, many students use a two-step college option, where they attend an affordable two-year college for a bachelor's degree before transferring to a more expensive four-year program. It's important to remember that there are people out there (parents, extended family, employers), who are willing to support you in any way they can, even if not financially. Just make sure you've discussed your future with them before you make any big financial decisions.
Looking for remote work? Backstage has got you covered! Click here for auditions you can do from home!
The views expressed in this article are solely that of the individual(s) providing them,
and do not necessarily reflect the opinions of Backstage or its staff.