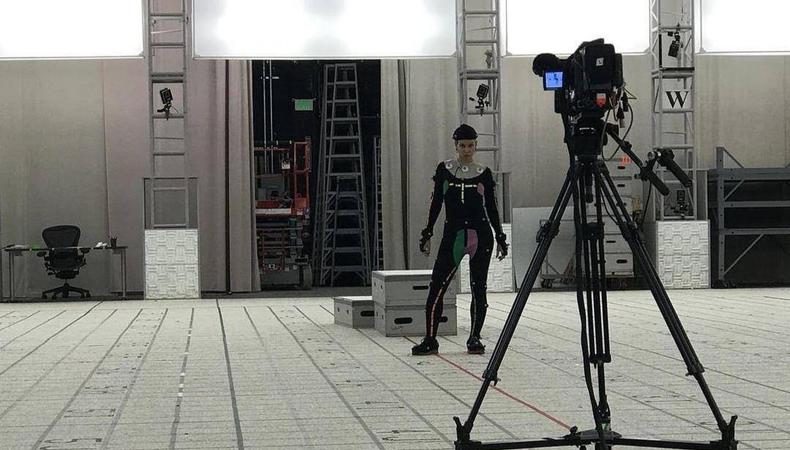 Motion Capture is becoming one of the fastest-growing techniques in filmmaking today. Sometimes, "MoCap" and voiceover go together for video games, animation, and more. I spoke with actor Verona Blue to get the lowdown on adding this work to your résumé.
What is motion capture?
Motion capture is most commonly recognized by people wearing fitted, black, Lycra suits with small white, reflective markers attached to them. The movement of the actor or athlete is digitally recorded, and then typically skinned with a character and manipulated for video games or movies. "Skinned" is when they apply a digital model (or character skin) to your movements. Your data is captured on a stick figure shape representing your skeleton, articulated and calculated based on the marker positions, and then they can blend that skeleton with the look and feel of Iron Man or Minnie mouse or any character.
How might a performer get started in MoCap?
Motion capture is a growing field with a lot of opportunity for new talent. I took a series of really fun classes from one of pioneers of the industry, Richard Dorton, through his motion capture training school The Mocap Vaults. They offer classes in Los Angeles, London, and sometimes Toronto. The classes start with a basic overview of Motion Capture, and then offer a variety of skill sets including heroes and monsters, weapons, and cinematic performance for video games.
There are no firm requirements for motion capture, but like all aspects of the industry, it's primarily about the acting. A vibrant imagination is key to creating a realistic performance when you're working in a large, empty room without props, costumes, and sometimes even without a script or scene partner. I think a background in theater and improv can be incredibly helpful for many actors.
Are there physical requirements for motion capture work?
Motion Capture jobs run the gamut from full out athletic demonstration to more traditional film acting, so while it can be advantageous to have a background in martial arts and be physically fit with good endurance, if you aren't an expert in your specialty skill there's a good chance you won't be hired for that job. The technology records your movement, but it doesn't see your muscles, face, or unique body, so you can't fudge your knowledge, nor precision, of a specialty skill like ballet. Your skeleton doesn't lie.
The actors who work on video games recording the in-game action (the playable characters that walk around, fight, shoot, climb, etc.) definitely need to have excellent endurance because you might spend 10 hours recording crouch runs while carrying different objects. Those of us, myself included, who don't have an expert background in stunts, are more likely to perform theater-style performances which can still be exhausting but are gentler on the body.
Any advice to those that are thinking of doing MoCap or just starting out?
My best advice for any actors who are thinking about trying out motion capture would be to be really brave and gregarious. Brush up on skills you may have let go while pursuing TV gigs, reconnect with the outgoing inner-kid who would ham it up at family events, and practice! You must have pretty intense body awareness to excel at motion capture so crawling around your house like a sneaky bat, mimicking werewolf transformations from classic horror films, dissecting the walk and gait of strangers in a store, are all really valuable tools to creating new, exciting, and interesting performances for motion capture.
Tell me a few of your recent credits working in Motion Capture.
I've worked with Marvel and Google capturing "Nebula" for one of their collaborative apps, I captured Tyreen Calypso for a "Borderlands" trailer, and took on the role of pretty much all the female characters in a pre-vis session (live action storyboards, so animators have functional reference) for the recent "Call of the Wild" film with Harrison Ford.
Do you have a story of your most amazing mocap experience?
During the Rise of Skywalker red carpet premiere in 2019, I had the opportunity to work with RYOT and Verizon on a live, interactive, motion capture installation. I and two other actors, Hunter Smith, and Alan Maxson were suited up on a Mocap stage in Playa Del Rey, and our movements, and voices were beamed to Hollywood and skinned with digitally rendered "jet troopers" from the film.
For a few hours, the premiere guests could interact with us directly. We could see and hear them in real time, so from the other end, these animated and CG characters were real. Our commentary was firmly rooted in obsessive Star Wars knowledge that all three of us possess and we improvised throughout the night. The team at RYOT were incredible and the event coming together after weeks of technical rehearsal was really thrilling.
Is there a difference in your performance for video games vs. film and television?
Motion Capture is used across so many media in so many ways that your everyday consumer might not even realize. Video games and CGI-heavy films are definitely the most obvious, but there's also motion capture used for, essentially, live-action storyboards so animators have a functional reference, called Pre-Vis.
If your face is not being recorded during your session, it's kind of like performing masque. You must convey everything with your body position, breathing, and deliberate actions, which is a stark contrast to much of my experience on camera, where it's all in the eyes, as they say. If you are lucky enough to work with full performance capture, a camera will be strapped to your head and every eyebrow raise will be considered as part of your character's movement, so it starts to be more like a traditional close-up and less about somewhat exaggerated poses.
Verona Blue is represented by Entertainment Lab and Dean Panaro Talent.
Looking for remote work? Backstage has got you covered! Click here for auditions you can do from home!