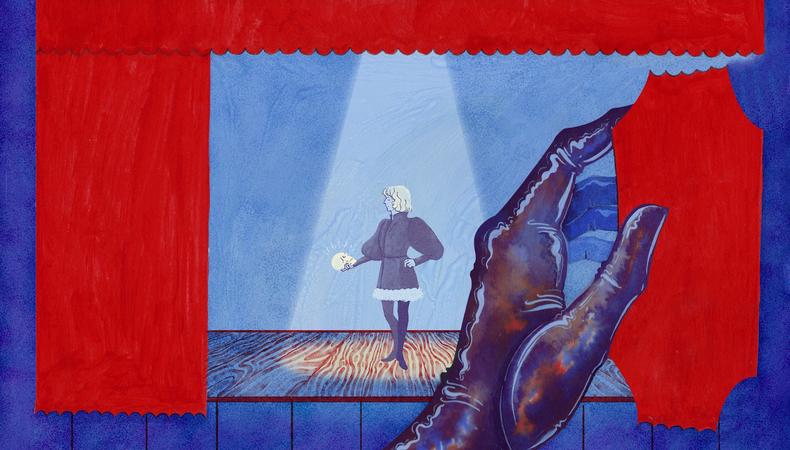 Los Angeles isn't known for being a theater town, but as the casting director for Center Theatre Group, Andrew Lynford has a hand in the increasingly impressive stage productions coming to La La Land. Whether he's casting a show for a 99-seat theater or helping a New York CD find understudies for an anticipated national tour, he's always on the search for L.A. talent interested in performing center stage. As a former actor, writer, director, producer, and now CD, he knows how frustrating it is to not land a role, so he wants to give all actors a chance to be considered for a potential CTG gig. For those West Coast actors who are interested in diversifying, trying something new, or just want to add some lines to their résumé, Lynford has some tips.
What do you wish actors knew about L.A. theater?
This town was built on the movie industry, so it's not a place you come to do theater—but that has been changing. They might be small venues, but theaters here have strong reputations and have been building their audiences and quality of work. People are very dedicated to making good theater here. It's difficult to afford marketing to make your show visible, and some of the Equity restrictions for smaller venues make it hard, but people make it happen and there's a real ambition to make theater exist here.
How is theater in L.A. different from theater in New York?
There's more of it and it's more of a culture in New York like it is in London. There's so much Off-Broadway theater where people bring new writing and experiment. Shows will move to bigger venues and even Broadway. The theater culture has existed for so long that an actor who strives to do theater probably has more opportunity in New York. There's a load of great theater in L.A., you just have to root it out a little more. A lot of CDs go and see that work. Theater can be a really good, genuine way to be seen and show people what you can do. If you build a résumé of live acting experience, it can only make you a better actor. Theater actors have a different technique; it's a strong technique that serves you well for film and television.
READ: Doing L.A. Theater May Get You an Agent
What advice do you have for actors?
I'm always fascinated by the choice of monologues people bring in because we invite people to bring their own. Don't bring contemporary if you're doing classical; don't do something a million miles away from you. Keep it close to your castability or what you perceive your castability to be. People come in who think they can do a wonderful Irish accent, and then I'm listening to a terrible Irish accent. Show me who you think you are.
You don't need to be word perfect or off-book, but please prepare well. Sometimes I have to call people in on short notice. I appreciate your prep time is limited, but commit to it. If you are doing your bar job at night and you can only look at your lines when you get back, stay up late and study. It's worth it for the experience in the room. You don't want to come underprepared. Be on time, be engaging—all the things people say. Remember, we want you to be the best you can be; I want you to give the best you can, even if it's only a few minutes. Come knowing we're rooting for you.
What are skills that actors who want to gain theater experience might need?
Vocal skills generally are top of my list. At some theaters, we don't mic people, and if you're used to doing TV work, that's going to take you by surprise. Vocally, it's more of a challenge for people. You follow the old rules: You want to reach the people at the back of the gallery; you want to fill a space with your performance and bring the character's emotional responses to a much larger audience and a much larger space. You need to be brave and you need to be more courageous because you can't stop and re-tape. You need to dig deeper and revisit the emotions five or six times per week. You might be in a comedy, and that might require a lot of energy. A broad comedy is like playing a hockey match, and you might be doing it twice a day. So it's a different energy, technique, responsibility—a discipline you don't always need in front of the camera. I challenge any actor just to do it, try it. You might need to go to some classes and work with somebody before you jump into your first leading role onstage, but I encourage any actor to try to have that experience.
What would you say are some of the challenges you face as a theater CD in L.A.?
Because I'm at a place a lot of people want to work, their expectation is sometimes very different from what the outcome might actually be. People think we're doing hundreds of shows all the time and there are hundreds of auditions, but we have to be quite specific for things like co-productions where the producers might want a name actor to play one of the leads, for example. I think the challenge is letting people know that there may not be as much opportunity as they may think there is. But having said that, I want people to know that I'm absolutely committed to the acting talent in L.A. and the people outside our door who want to work in theater because I want to know who those people are.
Bring your talent to me, come to an open audition—that's why I go to the Hollywood Fringe Festival and see as much theater as I can, whatever the size of the venue, because I need to see the talent available. The challenge for me is letting people know that [I want] to invest in the talent in this town that wants to and is able to do theater, but I still need help finding it. So let me know you're in a show, send an email to my casting email address, and keep telling me what's out there because I'm interested to know and it can only benefit the work that I'm doing here.
How does L.A. theater compare to other regional theater in the U.S.?
There are regional theaters we all know are doing exceptional work and providing tons of opportunities for actors, and they move to Broadway. Regional theater is spread out in a way that makes it sometimes difficult for actors. There's good stuff happening, and I think that any opportunity you get as an actor to do live theater, to continue to build your skills and hone your craft is good. Regional theater makes sense, and if you can afford to do theater, it can only make you better. I know that we look at people's résumés here who have done companies that we know by reputation and we know the actors who have worked there must be pretty good because of the standard of work that these places do.