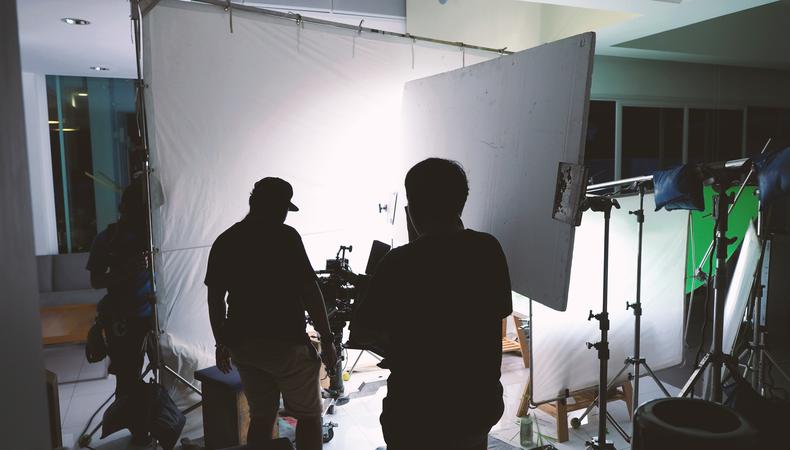 I remember my first foray into professional work right out of film school. While I really did learn so much in the classroom, nothing could have prepared me for actually navigating the world of finding film and video work. Initially I was thrilled to get hired for one-off projects here and there but eventually, it became clear that the best—and most sustainable—way forward was to become a full-time part of a production team.
Those first few opportunities are great for growth and professional development, but as a consistent member of a production team, you not only ensure regular work—and paychecks—you also get the chance to collaborate with like-minded creatives. For anyone starting out, here are some tried-and-true methods for becoming part of a production team.
1. Build out your professional profile.
When I was starting out, there wasn't the same variety of online staffing and industry-specific professional networks there are available to production professionals today. LinkedIn was pretty much all I knew to use and, honestly, I still think it's one of the best places to start.
But despite the plethora of networking and career platforms, your goal early on isn't simply to have profiles everywhere: you need a strong presence within those profiles that clearly showcases your skills, expertise, work, and availability. Whether you stick with just one site or sign up for everything, your profile must include the following in order to be compelling:
Location (ideally the market you'd like to live in)

Specific production skills (are you a writer, producer, shooter, editor, etc.)

Specific camera experience

Education and background

Demo reel and project examples
2. Do your research and connect.
This was a piece of advice I was lucky enough to receive when I was first starting out. Unlike a college football player being assigned to a team in a draft, when you're starting out in the film and video production world, you're a free agent. You're free to sign with whatever team is most appealing and makes the most sense to you, not the other way around.
If you know what market you're looking to work in, a quick web search for your city name + "video production company" be worthwhile. Take a look at what each company does—the type of projects they take on, their clients—their style and their current team. Can you see yourself being a good fit both creatively and skill-wise? (If they already have six editors and that's what you do, maybe look elsewhere.)
Make a list of the teams you'd most like to join, then reach out. Shoot them an email, connect on LinkedIn, ask your network if anyone knows someone on the team they can introduce you to informally.
One thing to keep in mind, though, is that most video production companies are small. Like, really, really small. Because every team member is essential, they're not going to hire someone just because; you must be able to show your value. Which brings us to our next point.
3. Prove your worth.
Again, product teams and companies are relatively small and nimble; there's rarely dead weight in the form of a team member who doesn't really need to be there. If a company or team is hiring, it's because they really need that position filled by a talented, capable individual. So prove that you're that person.
The minute you reach out, demonstrate your value. You've already done your research so you know what they have—and don't. Whether it's a gap in their portfolio that you specialize in or a skill you have that doesn't seem to be present in any team profiles, tell them how you can help fill in the holes.
That first impression is key. As someone who's evaluated and interviewed potential new hires as part of a production team, I can't stress this point enough. Show them you respect what they do and want to be a part of it, and that you can be an asset. From there, it's really about seeing if you'd be a good fit for the team. And that comes down to naturalism, personality, and compatibility of skills.
And remember: as good as you were at looking up a production team, they're just as good at researching you. Make sure your own projects are easy to find and showcase the skills you're offering to the team. (Don't have a professional website yet? Get one. And while you're at it, make sure your Vimeo is updated.)
4. Turn one project into many.
Another great way to join up with a video production team is to take on part-time or project-by-project work first. If you're already getting semi-regular work in film and video production, it may not make financial sense to join a team full-time just yet. In my experience, working on a project basis as a freelancer can actually get you a higher pay rate.
But if you decide you'd prefer steady work and a regular paycheck, leverage the projects you've done as a freelancer to gain a full-time spot on a production team. Follow the same steps above for applying and landing a spot, but with the advantage that they already know your work and clearly trust and like you if they continue to throw freelance projects your way.
Above all else, focus on honing your skills, making solid connections, and staying open-minded towards any opportunities to become part of a good production team.
For more on how to get work on a film crew, visit Backstage's crew hub!