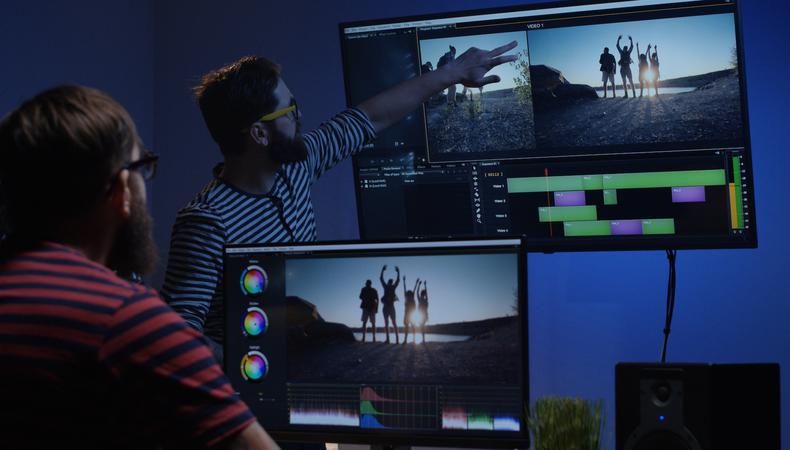 Video editors are in high demand in today's era of film, television, and digital media; after all, they are responsible for turning all that footage into content. Editing requires technical skill and a familiarity with the production process, but opportunities to develop both are readily available on the internet. Professionals at all levels can often find freelance and remote work.
If you dream of editing footage for the industry's feature film visionaries or finding steady work in scripted or unscripted TV, keep reading for our tips on finding the best video editing jobs.
Those just getting their foot in the door may begin in apprenticeships or assistant editor positions, working their way up to titles like senior video editor or supervising editor. Here are the most popular projects to look out for that include entry-level editing jobs, such as assistant and junior editor positions:
Scripted films: From shorts to feature-length films and from movie studios to independent arthouse companies, traditional scripted filmmaking offers plenty of paid positions for freelance editors. Typically found in movie production hubs such as Los Angeles, New York City, or Atlanta, film editing jobs may arise from working in specific postproduction departments.
Documentary films: The scale and amount of time dedicated to documentaries can vary wildly, but all require the ability to identify and craft a cohesive story from unscripted footage. Unlike with scripted content, the footage isn't as mapped out in preproduction and often results in hours and hours of raw material. Documentary filmmakers, especially editors, are masters at organization.
Scripted television: Like scripted films but offering more consistent work, TV sitcoms and dramas rotate in established editors who have experience in network or cable, and multi- or single-camera programming. Cohesion across episodes and seasons is key; those looking to find jobs editing certain TV genres or long-running series must have a deep knowledge of a project's pacing, tone, and typical editing techniques.
Unscripted and reality television: This wide-ranging category includes editing positions on game shows, talk shows, late-night comedy series, and reality drama or competition programs. Editors of live or pre-taped TV often produce introductory video packages and snippets, while editors of docudramas and competition shows typically work closely with series producers; as with documentary films, editors here must be attuned to producing stories with a beginning, middle, and end by deciding what footage to cut and what to keep.
News: Whether on TV or the internet, news programs need video editors. This is one of the more specialized categories, meaning if you're gaining experience producing news packages, it may be difficult to pivot to other types of video. Editors in this field may start off in local news before working their way up to the national level.
Sports: Much like news editing, this field offers a specialized career track. Editors and producers here may work with universities, professional teams, or even sports TV networks.
Commercials: Early career filmmakers, producers, and certainly editors can gain plenty of direct experience by working in commercials. It's a field that puts professionals in touch with corporations and individuals alike, and it can be pursued at the local or national level.
Creator content: With the advent of online video platforms like YouTube and social media platforms like Instagram and TikTok, editing gigs have proliferated. This genre is characterized by fast turnaround, meaning editors are often given tight deadlines to churn out finalized videos. If you're looking to get thrown in the deep end and build experience and a portfolio quickly, getting hired by content creators may be your best strategy.
Corporate content: Businesses of all sizes produce videos, whether it's for advertising and marketing purposes or internally for corporate training; such jobs are often available for freelance filmmakers. Media companies, from news publications to marketing and PR firms, need full-time video editors to work in their own small-scale production houses. Video editors in these types of staff positions often cover other production responsibilities, including color correcting, sound editing and mixing, and planning and shooting footage.
Editing services may also be required for specialized industries like music videos, trailers, and commemorative live events like weddings.
Navigating a career as a video editor requires a fundamental focus on freelance or full-time work. The former enables flexibility but is dependent on the demand for editing services; the latter can provide a steady schedule but is potentially not as lucrative. How much video editors get paid depends on their chosen career path.
If your goal is to work as a freelancer, your interests likely include other aspects of production. Start off by finding entry-level work on a project-by-project basis, whether that's in film, TV, or digital media, and see where your passion and experience take you. Build a network of fellow video producers and satisfied clients, and you'll be on your way to making a living as an editor.
If you'd ultimately prefer a salaried senior editor job at a company, you'll need to think about climbing the corporate ladder, likely starting off as an intern, apprentice, or assistant editor.
As always, formal education is another way to gain the skills and know-how required for video editing. Earning a BFA or MFA in video editing at an established university will teach you the technical aspects of an editing career, as students train with the latest software and work on student films.
Many of the skills associated with video editing, like knowing the ins and outs of a particular editing software or understanding a specific project's pacing, must be learned on the job. But there are also more creative qualities associated with great editors. Here are some to keep in mind:
An eye for storytelling and its visual elements: composition, tone, pace, rhythm, and sequencing
Proficiency in postproduction tools such as Adobe Premiere Pro and Final Cut Pro, and the ability to keep up with trends and technological advancements
Collaboration and communication skills, including with other video production departments, teammates, and any clients
Organization, dependability, and attention to detail under tight deadlines in a fast-paced environment
Networking and relationship-building
The internet remains the best resource for those seeking video editing gigs. Job sites specializing in certain entertainment industries include search engines and resources specifically for those looking for work in film and television, commercials, radio, or events. Freelance gigs in multiple areas of film production abound in marketplaces like Backstage and Mandy. Print and online databases like Production Weekly and Production Bulletin also stay up-to-date regarding what's filming where, so aspiring editors looking to keep track of exciting projects' stages of production should subscribe and check regularly.
Finally, jobs can be found in online communities, on social media platforms, and on the kinds of sites dedicated to facilitating networking between professionals and aspiring professionals. Check out Staff Me Up or type relevant terms into LinkedIn or Facebook's search bar to connect with editors or postproduction crew members like you.
Networking with those who can connect editors to employment opportunities is essential, especially in the filmmaking and entertainment industries. Contact any professional editing or filmmaking contacts you have, or reach out cold to those you don't. If you keep working on your relationship-building skills, professional opportunities are more likely to fall into your lap.
Professional editors must also have a résumé that features relevant video experience and production information; it should be part of your web footprint, which can include a professional website showcasing your best work. Maintaining a social media presence on Twitter, Instagram, and LinkedIn also legitimizes an aspiring editor. Potential clients and employers will be Googling you, so use the power of the internet to establish who you are.
Lastly, watching and studying video content is an important step in excelling as a professional video editor. Check out feature films that have won editing Oscars, subscribe to YouTube and TikTok channels that showcase impressive editing, or look up the work of top names in the American Cinema Editors (ACE) union. Editing is a technical as well as creative skill, so always be looking to emulate the best of the best, and continue expanding your skill set.